Pascal Dupuis: The best bargain in the NHL
There isn't a player in the NHL who gives his team more bang for the buck than Pittsburgh Penguins forward Pascal Dupuis.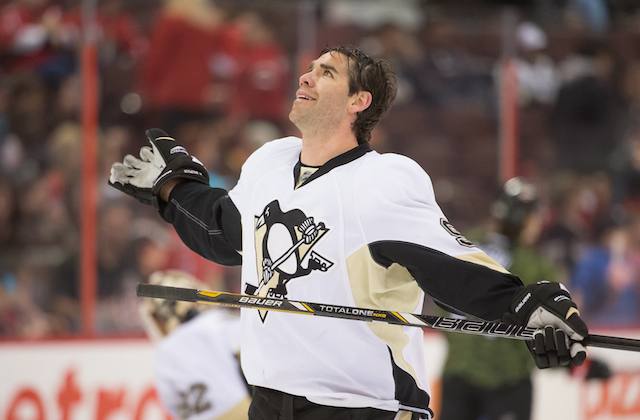 More NHL Playoffs: Scores | TV Schedule | Expert Picks | Odds | Mock Draft | Rumors
Just minutes before the 2008 NHL trade deadline, Pittsburgh Penguins general manager Ray Shero completed a blockbuster trade to acquire forwards Marian Hossa and Pascal Dupuis from the Atlanta Thrashers.
The Penguins, a young team on the threshold of becoming a Stanley Cup contender, sent a package of players that included Colby Armstrong, Erik Christensen, Angelo Esposito and a 2008 first-round draft pick to Atlanta.
It was a stunning trade as Pittsburgh came out of nowhere to land Hossa, who was not only the key piece to the trade but by far the best player available at that year's deadline. It had long been rumored that Montreal was the favorite to land his services only to have Pittsburgh swoop in at the last minute and complete the deal.
Hossa did not disappoint with the Penguins and was one of the best players on their run to the Stanley Cup Final that postseason before leaving, as expected, in free agency, signing a one-year deal with the Detroit Red Wings. But while Hossa was great for them in the short term, it was Dupuis who proved to make the trade a winner for Pittsburgh in the long term. For as great as Hossa was during his two months in Pittsburgh, even if you removed him from the equation and made the trade just Dupuis for the aforementioned players and draft pick, it still would have been a lopsided win in the Penguins' favor.
Look at this way: In his five full seasons with the Penguins, Dupuis has scored 92 goals. The four players whom Atlanta acquired have scored 81 at the NHL level. Combined. Esposito, a 2007 first-round draft pick, managed to score just 10 goals in 124 American Hockey League games before continuing his career in Europe.
Like Hossa, Dupuis was also eligible for unrestricted free agency following the 2007-08 season. Unlike Hossa, he was willing to stay in Pittsburgh and signed a three-year, $1.4- million contract extension. After playing out that deal, he signed a two-year extension before last season that kept him in Pittsburgh at an average cap hit of just $1.5 million.
And that's when he started to become an incredible steal for the Penguins.
In a salary-cap league, it is crucial for teams to find value and productive players for below market value. Especially when you're a team like Pittsburgh that has a large chunk of your cap space tied up in a small number of players (like Sidney Crosby, Evgeni Malkin and James Neal).
For most of his career, Dupuis had always been a strong two-way player who was sound defensively, could kill penalties and chip in the occasional goal. He was actually one of the leading scorers on some of the early Minnesota Wild teams before he settled into the role that would define the better part of his career.
But since going to Pittsburgh, and especially over the past two years, his game has taken off. Since the start of last season, he has become one of the best players to have on the ice at even strength and a player who might not only be the best bargain in the NHL but perhaps one of the best bargains in all of sports.
For a guy who rarely gets power-play time, is often given the challenge of going up against the other team's best player at even strength and is one of the top penalty killers on his team, the numbers that he has put up over the past two seasons have been rather impressive. Only 29 players in the entire league have scored more goals than Dupuis since the start of the 2011-12 season, and -- and this is, I think, the most impressive number -- only eight have scored more goals at even strength.
When you compare his cap hit to the eight players ahead of him, it's pretty amazing how much production the Penguins are getting for such a price.
NHL Leaders: Even Strength Goals Since 2011-12
Player
Even Strength Goals
2011-12 Salary Cap Hit
Steven Stamkos
67
$7.5 million
Evgeni Malkin
43
$8.7 million
John Tavares
43
$5.5 million
Marian Gaborik
42
$7.5 million
Jonathan Toews
42
$6.3 million
Phil Kessel
41
$5.4 million
Alex Ovechkin
41
$9.5 million
Max Pacioretty
40
$1.6 million*
Pascal Dupuis
39
$1.5 million
(*Pacioretty signed a new contract extension that starts next season that will pay him $4.5 million per year)
The average cap hit of the eight players ahead of him: $6.5 million. Dupuis, again, makes $1.5 million.
He has continued that stellar play into the postseason.
As of Wednesday afternoon, no player in the NHL has scored more goals this postseason than Dupuis (six). And if you watched Pittsburgh's 4-1 win over the Ottawa Senators in Game 1 on Tuesday night, you were able to get a nice look at just how valuable he is, even without the goal scoring. He logged more than four minutes of short-handed ice time on a Penguins PK unit that was perfect, scored a short-handed goal, and was one of the few Penguins players who were able to actually generate some offensive chances against the Senators at even strength (the Penguins outshot Ottawa 12-7 at even strength with him on the ice and were badly outshot when he wasn't.
Dupuis is eligible for free agency once again after this season, and it's going to be interesting to see how much of a raise he gets because he has certainly proven to be worth more than $1.5 million per year that he's making.
On one hand, he has proven to be an extremely valuble player and the type of player that every team needs. 
Not only that, he's looking to be one of the best players available in what is a very down year for free agents. But there are sure to be arguments used against him, including his age (34), his level of production before last season, and the fact that he spent most of this season skating on a line with the best player in the world (Crosby).
While the age and previous production are fair concerns, the latter would be more than a little unfair seeing as how he rarely played with Crosby last season and continued to produce this year when Crosby was out of the lineup.
He's simply a very good, valuable hockey player and one heck of a bargain.
For now.
Vladislav Yeryomenko was the Teddy Bear Toss goal scorer for the Calgary Hitmen

The Golden Knights are finally getting their No. 1 goalie back after a 25-game absence

Washington has won four straight, and the Kings are also on a tear right behind the Lightn...
The NHL says it's only interested in expanding to Seattle, but here's a look at all the moving...

The NHL says it is only looking toward Seattle for the next expansion team

The 33-year-old defenseman hopes to help find a cure for serious head injuries in athletes