Penguins' Dan Bylsma introduced as coach for Team USA
Team USA officially introduced Dan Bylsma as its coach for the 2014 Olympics. Bylsma said the team has one objective: Win the gold medal.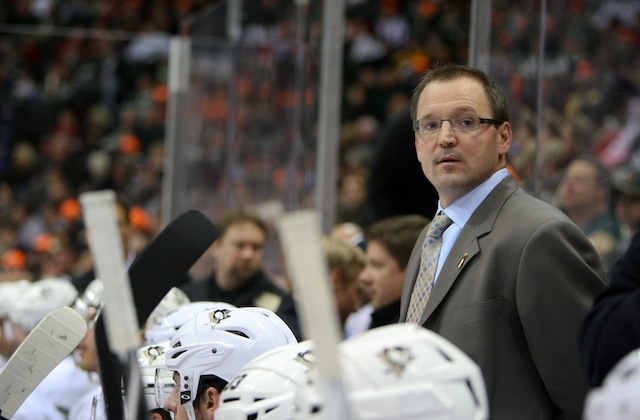 More NHL offseason: Rumors | Top 50 Free Agents | Top 50 Prospects | Mock Draft
Team USA confirmed one of the worst kept secrets in hockey on Saturday by naming Pittsburgh Penguins coach Dan Bylsma the coach for the 2014 Olympic team that will compete in Sochi, Russia.
It was reported earlier in the week that Bylsma was the man for the job, edging out other top candidates like John Tortorella and Peter Laviolette.
"We're thrilled to have Dan as coach of our men's Olympic team" Ron DeGregorio, the president of USA Hockey said. "He's rapidly established himself as one of the most prominent coaches in our country today and we know he'll help put us in the best position of achieving our ultimate goal of bringing home the gold medal."
Team USA won silver during the 2010 games in Vancouver after losing the gold medal game in overtime to Canada when Sidney Crosby beat Ryan Miller.
Bylsma said this time around Team USA has one goal.
"We certainly have one objective, and that's to go to Sochi and win gold," Bylsma said during his introductory news conference on Saturday. "We're ready for the challenge and excited for the opportunity."
The team will be constructed by Nashville Predators general manager David Poile, who will be assisted by Pittsburgh Penguins general manager Ray Shero and former Toronto Maple Leafs general manager Brian Burke.
Poile said on Saturday that the core from the 2010 team will be returning with a few new players who might be able to help on the larger ice surface (the 2010 Olympics were played on an NHL-size rink instead of the international size). That team was anchored by players like Zach Parise, Phil Kessel, Ryan Miller and Patrick Kane. He also added that a player's body of work will be part of the evaluation process, but a player's performance during in the first half of the 2013-14 season also will play a role in who gets selected.
The 2014 team is expected to have the NHL's past two Conn Smythe winners -- Kane, and Los Angeles Kings goalie Jonathan Quick.
Bylsma has coached the Penguins since the middle of the 2008-09 season and has a 201-92-25 record, two division titles, and a Stanley Cup.
The 40-year-old center is returning to the Wild after a successful run in Pittsburgh

Edmonton locks up its 21-year-old RFA a month after McDavid's historic extension

Even with a new coach and added veteran help, the Canucks have a long road ahead
Unlike expansion teams before them, the Knights have enough talent to entertain right away

Brian Lawton says he 'would not be surprised' if Boston deals its young star to end contract...

It turns out Phil does love his hot dogs, especially when they're in a Stanley Cup