Two rules changes approved concerning playing pucks with gloves
What happened in Vegas on Tuesday with the Board of Governors isn't staying there. They approved the sale of the Maple Leafs and two rules changes.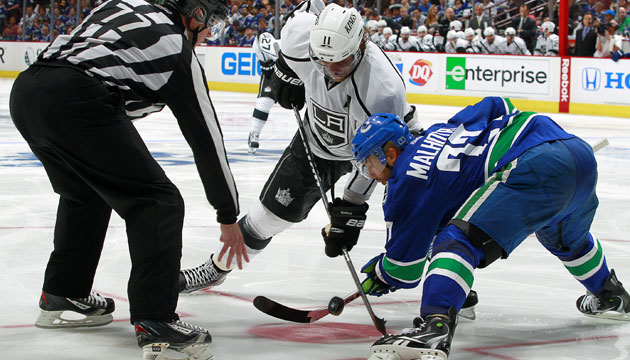 Guys like Malhotra will have to make sure that hand stays on the stick. (Getty Images)
With the Board of Governors all convening on Las Vegas -- what a tough assignment -- for the NHL Awards Show on Wednesday night, they had some house cleaning to take care of.
First there was the pretty easy issue of approving the sale of the Toronto Maple Leafs. That was so expected I had already forgotten about it still needing that stamp. Also why they were all together, why not establish some rule changes?
Now it was nothing earth-shattering or things that are really going to have massive impacts on the game like reinstituting the red line, but they are noteworthy rules changes. Obviously the powers that be are getting tired of hands playing pucks instead of sticks.
The first change comes to Rule 67 regarding players catching the puck. Not a whole lot of difference but here's how it reads now.
Rule 67 - Handling Puck
67.2 Minor Penalty – Player

A player shall be permitted to catch the puck out of the air but must immediately place it or knock it down to the ice. If he catches it and skates with it, either to avoid a check or to gain a territorial advantage over his opponent, a minor penalty shall be assessed for "closing his hand on the puck."
Basically, cover the puck with your hand to prevent an opponent from playing it -- regardless of the location on the ice -- and you'll get hit with a two-minute penalty. Seems reasonable enough to me.
The second rule change that was approved also involves stopping players from grabbing the puck.
Rule 76 - Face-off
76.4 Procedure - Centers:

Both players facing-off are prohibited from batting the puck with their hand in an attempt to win the face-off. Any attempt by either center to win the face-off by batting the puck with their hand shall result in a minor penalty. This penalty shall be announced as a "Minor Penalty for Delay of Game - Face-off Violation." Once the face-off is deemed complete (and winner of the face-off is clear), hand passes shall be enforced as per Rule 79.
Once again, not a terribly huge departure from where we're at now, but this will affect a few more players than others. Manny Malhotra, for example, frequently uses his hand to bat the puck away and win faceoffs. It's why he gets a ton of starts in the defensive zone. Now, though, it will cost a team two minutes of being down a man.
Like I said, nothing that's going to dramatically alter the way the game is played, probably why the rules were passed with relative ease.
Do you like the alterations?
For more hockey news, rumors and analysis, follow @EyeOnHockey and @BrianStubitsNHL on Twitter and like us on Facebook.
The NHL says it's only interested in expanding to Seattle, but here's a look at all the moving...

The NHL says it is only looking toward Seattle for the next expansion team

The 33-year-old defenseman hopes to help find a cure for serious head injuries in athletes
Chicago becomes the latest NHL club to earn an evaluation of $1 billion or more

The city council has approved a $600 million redevelopment project for KeyArena

Arvidsson took off his glove to reveal an engagement ring for one lucky fan