Wade Redden, Scott Gomez have been bought out
Wade Redden and Scott Gomez have been bought out. They are now free to sign with another team as free agents.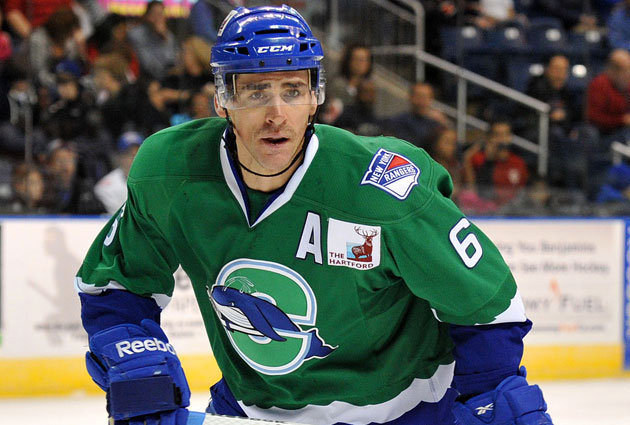 The New York Rangers officially bought out Wade Redden on Thursday evening. (Getty Images)
Preview: Team-by-team | Picks | 50 things to watch | Top 50 players | All-NHL
The first two compliance buyouts in the new CBA were completed on Thursday evening as the New York Rangers and Montreal Canadiens bought out the contracts of Wade Redden and Scott Gomez.
Both players had basically been told to sit out the season so they could be bought out prior to the 2013-14 season when the buyout period was initially supposed to begin. The reason for keeping them off the ice was to avoid the risk of injury as injured players can't be bought out.
The NHLPA and NHL were then able to hammer out an agreement to allow teams to do their compliance buyouts a year early. There really isn't a benefit to the team to take advantage of the option now as the cap hits will remain for this season, but it does allow the players to play this season and seek out employment elsewhere in the league.
And it's expected that both will be able to land with other teams.
While the Redden and Gomez contracts were the butt of many jokes in recent years, both players can still be useful on more cap-friendly deals. They're no longer impact players, but they can at least fill out depth roles. And they will. And when they're not costing teams more than $6 million per year, that's not bad.
Gomez still had two years and more than $14 million remaining on his deal with the Canadiens. He signed with the Rangers as a free agent before the 2007-08 season and never came close to production that would justify his contract. The Rangers were eventually able to dump him on Montreal in a laughably lopsided trade that resulted in New York getting Ryan McDonagh. It's a deal the Canadiens would no doubt like a mulligan on.
Redden joined the Rangers before the 2008-09 season and, like Gomez, was a bitter disappointment. He had two years and $13 million remaining on his contract.
New York was unable to trade him like it did Gomez but managed to hide him in the American Hockey League the past two seasons, where he played for the Connecticut Whale, recording 62 points (12 goals and 50 assists) in 119 games.
For more hockey news, rumors and analysis, follow @EyeOnHockey and @agretz on Twitter and like us on Facebook.
J.T. Brown, who raised his fist during the national anthem, meets with Tampa Police Depart...

The decision would likely be met by anger from some fans, but it could also make sense

Toronto shoots to the No. 1 spot, just ahead of the Chicago Blackhawks
The Penguins' standout is at it again

Gary Bettman all but reverses course from his September comments on anthem demonstrations

The 'Washington Post' says many teams have stopped booking stays at Trump-owned properties