WATCH: Rangers, Flyers open game with two fights in first minute
The New York Rangers wanted revenge on Wayne Simmonds for concussing Ryan McDonagh in a game last week. So Sunday's game started with two fights, including one involving Simmonds.
Everyone knew it was coming.
The New York Rangers were incensed over a punch from Philadelphia Flyers forward Wayne Simmonds that concussed an unexpecting Ryan McDonagh in the last game between the two clubs just over a week ago. Though Simmonds was ejected from that game, he was not suspended, so the Rangers wanted to exact their own form of justice.
Rangers players were pretty open about their displeasure and at least hinted at their wanting to take their own measures in response to the punch that has left McDonagh sidelined ever since. It didn't take long for that to materialize.
With the two teams meeting Sunday evening at Madison Square Garden, Simmonds was notified pretty quickly that it was time to pay the piper. Rookie defenseman Dylan McIlrath, who was known as "The Undertaker" in junior hockey, was the Rangers player that had decided he wanted to make Simmonds answer the bell. NBCSN's cameras caught Simmonds and McIlrath chatting during warmups and it did not appear to be a friendly conversation.
Simmonds did not start the game for the Flyers, but he did take the second shift. McIlrath stepped onto the ice for the one, too. Just 39 seconds into the game, Simmonds sought out McIlrath and the two dropped the gloves and eyed each other like a pair of old boxers getting ready for a prize fight.
In a bout between extremely tough individuals, this was a marathon in hockey fight terms. They just started throwing them early and often, with each landing some heavy punches on the other. Both remained on their feet for the duration before the linesmen eventually stepped in to separate the gassed pugilists. Here's the full fight:
Simmonds, who was cut in the fight, showed he wasn't going to back down. He also had some reactions of his own for the crowd in Madison Square Garden.
That certainly wasn't the end of things, though.
After Simmonds and McIlrath were sent to the box and play resumed, the tough guy lines were out for each team. It only took 20 seconds for Ryan White and Tanner Glass to throw down in another spirited scrap. Only 59 seconds of clock time had elapsed and there were already 20 minutes in penalties between the two teams.
Glass vs White pic.twitter.com/vUT0ppYlxH

— Evgeni Malkin's Ego (@EvgeniMaIkinEgo) February 15, 2016
Glass had been one of the more vocal Rangers earlier in the week in saying that Simmonds was to be held accountable and vowed to be the one to do it. Apparently McIlrath got dibs, though. But in a game as tense as this, Glass wasn't going to miss out on the rough stuff.
Either way, this whole revenge thing has been a little overblown in hockey. You can understand the Rangers' frustration with losing a key player, but it's not like Simmonds wasn't punished for the infraction. He had to sit out the entire rest of that game which the Rangers ended up winning. The policement of the game -- the referees -- got it right. That there was no suspension later probably escalated things, though.
In these situations, you also have to worry about the team losing focus and spending too much time on "holding Simmonds accountable." Getting it out of the way early helps, though. And the Rangers actually responded to the fights rather well. Derick Brassard, who was another one of the Rangers openly critical of Simmonds leading up to the game, scored on a wraparound about four minutes after the fisticuffs to give New York a 1-0 lead.
For a second there, this game looked like it was going to devolve into a 1970s-style brouhaha. Getting the fights out of the way seemed to get everyone to focus on actual hockey playing, though. Tensions will remain high as it looks like the great Rangers-Flyers rivalry is still alive and well.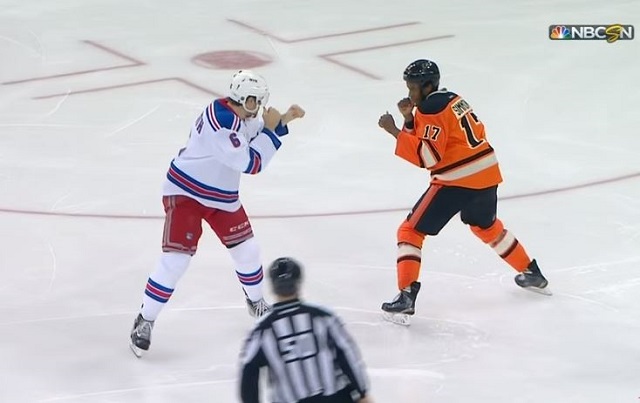 CBS Sports HQ Newsletter
We bring sports news that matters to your inbox, to help you stay informed and get a winning edge.
Please check the opt-in box to acknowledge that you would like to subscribe.
Thanks for signing up!
Keep an eye on your inbox for the latest sports news.
Sorry!
There was an error processing your subscription.
The Sabres missed the playoffs for the ninth consecutive season during the now shortened 2019-20...

Yzerman continues to stick by Blashill despite this year's struggles

SportsLine's advanced computer model simulated the entire 2020 Stanley Cup Playoffs 10,000...
Ovechkin shared a sweet photo with his new son, Ilya

All you need to know for Stanley Cup betting action

Handicapper Bill Marzano has returned over $10,000 on his NHL picks over the past four years.
We have all the latest updates and rumors from around the league as the trade deadline approaches

Matthew Tkachuk's 6 points help set the tone for the Pacific in his hometown