Details emerging about Dorrell's fast-tracked interview process
One of the candidates passed over by Bobby Petrino for the position that eventually went to Jessica Dorrell was an All-American lineman who had nearly a third of the current SEC head coaches as references.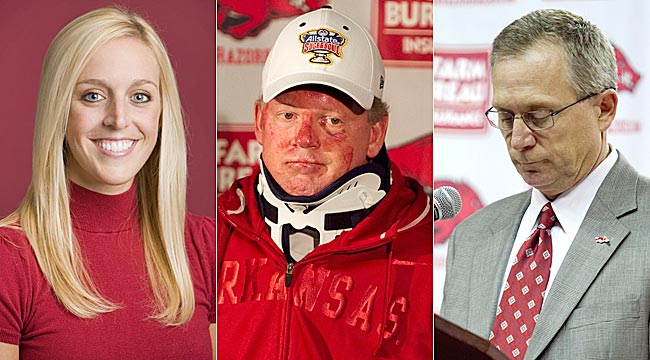 Documents obtained by Fayetteville television station 40/29 show that of the 158 applicants turned down by Arkansas for the student-athlete development coordinator position that ultimately went to Jessica Dorrell, at least one came highly recommended.
That candidate was Benjamin Wilkerson, one of three finalists for the job within the football program, along with Dorrell and Arkansas recruiting assistant Tiffany Fields. A former NFL offensive lineman, All-American, Rimington Trophy winner, and a member of Nick Saban's 2003 national championship team at LSU, Wilkerson's resume included the following list of references, per 40/29:
LSU head coach Les Miles, Alabama head coach Nick Saban, Florida State head coach Jimbo Fisher, Florida head coach Will Muschamp and Tennessee head coach Derek Dooley.
While we're not human resources types who can tell you exactly how much value those names ought to have when evaluating a candidate like Wilkerson; what we are certain of is this: when you are applying for a position within the staff of an SEC football program, those are some big, big names. (What's interesting is that Petrino himself was not among them, despite Wilkerson having played for Petrino as a member of the Atlanta Falcons in 2007.)

Following his football career, Wilkerson spent 2010 as a graduate assistant and 2011 as an "offensive administrative intern" at LSU. He was hired as the offensive line coach at Grambling on April 2, one day after Petrino's fateful motorcycle crash with Dorrell aboard.
Petrino said in his review of the three finalists that Wilkerson and Fields were each "great candidates," but lacked "as much experience as other candidates for this particular position." Dorrell, meanwhile, was praised for having "the best experience" and "would be the best fit for the position."
Petrino has since admitted that by the point of her hiring, he and Dorrell were already pursuing a romantic relationship during which Petrino had given her $20,000 cash -- a gift whose purpose was revealed Friday by the Associated Press, which fielded 500 pages of documents from the university on Friday after filing a FOIA request.

The documents show Long, at the request of Petrino, fast-tracked the interview process for Dorrell, who had submitted a one-page resume expressing her interest in the position. She was hired in late March at a salary of nearly $56,000.

The other two finalists listed specific football credentials, while Dorrell did not.
Per 40/29, Fields' recommendations weren't anything to sneeze at either, it seems:
Among Fields' recommendations were two Arkansas assistant football coaches, two members of the athletic department staff, UAB head coach and former Arkansas offensive coordinator Garrick McGee, University of Pittsburgh player personnel director Dann Kabala -- the man who previously held the student-athlete development coordinator position -- and Petrino himself.
Again, we're not experts who could say whether or not the hiring of Dorrell -- who herself had references from two high-ranking members within the Arkansas athletic department -- constitutes a legal liability or not. But given the facts of her relationship with Petrino, it sure deesn't look good from here, either.
Keep up with the latest college football news from around the country. From the opening kick of the year all the way through the offseason, CBSSports.com has you covered with this daily newsletter. View a preview.
Air Force was forced to cancel 11 athletic events because of the 69-hour government shutdo...

Olson has a lot of the tools offensive coordinators want in a quarterback

The Tigers have a wealth of talent at their biggest position
Pineiro received the award for stopping an attack the morning of Oct. 15, 2017

The first opening weekend lines for college football in 2018 have been posted

A year-end wrap-up of college football statistics you need to know from 2017