Week 4 schedule analysis
The Week 4 schedule has some interesting twists. Brian Rutherford offers his sage advice in the latest schedule analysis.
With just 11 days remaining in the month, we decided to seek out some trends to focus on. Minnesota (NAS, CAR at CHI) will end the week on Saturday night with the first half of a home-and-home with Stanley Cup champs. But teams with very different schedules will make a bigger impact to your lineups over the next two weeks.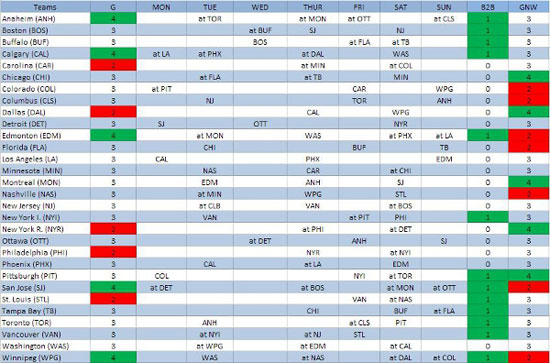 Three of a Kind
Chicago (at FLA, at TB, MIN), Montreal (EDM, ANH, SJ) and Pittsburgh (COL, NYI, at TOR) will all play seven games over the next two weeks.
Meanwhile, Florida (CHI, BUF, TB), Nashville (at MIN, WPG, STL), Colorado (at PIT, CAR, WPG) and Columbus (NJ, TOR, ANH) all play just five games over the next 14 days.
Flush
In Flush, five teams have busy (four games) and seemingly brutal schedules. Some members of the Pacific Division (plus Winnipeg) play host to Alexander Ovechkin and the traveling Caps.
Anaheim (at TOR, at MON, at OTT, at CLS) is off to a good start and even Teemu Selanne is warming up.
Calgary (at LA, at PHX, at DAL, WAS): The Sean Monahan countdown continues. He had a power play goal and an assist in San Jose on Saturday night. Will the Flames send him back down to Juniors or keep him up? Joey MacDonald is 0-2-1 (4.25 GAA) versus the Caps.
San Jose (at DET, at BOS, at MON, at OTT: Matt Nieto continues his "progressive" additions to the stat sheet. More importantly Logan Couture (nine points in seven games) is returning to form after a down lock-out shortened season. Antti Niemi is 3-0-1 (1.98 GAA, 1 SO) in his career against the touring Caps.
Edmonton (at MON, WAS, at PHX, at LA): The Oilers are apparently on Ryan Miller's no-trade clause, so what now? Jason LaBarbera is not a likely candidate for putting a team on his back all the way to what is now a deep run in the NHL playoffs. In the meantime, Mark Arcobello is just piling up the points in Alberta. If he is to continue his pace, it would not be a stretch for the undrafted 25-year-old who had 46 assists in 74 games with the Oklahoma City Barons. He also set a career-high with 22 goals with the Barons as well.
Winnipeg (WAS, at NAS, at DAL, at COL): However, the good news for Alberta natives is not both incumbent NHL starters fell flat on their face like the unmentioned Edmonton man. Ondrej Pavelec rebounded from a four-game losing streak with a 4-3 win over St. Louis on Friday. It's noteworthy that Pavelec's offense only scored four goals during that losing streak. However, Pavelec did not have a good campaign (1-4, 3.62 GAA) against the former division rival Capitals in last year's lock-out shortened season.
One Pair
Philadelphia (NYR, at NYI), St. Louis (VAN, at NAS) and Carolina (at MIN, at COL) are three of the five teams who play just twice this week.
Dallas (CAL, WPG): Despite having the very talented Alex Chiasson and underrated Cody Eakin, the Stars won't be a great source of points until next week when they play four games. Dan Ellis was solid against the Sharks earlier this week, but could the day-to-day Kari Lehtonen (lower-body) be back soon? By this time next week, we may need to consider whether Jack Campbell's services will be needed.
Rangers (at PHI, at DET): A movement of excitement began when Henrik Lundqvist blanked the Caps and the Rangers power-play rose from the dead. However, Ryan Callahan's broken digit only compounds Rick Nash's (concussion) continuous absence. The hope is Carl Hagelin's return will help wash out these injuries. If the Rangers offense remains stagnant (Taylor Pyatt on the first line?), you could see highly touted winger J.T. Miller register top-six minutes this week. If so, pounce, and Jesper Fast could sneak up there as well. But either way, the Rangers won't make any splashes on your week with just two tilts.
Back-To-Back
For those in leagues with weekly lineups, you have some tough decisions to make. In addition to the Ducks, Flames, Oilers, Sharks, Blues and Jets, the following teams playing three games this week will all play games on consecutive nights at some point this week.
Vancouver (at NYI, at NJ, STL) flies home from visiting dear old friend Cory Schneider before hosting the Blues.
Toronto (ANH, at CLS, PIT) has a tough week ahead. After hosting the Ducks, they'll travel to Columbus on Friday and host the Pens on Saturday.
After opening the week with a few days off, Tampa Bay (CHI, BUF, at FLA) will tangle with the Blackhawks on Thursday, then host Buffalo on Saturday and travel to play the Panthers in a De facto road game on Sunday.
Pittsburgh will host Colorado on Monday, before back-to-back games against the Isles at home on Friday and then the aforementioned tilt with Toronto on Saturday.
The Islanders (VAN, at PIT, PHI) travel to take on the Pens before heading back to the Island to host the lackluster Flyers on Saturday.
Meanwhile, Buffalo (BOS, at FLA, at TB) and Boston (at BUF, SJ, NJ) will take different journeys after meeting each other Wednesday. Tuukka Rask's backup, Chad Johnson, will likely get the nod hosting Buffalo as the Bruins head home on Thursday to take on the Sharks. Buffalo will likely look to their backup Jhonas Enroth when they begin their Florida swing on Friday.
Defensemen aren't Fantasy Hockey afterthoughts anymore. Here is how we rank them for 2017-...

You need to hit on some late-round picks to succeed in Fantasy, so here are a few to target...

Learn how to take advantage of the power play with our rundown of the best units in the le...
There aren't enough top-tier goaltenders to go around in Fantasy, so it makes sense to have...

Forwards are the backbone of any Fantasy roster, and we've got the best of the bunch ranked...

Where should Fantasy owners look for value? Often times they come from the victors in these...