Klitschko defeats Povetkin via unanimous decision
The consensus heavyweight champion defended his four title belts in a long-awaited fight at the Olympic stadium in Moscow.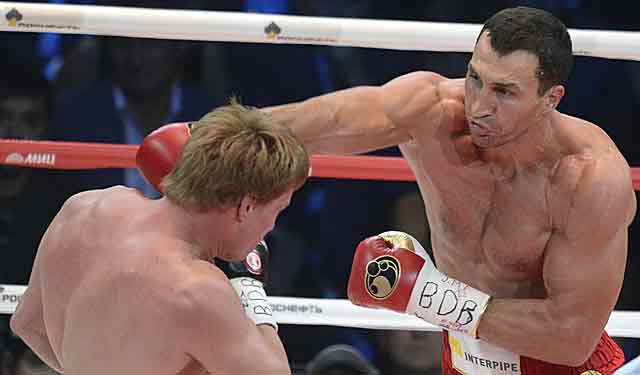 Wladimir Klitschko added another line to his resume - but likely not a single person to his fan club - with a unanimous decision over previously unbeaten Russian Alexander Povetkin in defense of his consensus acclaim as world heavyweight champion on Saturday afternoon in Moscow.

The 37-year-old swept the three scorecards by nods of 119-104 while racking up the 15th defenses of the International Boxing Federation (IBF) and International Boxing Organization (IBO) titles that he won in 2006. He also defended the World Boxing Organization (WBO) and World Boxing Association (WBA) championships that he'd picked up in unification fights along the way.

CBSSports.com had it slightly closer at 116-108 – or 8-3-1 in rounds – giving Povetkin the third, fifth and 12th and calling the 11th round even.

Klitschko is now 61-3 in a career that began shortly after he won super heavyweight gold in the 1996 Summer Olympics in Atlanta. He's unbeaten since a 2004 TKO loss to Lamon Brewster that was ultimately avenged by stoppage in 2007. Povetkin had won 26 consecutive fights as a pro after winning his own super heavy gold at the 2004 Games in Athens, Greece.

The match was less than an artistic masterpiece, with Klitschko's most persistent strategy being a left jab, a straight right hand and a clinch in which he'd lean his 6-foot-6, 241-pound frame down over the shoulders of Povetkin, who was four inches shorter and roughly 16 pounds lighter. The sequence occurred multiple times in each round, but Klitschko was never meaningfully reprimanded by referee Luis Pabon.

Pabon had an up-and-down night as the third man in the ring, seemingly ruling at least one knockdown that actually resulted from a punch, then reversing the error later in the fight when it appeared Povetkin had legitimately been dropped by a punch that was called a push. Klitschko was finally docked a single point for excessive pushing in the 11th round, by which time Povetkin was irrevocably behind.

The first of Klitschko's four legitimate knockdowns came in the second round, when a short left hook caught Povetkin as he stepped forward and dropped him for the first time in his fighting career - amateur or pro. He rose and lasted the round without issue, then had a moderately successful time in the third, landing a few lunging shots that made the typically reserved Klitschko appear intermittently uncomfortable.

The two exchanged momentum through the fourth, fifth and sixth rounds before Klitschko applied a dominant stamp in the seventh by dropping Povetkin three more times. The first was another dubious call by Pabon after Klitschko did more tossing than punching, but the last two were legit after a pair of follow-up flurries. Povetkin rose for the third time with 50 seconds remaining and was able to survive the round.

Povetkin fell again in the ninth from what appeared to be another short left, but Pabon again dusted his gloves and waved off the count. Little changed in the 10th and 11th, outside of the aforementioned point deduction, and the two stayed in the same drowsy rut until the final 20 seconds of the 12th - when they each let go with winging shots that didn't land, but did get a rise from the crowd.
4:49 p.m. ET: And there it is, all three judges score it 119-104 for Klitschko, giving him all but one round. 
4:47 p.m. ET: And now, we wait - with held breath - for scorecards. Should be an easy win for the champion, but who knows in Povetkin's home town.
Round 12: Not much action through the first half of the last round. Jab-hook-clinch or jab-right-clinch. Povetkin gets timeout to tape right glove, prolonging the inevitable. Povetkin lands counter right hand over Klitschko hook, grapples and then falls to floor again. More clinches in final 45 seconds. Winging exchange in final 20 seconds, best action of desultory fight. Final bell arrives. Povetkin, 10-9. (116-108, Klitschko).
Round 11: Povetkin lands left hand and Klitschko reels backward, appearing to have stumbled rather than being hurt. Nonetheless, it's gotten a rise out of Povetkin, who's throwing more than he has in several rounds. Not landing much, but throwing. Klitschko lands solid left hand at 1:45 mark. Povetkin is pushed and falls again, Klitschko has a point taken away at last. Klitschko throws short right uppercut that lands. Even, 9-9. (107-98, Klitschko)
Round 10: Klitschko lands range-finding jab and clean straight right at halfway point. Long left jab snaps Povetkin's head back. Lunging right hand from Povetkin gets crowd up, but has little impact. Stifling routine of early rounds hasn't changed much, especially as Povetkin's energy level has dropped. Klitschko, 10-9. (98-89, Klitschko)
Round 9: Povetkin hit by another short left hand and falls, but Pabon doesn't call this one a knockdown. Povetkin leaps in with left, misses, and eats a counter left hand. Klitschko lands two right hands and a left, all clean shots, if not devastating. Klitschko, 10-9. (88-80, Klitschko)
Round 8: Povetkin charges out and flings overhand right that grazes Klitschko chin. Klitschko moves outside and lands sharper shots, but not a ton of them. Povetkin has abrasion and slight swelling under right eye. Povetkin not moving his hands an awful lot. Wings a shot, gets inside and waits for referee to break. Looks tired. Klitschko, 10-9. (78-71, Klitschko)
Round 7: Klitschko lands left-right, then wrestles Povetkin to ground and Pabon calls it a knockdown in first 45 seconds. Klitschko following up with flurry, scores another knockdown at 80-second mark. Povetkin up, but not steady. Big straight right hands and follow-up left leads to third knockdown of round with 50 seconds left. Povetkin tired, Klitschko more active in clinches with aggression. Big round for the champion. Klitschko, 10-7. (68-62 Klitschko) 
Round 6: Klitschko looks energized to begin sixth, lands four or five jabs that land solidly. Moving more laterally. Klitschko winning round with left hand, hasn't thrown any solid rights through two minutes. Povetkin lands right hand with 30 seconds left. Klitschko, 10-9 (58-55 Klitschko at halfway mark)
Round 5: Povetkin lands overhand right to left ear, first shot in a couple rounds. More grappling along ropes. Crowd chanting for Povetkin, followed by another clinch in which the bigger, stronger Klitschko leans down on his neck. Povetkin leaps in with left hand. Klitschko misses straight right, clinches. Round is a blueprint for those who dislike Klitschko as a boring fighter. Referee doesn't hear bell immediately, but no extra punches thrown. Povetkin, 10-9. (48-46, Klitschko)
Round 4: Crowd whistling in response to Klitschko's clinches. Klitschko lands three jabs, but is driven backward by another bull-rush from Povetkin. Jab, right hand, lean combination by Klitschko at 1:45 of round. Klitschko lands three more jabs. Povetkin goes through round wthout landing a significant shot. Klitschko, 10-9. (39-36, Klitschko) 
Round 3: Povetkin appears unhurt after second-round knockdown, still presing forward. Klitschko throwing similar left hooks to what provided the knockdown. Klitschko swings and misses with left hook. Prolonged clinch. Povetkin leaping in with left hands, Klitschko trying to time the rushes, appears somewhat tentative. Povetkin, 10-9. (29-27, Klitschko)
Round 2: Klitschko lands jab, right combo in first 30 seconds. Povetkin looks confused as to how to get inside, now that he's seeing how tall his foe is in real terms. Povetkin leaps in with left hand that glances at 90-second mark. Povetkin lands winging overhand right and is certainly having better second round. Klitschko lands short left hook that sends Povetkin to the floor with 20 seconds left. Povetkin gets right up, but loses what had been an OK round. First time in his pro or amateur career that he's ben down. Klitschko, 10-8.
Round 1: Povetkin trying to press from the outset, winging shots but hasn't landed anything. Klitschko establishing jab in second minute. Povetkin still flailing to get inside. Klitschko lands left hook shortly before bell, then wrestles Povetkin to ground. No knockdown scored. Klitschko, 10-9. 
3:57 p.m. ET: Big hand for Klitschko on Buffer's intro. Moments away from the start.
3:54 p.m. ET: Now, time for Buffer's schtick. Then it's Puerto Rican referee Luis Pabon's show. Two American judges, one Belgian... in case it matters later.
3:50 p.m. ET: But first... national anthems. Ukraine first, then Russia. 
3:49 p.m. ET: The fighters are both in the ring. Introductions and instructions to follow.
3:46 p.m. ET: Klitschko's being brought in with the Red Hot Chili Peppers on the loudspeakers. If entrance music matters, he's already in the lead.
3:45 p.m. ET: Povetkin could have had Freddie Roach as trainer, but he refused to relocate to Roach's California gym and Roach would not come to Russia.
3:43 p.m. ET: A live musical group is providing the soundtrack to Povetkin's ring walk. Not exactly a rousing entrance. Crowd enthused, but not overwhelmingly so.
3:42 p.m. ET: Michael Buffer has a mic in his hands. The ring walks are about to get started.
3:30 p.m. ET: HBO's broadcast is going live. The "Network of Champions" will show the fight as it happens, then rebroadcast the match at 9:45 p.m. in front of the Miguel Cotto-Delvin Rodriguez main event from Orlando, Fla.
3:20 p.m. ET: The fight in Moscow is Povetkin's sixth in Russia since first appearing there against Imamu Mayfield (KO 3) in his 10th pro fight in 2006. He's 5-0 in his home country with four wins by stoppage. Klitschko has never fought in Russia. 
3:15 p.m. ET: The 241.6 pounds at which Klitschko tipped the scales on Friday is his lightest weight for a fight since the 240.25 he weighed before toppling Chagaev in 2009. He was more than seven pounds heavier - at 249 - for his most recent title defense against Francesco Pianeta on May 4. Similarly, Povetkin's 225.75 is his lightest weight since a 2010 defeat of Javier Mora (TKO 5) in March 2010.
2:48 p.m. ET: Drozd wins the EBU cruiserweight belt with an 11th-round TKO. The Russian drove his man into a corner and followed with a multi-punch combination that ultimately forced the hand of referee Terry O'Connor to halt the action. 
2:30 p.m. ET: It's been a spirted first half for the cruiserweights, with Drozd getting the better of the action in most circumstances and landing the harder shots. Masternak has fought bravely in spite of a ghastly cut over his left eye that's bled heavily through much of the six rounds.
2 p.m. ET: Next up, cruiserweights Grigory Drozd and Mateusz Masternak in a scheduled 12-rounder for Masternak's European Boxing Union (EBU) championship. Masternak, age 26, is 30-0 as a pro with 22 KOs. Drozd is 36-1 with 25 KOs at age 34.
1:50 p.m. ET: Chagaev wins a unanimous decision over 12 rounds to score his fifth consecutive victory since the loss to Povetkin in August 2011. Scores were 117-109, 115-111 and 118-108. Pudar had won eight in a row since dropping a 10-round decision to Samuel Peter in 2004, a loss that was followed by a six-year ring sabbatical.
1:30 p.m. ET: They're through eight rounds in the Chagaev-Pudar fight, a generally plodding affair that's seen the 5-foot-11 Chagaev moving forward and catching his gangly 6-foot-4 foe with straight, harder shots. Pudar was dropped by a looping right hand in the eighth and rose, claiming the shot had landed behind the head.
1 p.m. ET: The main event is still a couple hours away, but the Moscow ring is busy with former WBA heavyweight champ Ruslan Chagaev, who's meeting 42-year-old Serbian Jovo Pudar in a scheduled 12-rounder. Chagaev has fought both Klitschko and Povetkin, dropping a decision to Povetkin in 2011 - two years after he was stopped in nine rounds by Klitschko.
More: Seven years in, Klitschko still solidifying heavyweight reputation
 Tale of the tape
 
WLADIMIR KLITSCHKO
ALEXANDER POVETKIN
Record
60-3, 51 KOs
26-0, 18 KOs
Height
6'6"
6'2"
Reach
81"
75"
Weight*
241.6 lbs
225.75 lbs
Age
37
34
Stance
Orthodox
Orthodox
Hometown
Solnechnoye, Kazakhstan
Kursk, Russia
Rounds
313
147
How does Klitschko win?
The champion is not only physically dominant compared to most foes, but also technically superior. He has a punishing left jab and follows it with damaging right hands that often spell trouble for opponents trying to apply pressure. He's also very effective defensively and doesn't get hit as cleanly as often as he did early in his career. Against a foe four inches shorter and nearly 16 pounds lighter, he simply needs to do what he's done against so many of the other challengers throughout his reign.
How does Povetkin win?
Though he's not all that much younger than Klitschko, 34 years old to the champion's 37, he does have a few less miles on the tires and no scars – physical or otherwise – from past defeats. He's claimed in statements leading up to the fight that he plans to apply heavy pressure on his bigger foe, who hasn't always dealt with that sort of engagement successfully. Povetkin is also fighting in his home base before what figures to be a supportive crowd, so the energy boost that'll provide can't hurt either.
Prediction: Klitschko via TKO in the 10th
Many will say Povetkin is the most worthwhile challenger Klitschko has faced in what's now been more than seven years atop the division. But whether or not he compares well to the Chris Byrds and Sam Peters and David Hayes of the world doesn't matter as much as how he compares to Klitschko. The champion is by far the best fighter Povetkin has been in with skill-wise, not to mention his significant advantages in height, weight, reach and elite-level experience. In the end, all that will matter far more than whether or not the unbeaten Russian could handle a previously mediocre crop of contenders. Expect a few more competitive rounds than Klitschko generally sees, but a similar ending in which a smaller man is ultimately worn down from the shots delivered by a bigger (and more talented) fighter. 
Our Latest Stories
Smoke brought out the diamonds on Thanksgiving Day

Raisman said she is 'beyond disgusted' by Nassar's actions and says it's 'about time' he's...

A Florida woman allegedly stalked and harassed Stewart for more than a year after he failed...
Jonah Keri talks to with Vox senior politics reporter Jane Coaston

The movie also stars Channing Tatum, James Corden, Zendaya and Danny DeVito

Travel plans for the PyeongChang Games have been 'stagnant,' one agency told USA Today