All-Time Single-Season Team: Tampa Bay Rays
When it comes to naming all-time single-season teams, the time has come to turn our attention to the Rays (and, of course, Devil Rays).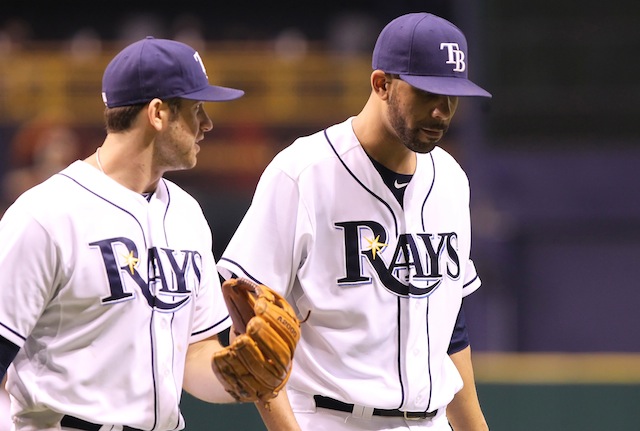 ALL-TIME SINGLE-SEASON TEAMS: CHC | STL | MIL | CIN | PIT | CHW | DET | KCR | CLE | MIN | ARI | COL | SD | LAD | SF | SEA | HOU | LAA | TEX | OAK | BOS | NYY | BAL | TOR
It is time, once again, for another entry into our all-time single-season series. What is this, you ask? Here's the explanation:
Obviously, the term "single-season" implies that we're focused on brilliance within the confines of one campaign and not, say, career value or even value across a handful of seasons in the same uniform. While this is no doubt a largely subjective undertaking, please bear that in mind before airing objections. Or not. Whatever.

Also, we're largely limiting the selections to those of modern era (i.e., from 1900 onward) in large part because the "primordial soup" days of the sport bear only the most basic resemblances to the game played today. That's more a general principle than hard-and-fast rule, though. As well, a player can appear only once on the team in question. So even those who excelled at multiple positions over the years will be assigned one spot and one spot only.
Today's team is the Tampa Bay Rays . The Rays have been around since way back yonder in 1998, and as such we're dealing with a very shallow pool of eligibles, at least relative to the old-line franchises. Still, chins up, Rays partisans: Those from the vaunted Devil Rays era are of course eligible for inclusion. 
And now for the big reveal ...
CATCHER - John Jaso , 2010
So catcher hasn't exactly been an organizational strong point over the years. In any event, the job falls to Jaso, who in 2010 batted .263/.372/.378 (111 OPS+) in 404 plate appearances with 58 unintentional walks versus just 39 strikeouts.  
Also considered: Dioner Navarro , 2008
FIRST BASE - Carlos Pena , 2007
Indeed, Pena had quite a run with the Rays, as he tallied 144 home runs in his first four seasons with the team. In 2007, he was on an elite level: .282/.411/.627 (172 OPS+, good for second in the AL) with 46 homers, 103 walks, 307 total bases and 121 RBI. A top-10 MVP finish and a Silver Slugger ensued. Pena was also, of course, a skilled defensive first baseman in those days. 
Also considered: Other Pena seasons, Fred McGriff in 1999
SECOND BASE - Ben Zobrist , 2009
Zobrist is a standout defender at a number of positions, and in '09 his bat was at its best. In152 games, Zobrist batted .297/.405/.543 (149 OPS+) with 27 homers and 17 stolen bases. That season, Zobrist spent the majority of his defensive innings at second, of course, but he also saw action at short, third, first, left, right and center -- i.e., every position but catcher. What a valuable player.  
Also considered: More Zobrist, 2005 Jorge Cantu
SHORTSTOP - Jason Bartlett, 2009
Bartlett was rightly known for his glove, but he also showed some offensive chops in 2009: .320/.389/.490 (132 OPS+) with 14 homers and 30 stolen bases. Considering that he manned a premium position and manned it very well, that's excellent production. 
Also considered: Julio Lugo, 2006
THIRD BASE - Evan Longoria , 2010
Longoria is of course the obvious choice here. Choosing one season of his wasn't easy, but I'll go with 2010, when he played in 151 games and batted .294/.372/.507 (143 OPS+) with 22 homers, 46 doubles and 15 stolen bases. Longoria also took the extra base an impressive 56 percent of the time that season. He won the Gold Glove and finished sixth in the AL MVP balloting. 
At this point, note that the Rays boast one heck of an infield defense. 
Also considered: Other Longoria seasons
LEFT FIELD - Carl Crawford , 2010
The long-time Rays fixture in the outfield had his best season in 2010: .307/.356/.495 (career-high 135 OPS+) with 19 homers, 13 triples, 46 stolen bases and a Gold Glove. 
Also considered: More Crawford seasons, maybe even Greg Vaughn in 2000
CENTER FIELD - Randy Winn, 2002
The switch-hitting Winn batted .298/.360/.461 (120 OPS+ )with 14 homers, 39 doubles and 27 steals. That's of course in addition to his status as a capable fly-catcher in center. 
Also considered: A number of Melvin Upton seasons
RIGHT FIELD - Aubrey Huff , 2003
A .922 OPS, 145 OPS+, 34 homers, 47 doubles and even better numbers with runners on base? Yeah, this one goes to Huff.
Also considered: Will Myers in 2013, Matt Joyce in 2011, Zobrist in 2012
DESIGNATED HITTER - Jose Canseco, 1999
Why not? Actually, Canseco was indeed productive in '99, as he batted .279/.369/.563 (134 OPS+) with 34 homers. Again, one does not pass up the chance to install Mr. Canseco in the lineup. 
Also considered: Huff in 2002, Jonny Gomes in 2005
STARTING PITCHERS - 2012 David Price , 2011 James Shields , 1998 Rolando Arrojo, 2007 Scott Kazmir , 2011 Jeremy Hellickson
To the numbers ... 
Price: 20-5, 2.56 ERA, 150 ERA+, 1.10 WHIP, 205 K, 211 IP, 2 CG, 1 SHO
Shields: 16-12, 2.82 ERA, 134 ERA+, 1.04 WHIP, 225 K, 249 1/3 IP, 11 CG, 4 SHO
Arrojo: 14-12, 3.56 ERA, 133 ERA+, 1.29 WHIP, 152 K, 202 IP, 2 CG, 2 SHO
Kazmir: 13-9, 3.48 ERA, 130 ERA+, 1.38 WHIP, 239 K, 206 2/3 IP, 0 CG, 0 SHO
Hellickson:  13-10, 2.95 ERA, 128 ERA+, 1.15 WHIP, 117 K, 189 IP, 2 CG, 1 SHO
Price's Cy Young-winning season naturally tops the list. Just four times all year did he allow more than three runs in a start. Next up is Shields, who in 2011, in addition to the nifty ERA, paced the majors in complete games and notched a quality-start percentage of 76.0.
In the Arrojo's first MLB season season, the Cuban import authored the numbers you see above despite playing for a 99-loss team. Kazmir in 2007 led the AL in starts and strikeouts as a 23-year-old and posted the best qualifying ERA and ERA+ of his career. As for Hellickson, in his Rookie-of-the-Year campaign he notched 20 quality starts in 29 chances. Opposing hitters batted just .210 against him. 
Also considered: Other Price, Shields, Kazmir and Hellickson seasons; Matt Garza in 2008; Tony Saunders in 1998
RELIEF PITCHERS - 2012 Fernando Rodney , 2010 Joaquin Benoit , 2008 J.P. Howell
Rodney was a complete dominator in 2012: 74 2/3 innings, 0.60 ERA (!), 641 ERA+ (!), two homers allowed, 76 strikeouts against just 14 unintentional walks. It was rather quietly one of the best closer seasons in recent history. In 2010, Benoit pitched to a 1.34 ERA (292 ERA+) with 75 strikeouts and 10 unintentional walks in 60 1/3 innings. As for Howell, the lefty in '08 worked a hefty 89 1/3 innings, logged a 2.22 ERA (199 ERA+) and shut down same-side hitters and right-handers alike. 
Also considered: Grant Balfour in 2008, Rafael Soriano in 2010, Alex Torres in 2013, others
---
THE LINEUP
1. Carl Crawford, 2010
2. Ben Zobrist, 2009
3. Evan Longoria, 2010
4. Carlos Pena, 2007
5. Aubrey Huff, 2003
6. Randy Winn, 2002
7. Jose Canseco, 1999
8. Jason Bartlett, 2009
9. John Jaso, 2010
Considering the youth and early struggles of the franchise, this isn't a bad team at all. 
Coming Thursday: The Miami/Florida Marlins