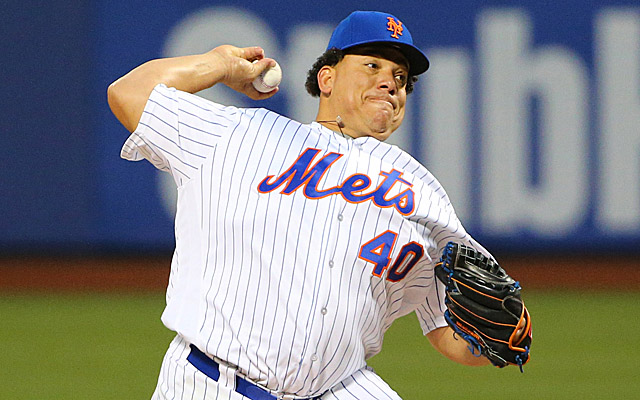 Mets starter Bartolo Colon will turn 43 years old this season and he's still finding ways to be productive. He struck out seven without walking any while allowing just one run in six innings Saturday. He took the loss, but that's because his Mets were shut out.
Colon, however, is more notable these days for being an utter GIF/Vine machine. Whether it's watching him hit -- and seeing his helmet fly off -- run the bases or field around the mound, the Internet loves it some Bartolo entertainment.
On Saturday, he did not disappoint. Even when it's not his own doing, such as the Mets broadcast accidentally painting him blue for a quick second:
Mets broadcast accidentally turns Bartolo Colon's skin blue https://t.co/LOYSAfAYZR pic.twitter.com/71Jb8VeDFN

— Kenny Ducey (@KennyDucey) April 9, 2016
There was another helmet falling off during a wild swing.
Bartolo Colon is an American treasure as an athlete. https://t.co/h6RHSj3tPM

— Lou (@dubois) April 10, 2016
And then the main course, Bartolo grabbing an over-the-shoulder catch on a pop-up bunt!
They don't call him #BigSexy for nothing! pic.twitter.com/WP9FLaqvuT

— MLB GIFS (@MLBGIFs) April 10, 2016
Yes, MLB mashed it together with the great Willie Mays and his most famous catch:
As my colleague Dayn Perry would quip: Excelsior!
Please never retire, Bartolo.