Bull Pennings: Rock and roll -- and baseball -- never forgets
It wasn't quite out past the cornfields where the woods got heavy, and it wasn't quite a '60 Chevy. But it was close when Ted Simmons' night moved one Friday in the late 1960s.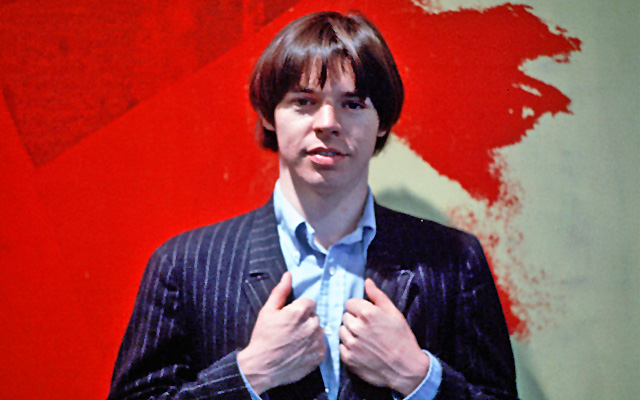 Bob Seger back in 1969.
(Getty Images)
PEORIA, Ariz. -- It wasn't quite out past the cornfields where the woods got heavy, and it wasn't quite a '60 Chevy.
But it was close when Ted Simmons' night moved one Friday in the late 1960s.
Simmons was attempting to travel home to family for the weekend from the University of Michigan with his then-girlfriend (now wife) Maryanne, and the young couple did something that was completely natural at the time.
They hitchhiked.
Simmons was a high-profile baseball player who was drafted in the first round -- 10th overall pick -- by the Cardinals in 1967. Though he signed with St. Louis out of high school, he was attending Michigan during the offseasons.
It was in November or December, as he remembers it. Nighttime. Cold. Snow flurries.
As Ted and Maryanne hitchhiked alongside U.S. 23 North coming out of Ann Arbor, a van pulled over. Ted helped Maryanne into the front passenger's seat, then climbed into the back.
"I get in, all the seats had been removed, and there was a full drum set in the back," says Simmons, now a senior adviser to Mariners general manager Jack Zdurencik after a long pro career as a player.
As the van rumbled off into the night, Simmons told the driver how much he appreciated him stopping.
"Where ya going?" the driver asked.
"Detroit," Simmons replied.
The driver explained he was headed for Interstate 96, but then he was heading west toward Lansing instead of east toward Detroit.
"I'll drop you, and you can pick up another ride from there," the driver said.
That settled, Simmons mentioned the drum set and wondered if his ride was a musician.
Yes.
"What's your name?"
"Bob Seger."
"I remember it like it was bigger than life," Simmons says. "He was just starting out back then."
Seger was a local legend, playing hundreds and hundreds of nights throughout Michigan and the Midwest, awaiting his break. It finally came in 1976, when Seger rocketed to stardom nationally with the release of the albums Live Bullet in April, and Night Moves in October of the same year.
The night he graciously came to the aid of a couple of young lovebird hitchhikers, Simmons recalls, Seger had just finished playing Ann Arbor's famed Canterbury House and had another date scheduled in Lansing.
"He wasn't huge yet," Simmons says. "Then he got huge. It was just super for anybody to stop.
"It could have been a serial killer."
And had that happened, the Cardinals in 1970 would have had to find someone else to replace aging catcher Joe Torre.
Except, this story has a far better ending. Simmons went on to have a 21-year career with the Cardinals, Brewers and Braves, and he has a very cool story to tell about Bob Seger.
Now 63, Simmons says he's seen Seger perform two or three times since his roadside brush with rock 'n' roll greatness.
And when his playing days were finished, Simmons, a physical education and speech major, went back and earned his degree from Michigan in 1996.
Presumably, not by hitchhiking.
Sunblock day? Yes. It's finally warming up in the desert. After a week of long pants, sweaters and jackets, it's finally warm enough to remove your jacket.
Likes: White Sox starter Jake Peavy, who owns hunting property with Diamondbacks manager Kirk Gibson in Michigan's Upper Peninsula, also tells a great story of meeting Seger a few years ago. Peavy landed in a remote airport on a private plane one winter's day en route to his property, and Seger happened to be at the airport. "Mr. Seger, I'm a big fan," Peavy stammered. "Call me Bob," Seger told him.
Dislikes: Journeyman pitcher Mark Hamburger popped for a failed drug test a second time and a 50-game suspension. Even The Hamburgler is embarrassed for him.
Rock 'n' Roll lyric of the day
"Roll, roll me away, 
"Won't you roll me away tonight 
"I too am lost, I feel double-crossed 
"And I'm sick of what's wrong and what's right
"We never even said a word, 
"We just walked out and got on that bike 
"And we rolled 
"And we rolled clean out of sight"
-- Bob Seger, Roll Me Away
CBS Sports HQ Daily Newsletter
Get the best highlights and stories - yeah, just the good stuff handpicked by our team to start your day.
Please check the opt-in box to acknowledge that you would like to subscribe.
Thanks for signing up!
Keep an eye on your inbox for the latest sports news.
Sorry!
There was an error processing your subscription.
Keep it right here for all of Wednesday's MLB action

Fans of chaos should be rooting for the Brewers, Cards, and either the Dodgers or Rockies to...

Most other American League postseason races have been decided or will be shortly
Louie Iacuzzi found the banner lying in the road

Dodgers have easiest strength of schedule among postseason contenders, but who has the tou...

The Phillies would've used Jones in a part-time role