Dodgers push Braves to edge behind Hanley Ramirez Wrecking Crew
The Dodgers scored runs from practically every corner of their lineup in a Game 3 13-6 walloping of the Braves, and while Yasiel Puig is close behind, nobody is having more fun --and collecting more hits -- than Hanley Ramirez. ...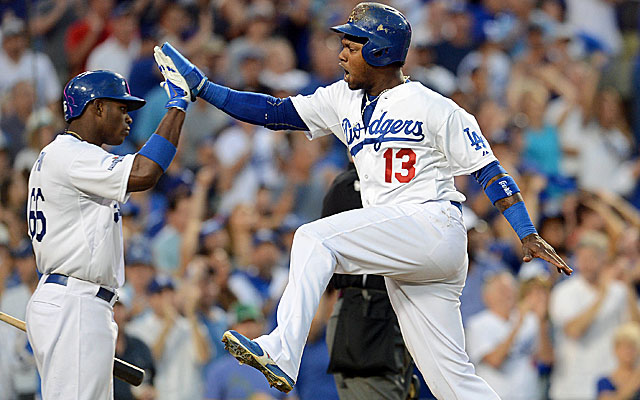 LOS ANGELES -- He came west in the Dodgers' other Big Trade last summer, the one that didn't involve Boston and a zillion dollars. The one that didn't come with lingering questions of collapses and fried-chicken grease stains.
The one that quickly melted into an afterthought.
Not that Hanley Ramirez didn't show up with a few American Tourister suitcases filled with his own skeletons. The Marlins couldn't chase him away fast enough.
Now look.
Every time he emerges from the clubhouse, his smile stretches wider than the iconic "Hollywood" sign in the nearby hills.
Every time he swings the bat, it seems, the baseball rockets toward the fence.
This NL Division Series has become Hanley Ramirez's World, and we're all just living in it. Worst of all for the Braves, they're living in it. And wearing it, which they did again in a 13-6 shellacking on a hot Sunday evening that positioned the Dodgers dangerously close to clinching in Monday's Game 4.
"He's one of the most talented hitters I've ever seen," Chris Capuano, the winning pitcher on this crazy night, said. "He's got a great attitude. He comes to the park always smiling, always laughing, keeping it light."
Surely, that's not the Hanley Ramirez they remember back in Miami.
Nor could this be: A sign hangs over his locker in the Dodgers clubhouse these days that reads, "Attitude is Everything. Pick a Good One."
Because of this attitude, leadership and a timely return toward his ability to produce smash hits, there now will be no agonizing for the Dodgers over whether to bring back Clayton Kershaw on short rest for Game 4. In no small part because Ramirez is having the time of his life -- and hitting .538 (7 for 13) through the first three games of this series.
Before it started, Ramirez had played in 1,095 major-league games, stepping to the plate 4,760 times without having reached the postseason.
Mostly, he spent the past decade's worth of Octobers at home in Miami, watching the playoffs on television with his family.
"I remember telling them last year that I want to be there," Ramirez said.
And his family told him back, "Next year, you're going to be there."
"And they were right," he said.
Talk about making up for lost time.  Now, Ramirez can't swing -- or produce -- quickly enough. And this is a guy whose .638 slugging percentage is the best in the majors among hitters with at least 300 at-bats.
Who knew that October would make the vintage regular-season Ramirez -- the one who finished second in NL MVP voting in 2009 after winning the NL batting title -- look pedestrian?
In three playoff games against the Braves, within that .538 batting average and 1.231 slugging percentage, is one homer, four doubles, one triple and six RBI. He is a one-man wrecking crew. The poor Braves. You and me, we're going to see turkey and dressing at Thanksgiving, candy canes at Christmas and mistletoe on New Year's Eve. Atlanta is about to be stuck with high-def visions of Ramirez.
The Dodgers had heard about his malcontent past in Miami. They also heard all about every flaw anybody could dig up on Carl Crawford, Josh Beckett and Adrian Gonzalez as soon as they swung the Red Sox trade a month after acquiring Ramirez.
What they quickly found was, among other things … well, let's let reliever J.P. Howell tactfully explain it.
"He's not a cancer," Howell assured.
"I think the best way to handle the situation is," catcher A.J. Ellis said, "and I felt the same way when we brought the Boston guys on, is, you've got to start with a clean slate.
"Environments change people. He had to assimilate, get comfortable and then he was back to being the guy."
At this point, how do you pitch this guy?
Third inning Sunday, he belted a 1-2 slider into left field for a leadoff single and came around to score.
Fourth inning, he drove a first-pitch fastball past Jason Heyward for an RBI triple.
Sixth inning, he battled through 11 pitches, fouling off seven of them, before Luis Ayala said "uncle" and walked him. Or maybe Ayala simply was sick of looking at him. Or tried to locate a spot that Ramirez's bat couldn't reach.
Eighth inning, he punched a 1-1 slider onto the grass in left-center to drive home Crawford for a second time.
Who knows, maybe the Pacific Ocean agrees with him more than the Atlantic Ocean. Probably, it's that his left shoulder -- surgically repaired in 2011 -- is finally allowing him to do more.
Not that Ramirez appears loose, but at this rate he'll have one of those hidden buzzers in his palm and go around the Dodgers dugout shaking hands before the Dodgers go out and try to clinch Monday.
As it was, a telling moment of how much fun Ramirez -- and this team -- is having came in the seconds before introductions as postseason baseball returned to Dodger Stadium for the first time since 2009. As Don Mattingly's name was about to be called, Ramirez playfully placed himself in front of his manager in the dugout and did a few stutter steps, momentarily blocking Mattingly's path toward the field.
What he looks like is a guy who had his bat and ball taken away from him and is thrilled to have it back.
This happened to him in Miami in 2010 when, after he was lazy going after a ball into left field -- he said his foot was hurt -- manager Fredi Gonzalez yanked him from the game and then benched him the next night.
It happened to him in 2011, when he racked up his left shoulder badly enough to need surgery. He's still not the same player he once was … although he sure could fool you right now.
"It was tough," he said of the long shoulder rehabilitation, and the threat that he would always remain just a shell of what he once was. "It was really tough. I don't want to remember those moments from the last two years. It was awful."
It happened to him this summer when a series of injuries starting in the spring's World Baseball Classic -- thumb, hamstring, back, hamstring again -- limited him to 86 games.
Now, Gonzalez, the Braves manager and Ramirez's former nemesis in Miami, is stuck watching this flood of Hanley-ness from the opposing dugout.
Mattingly held Ramirez out of some games toward season's end simply to give his various body parts a few extra hours in which to heal. I want the whole world to see how good you are, Mattingly would tell him when Ramirez would ask back in the lineup.
Now, that world is seeing.
Is it ever.
"As tough a ballplayer as I've ever been around," Ellis said.
"Incredible," Adrian Gonzalez added. "He's been incredible all year. He's the reason we turned it around."
Granderson, Verlander, Beltran and more are looking to reach the top of the MLB world

Houston's top relievers have been shaky this postseason

Our experts have a unanimous World Series pick
Otani's rare ability to hit and pitch will need to be accounted for in realms beyond real...

Kenny White has won 8 of his last 10 MLB Over-Under picks and has a strong play for Game 1

OOTP's team ran some simulations for us on the 2017 World Series