Franchise bests/worsts: Oakland Athletics
One of the greatest franchises in MLB history, the Athletics have lots of great moments but also some pretty bad ones. Let's take a look.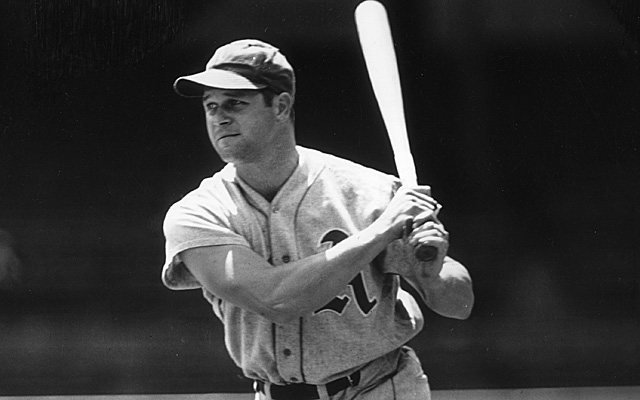 We've been venturing through the history of each of the 30 Major League Baseball franchises, discussing some of the best and worst moments, players, teams, etc. It's more of a fun snapshot for discussion purposes than a be-all, end-all declaration. We continue today with the Oakland Athletics.
The Athletics franchise goes way back -- all the way back to the foundation of the American League in 1901, in fact. At that time, they began play as the Philadelphia A's. They'd stay there until after the 1954 season, at which time they moved to Kansas City. The Kansas City Athletics existed only from 1955-67, before heading out West and becoming the Oakland A's. They've been there ever since. 
The franchise has been very successful in Oakland, going to the playoffs 18 times in 47 seasons, winning six pennants and four World Series titles. In all, the franchise has 26 playoff appearances, 15 pennants and nine World Series titles. Only the Cardinals (11) and Yankees (27) have won more World Series.
Best team: 1929
Nine world championships, 10 seasons with at least 100 wins and 19 seasons with at least 95 wins. What a tough call here.
Among the two handfuls of teams I seriously considered, I finally settled on this group. Four Hall of Famers led the team to a 104-46 record. They scored 901 runs and allowed 615 during the regular season before taking the World Series in five games (more on that one below; it's an amazing story).
Al Simmons led the AL with 157 RBI. Jimmie Foxx led with a .463 OBP. Mickey Cochrane was coming off an MVP season and finished fourth in voting this time around. The great Lefty Grove led the majors in ERA and strikeouts. On the non-HOF side of things, Jimmy Dykes finished ninth in AL MVP voting, as he hit .327/.412/.539 (139 OPS+).
As a whole, the team led the league in OBP and OPS while coming in second in runs, homers, average and slugging. Pitching-wise, they led the AL in ERA and strikeouts.
Again, this is a very tough choice, but team that loaded roster with the World Series performance (again, you'll see what happened below) and this was probably legendary manager Connie Mack's finest hour.
Worst teams: 1915-16
After Mack allowed the Federal League to raid his World Series ballclub (they lost the World Series in 1914 after winning it in 1913) -- electing not to pay the "prima donnas" (like Home Run Baker, Eddie Plank and Chief Bender, among others) and also selling MVP Eddie Collins to the White Sox -- the A's went 43-109 in 1915, posting a pathetic negative-344 run differential. The following season, the A's went 36-117, being outscored by 329 runs.
Worst stadium feature: Mount Davis
Before Al Davis moved the Raiders back to Oakland and put in that upper deck in center field of what's now called O.co Coliseum, here's what the view was like:
Damn. It's breathtaking, no?
Best player: Jimmie Foxx
Obviously with so much history, this was a difficult decision, but I'm going with Double X. In his initial stint with the A's, he won a pair of MVPs, hitting .339/.440/.640 (175 OPS+!) with 257 doubles, 79 triples, 302 homers and 1075 RBI in 10 seasons. In seven years as a full-timer, Foxx hit .341/.444/.655 (179 OPS+) with an average of 35 doubles, 10 triples, 45 homers and 152 RBI per 162 games. Yowza.
Best player, Oakland years: Rickey Henderson
We know Rickey spent lots of time in other organizations, but he gave 14 of his 25 years to the A's. During that time, he hit .288/.409/.430 (137 OPS+) with 1768 hits, 1270 runs and 867 stolen bases. He won an MVP and a World Series ring while leading the league in steals eight times.
While establishing himself as perhaps the best leadoff man in MLB history, Henderson walked 1227 times and was hit with 55 pitches while striking out 915 times. Again, we're only counting what he did with the A's.
Oh, and when the A's won the 1989 World Series, Henderson hit .474 with a .524 OBP, a double, two triples, a homer, three stolen bases and four runs scored in four games.
Best pitcher: Lefty Grove
I'd be fine with Plank as the selection here, too. He spent more time with the A's. Grove, though, is one of baseball's greatest pitchers ever and spent nine prime seasons with Philly. During that time, he led the league in wins four times, ERA five times, complete games three times, shutouts twice, saves once (before it was a stat, yes), strikeouts seven times, WHIP three times and on and on.
Those were the days of no Cy Young Award, but Grove took the MVP in 1931 when he went 31-4 (extremely serious sidenote: LOL) with a 2.06 ERA, 1.08 WHIP, 27 complete games, four shutouts and 175 strikeouts in 288 2/3 innings.
In Grove's last seven years with the club, his average season was as follows: 25-8, 2.74 ERA (159 ERA+), 22 CG, 3 SHO, 6 SV, 173 K, 278 IP. Again, that is an average.
Best facial hair: Rollie Fingers and the handlebar

He even still has it! (Photo via USATSI)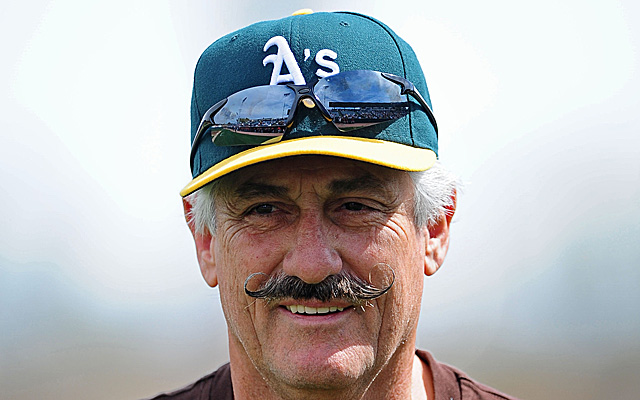 All these beards nowadays have no hope of competing. Sorry, Mr. Reddick.
Best closer: Dennis Eckersley
Such a close call over Fingers, as these are two of the greatest closers in MLB history. The A's converted Eckersley into a a closer during the 1987 season and what followed was one of the best stretches a reliever has ever had. From 1988-92, Eckersley successfully converted 220 of his 247 save chances with a 1.90 ERA, 0.79 WHIP and 378 strikeouts against only 38 (!) walks in 359 2/3 innings. He had four top six finishes in Cy Young and MVP voting while taking both awards in 1992.
Still, let us drool over the 1990 line he posted: 48 saves in 50 chances, 73 1/3 innings, 41 hits allowed, five earned runs allowed (0.61 ERA), 73 strikeouts and -- you ready for this? -- four walks. One was intentional, too, so he only offered three unintentional walks in over 70 innings.
Worst on-field moment: Kirk Gibson
Of course, Eckersley did fail the A's once and it was a big one.
The 104-win A's would end up losing the World Series in five games after that iconic blast.
Best manager, short stint: Dick Williams
The no-nonsense skipper took over a franchise that hadn't been to the postseason 1931, all the way back in Philadelphia. He'd go 101-60 in his first season (1971) and lose the ALCS in three games. The following two years, however, Williams would win the World Series with the A's. In only three seasons with the club, he went 288-190, winning the division all three times and taking two pennants and two championships.
The problem was Williams didn't like working with hands-on owner Charlie Finley and left after just three seasons.
Best/worst compiler: Connie Mack
Mack managed the A's for 50 years. Fifty! He won nine pennants and five World Series titles in addition to his 3582 regular-season wins. He was at the helm for some of the greatest teams in franchise history, and really, in baseball history.
Of course, he was also at the helm for 10 100-loss seasons and some of the worst teams in franchise history, and really, in baseball history.
In fact, when the dust settled on his Hall of Famer career, Mack had lost (3814) more games than he won for the A's.
That's a lot of compiling.
Fun fact: Mack was born during the freaking Civil War and still managed the A's when Jackie Robinson broke the color barrier in 1947. That's absurd.
Best book: Moneyball
Seriously, if you've never read Michael Lewis' excellent book, it's worth checking out. It's a page-turner, it's obviously a bit different from the movie and ...
Worst misunderstanding of a book: People who hate "Moneyball"
Moneyball wasn't about a single stat (on-base percentage). It wasn't about sabermetrics. It wasn't about making crusty old guys kick and scream about how "Moneyball doesn't work in the playoffs." It's about a small-market ballclub realizing it needs to stay a step ahead of the rest of the league in terms of roster construction and how to find the market inefficiency.
At one time, it was OBP. At another, it was finding players who rated out incredibly well at defense. It's constantly changing and anyone who believes "Moneyball" is a set formula has no idea what he's talking about.
Best nickname, duo: The Bash Brothers
Put all the crap aside and just reminisce. (Photo via Getty Images)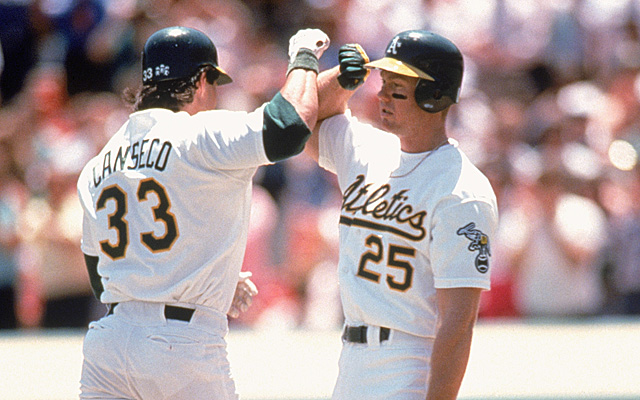 Anyone who was a kid in the late '80s (my hand is raised) knows that Jose Canseco and Mark McGwire were emulated in Little Leagues across America, specifically the elbow bash. From 1986-91 with the A's, Canseco hit 204 homers and that's with most of 1989 being lost to injury. From 1987-92, McGwire clubbed 217 homers for the A's.
With the Bash Brothers as the foundation of the offense -- though names like Carney Lansford, Dave Henderson, Terry Steinbach and Rickey Henderson should be mentioned, too -- the A's won three straight pennants.
Best late rally: 2012
Through June of 2012, the A's were 37-42 and 13 games out of first place. They'd go 57-26 the rest of the way and win the division, as we surely all remember.
It wasn't just that, though. They made history after trailing by five games with nine to play, going 8-1 the rest of the way and winning five of six from the Rangers during that stretch to take them down.
Not only this, but the team was a fun one that I've previously compared to the Indians in the movie, "Major League." They were coming off a 74-88 season and made a few trades that appeared part of a rebuilding project. They signed Cuban star Yoenis Cespedes from seemingly out of nowhere, too. And despite finishing 13th in the AL in average, 12th in OBP and ninth in slugging, they won 94 games.
Worst late collapse: 2014
We probably don't need to rehash this one.
Worst postseason string, GM: Billy Beane
For all the regular-season success Beane has enjoyed during his tenure as A's GM (1998-present), his teams haven't gotten it done in October. There have been eight trips to the postseason and the A's have advanced a round just once. When they did, they were swept in the 2006 ALCS.
The A's record under Beane in the postseason is actually not horrifying at 15-23. They've lost six different LDS rounds in Game 5 and the time they did advance they swept that round before being swept in the next. It's just a matter of coming up short in the deciding games for one reason or another. And no, it's not "OMG BC MONEYBALL!"
Best streak: "The streak," 2002
In 2002, the A's won an AL-record 20 straight games, en route to 103 regular-season wins. Amazingly, the last three wins during that streak came in walkoff fashion, including the big one, record-setting No. 20 off the bat of Scott Hatteberg:
Best comeback: Game 4, 1929 World Series
With the A's leading the series two games to one, it looked all but certain that the Cubs would even things up moving to Game 5. It was 8-0 Chicago heading into the bottom of the seventh inning. But then, the A's struck. Boy did they strike.
Hall of Famer Simmons led off with a homer, making it 8-1. Foxx would follow with a single, the start of a four-single string that would cut the lead to 8-3. After a pop out, another single made it 8-4. A Mule Haas inside-the-park homer chopped the Cubs lead to 8-7.
Hall of Famer Cochrane then drew a walk before Simmons and Foxx singled, with Foxx's RBI tying the game. There was still only one out. The next batter was hit by a pitch and then Dykes doubled home two. A pair of strikeouts ended the inning, but the damage had been done. It was now 10-8 A's. They'd go to Grove for the final two innings and he was perfect, striking out four.
They A's would go on to win Game 5 and take the championship, also in dramatic fashion. Haas hit a one-out, two-run homer in the bottom of the ninth to tie the game, 2-2. After a Cochrane groundout, Simmons doubled and Foxx was intentionally walked. Bing Miller then came through with a walkoff double to win the World Series.
What an end to a World Series. What a team.
Best case of stepping up: 1972 World Series
Cleanup hitting All-Star Reggie Jackson was lost to a torn hamstring in the decisive Game 5 of the ALCS and the A's were tasked with facing off against a 95-win Reds team that would go on to be called "The Big Red Machine" without him.
Behind good starting pitching, excellent work in relief from Fingers and an amazing performance from World Series MVP Gene Tenace (.348/.400/.913 with four homers and nine RBI ... WHAMMY!), the A's took the series in seven games. It was the first of three straight World Series titles.
Best All-Star Game homer: Reggie Jackson
The Hall of Famer still owns one of the most famous blasts in the history of the Midsummer Classic:
---
Obviously with a franchise that has this much history, I couldn't have possibly come close to getting everything, though I did try to hit on as many of the prominent eras as possible. Add to the list at will, A's fans. Have fun with it, too. It's your forum.
Up next: Saturday will be the Seattle Mariners' turn.
>> Want more franchise bests/worsts? CHC | MIL | STL | CIN | PIT |CLE | DET | MIN | CHW | KC | NYY | BOS | BAL | TOR | TB | MIA | WAS | NYM | PHI | ATL | COL | LAD | SF | ARI | SD
CBS Sports HQ Daily Newsletter
Get the best highlights and stories - yeah, just the good stuff handpicked by our team to start your day.
Please check the opt-in box to acknowledge that you would like to subscribe.
Thanks for signing up!
Keep an eye on your inbox for the latest sports news.
Sorry!
There was an error processing your subscription.
Kershaw has been one of the best pitchers of a generation, but here's just how dominant he's...

Also, the Astros truck the Indians, Porcello is struggling, so are the Pirates and more

Dexter Fowler and Marcell Ozuna are having terrible seasons
Basically, the study concluded that the baseball is behaving differently when it is in the...

The team announced they renewed their lease for another 25 years

SportsLine's Mike McClure, a DFS pro with more than $1M in winnings, gives optimal lineup...