For some time after young A.J. Preller became the surprise GM hire of the cost-conscious, historically restrained San Diego Padres, many new co-workers didn't know what to make of him. All day (and night) long, Preller would pace around all the offices, and all throughout Petco Park, attired casually, headphones in place, talking on the telephone.
Eventually, they all found out what was happening. Preller was working on some deals, and then some more deals, and finally even more deals.
It all became clear to one and all in one crazy 48-hour period a week before Christmas, when Preller finalized trades that involved an unreal 30 players – a major-league record that will likely never be broken, much less attempted - again. Now co-workers call the 37-year-old Preller creative, energetic and brilliant.
Recalling the frequently-worn gym gear and the occasional floppy scout hats, some will also call him "eccentric." But nobody can say they are unimpressed.
Fans in San Diego, understandably, are thrilled. Ticket sales between Jan. 1 and Feb. 15, just after the unprecedented acquisition frenzy, were said to be up 600 percent from a year ago.
Preller had the advantages of having inherited some excellent young starting pitchers, a decent stash of prospects, a low payroll that included only a couple bad contracts, and most importantly, the complete faith of both Padres president Mike Dee and owner Ron Fowler, who hired him last summer. They liked him enough to give him a five-year deal, though he'd only been assistant GM for one year in Texas. ("A.J. blew them away with his smarts and his plan in the interview," one Padres person said. )
Preller also took advantage.
If the interview was something, that couldn't possibly have foretold the wild offseason, when Preller traded for an entire outfield of sluggers, a new third baseman, a catcher and multiple relievers, signed a bona fide veteran ace, then capped it all off by finishing the winter in style and trading for Craig Kimbrel, baseball's best closer, on the cusp of the regular season.
It was an unreal way to close out a whirlwind winter.
"That's how we drew it up on October 1 ... exactly," Preller joked.
In actuality, there is a one-year blueprint, and a five-year blueprint. There were plans and redone plans. There were targets, and new targets.
Some acquisitions depended on others. Some took a while, others happened quickly. While an extraordinary number of things came to fruition, even more big things didn't quite make it.
Preller entered the winter thinking he had decent pitching but knowing he needed offense. In the end, he acquired plenty of everything (and also missed out on a few other big things).
The Padres tried hard to get Phillies ace Cole Hamels, but they didn't quite offer enough to get the hometown hero (neither did anyone else, apparently). One deal involved a prospect package and is believed to include a trio of top kids, but word is all sorts of scenarios were discussed, right up until San Diego got its ace on the free agent market, James Shields. That effectively ended their run at Hamels.
Right from the start, the Padres shocked baseball by being the high bidder for a big-time free agent. The Padres were said to have bid $100 million for third baseman Pablo Sandoval, signaling that they meant business. But Sandoval signed instead in Boston for $95 million, saying he never wanted to stay in the division of his longtime Giants team.
The Padres are said to have only "dabbled" with Cuban outfielder Yasmany Tomas despite a lot of ink spent on it, as they liked his power but had other concerns (they never made a firm offer). They did very much like third baseman Hector Olivera better but were outbid by the division rival Dodgers, a more normal outcome than the rest of the winter.
As for most everyone else they sought, it seemed that normally staid San Diego got their man. Kemp was a key guy, a former almost MVP with a big personality and considerable cachet. Preller lieutenants Logan White and Don Welke, who like Preller worked for the rival Dodgers before, very much liked him. And White, the drafting guru who picked both Clayton Kershaw and Kemp and plucked Yasiel Puig for the Dodgers, assured the others that Kemp would fit fine in smallish San Diego, answering one big question from others: "Is he too Hollywood for San Diego?" (To this point, Kemp has fit beautifully, mentoring the kids and setting a fine example b y working hard.)
But Kemp was only the beginning. Justin Upton provided more power in a four-prospect-for-one-star trade. Wil Myers, who somehow had fallen out of favor in Tampa Bay, provided even more muscle as the surprise center field choice who came in a three-team trade. (Scouts say he has acceptable speed, a strong arm and is learning the position.)
Derek Norris, who also had his detractors in Oakland, provided more offense. Middlebrooks, who lost his spot to Sandoval in Boston, needed a fresh start.
Most of these players came in the Dec. 18-Dec. 19 haul that will never be topped.
One longtime co-worker summed up Preller: "He's not afraid. And he knows what he wants."
As the Padres kept acquiring players, rival GMs were wondering where they were getting the money. Speculation started that they'd need to have a cash call, that the Padres couldn't possibly move from baseball's lowest payroll only a few years ago (even below both Florida teams) to maintain a player budget of close to $110 million, very respectable and higher than the big-market Mets and about 10 other teams.
Preller helped his cause by getting the Dodgers to pay all but $3 million of Kemp's $21-million 2015 salary, to the point that the 2015 payroll was actually lower than the prior year for a while, at least until the acquisitions of Shields (who came home for $75 million ($5 million less than the Giants offered, half what Jon Lester received and a third what Max Scherzer got) and Kimbrel (which shocked the baseball world).
Preller won't say which deal he likes best. "There really isn't one that stands out," he said. "I'll tell you in October, if Kemp hits .290 with 30 bombs."
Preller is suspected by co-workers of never sleeping, but he bristles at such suggestions. "Everyone works hard," he said.
He also doesn't pay much attention when rival GMs congratulate him on deals. He understands no one knows for sure how any of them will turn out.
Though if the Padres aren't the contender they appear to be, Preller is said to have contingency plans lined up, a suggestion he could unload as quickly as he loaded up. That would seem to be plausible, as most acquired pieces carry decent value, or better.
For those who assume he never sleeps, it's true he does have one vice, which you could guess from his attire. Many days he looks like he's dressing in case a pickup basketball game breaks out.
Preller actually put his basketball jones to good use by participating in a three-man shooting competition this spring, which he, along with assistant VP Josh Stein and minor-league executive Jason Amoroso, won by outshooting the presumably more athletic trio of reliever Brandon Maurer, Kemp (both acquired in trade) and pitching prospect Matt Wisler (later traded in the Kimbrel deal).
Kemp was so miffed to lose to bunch of egghead execs that he drop-kicked the basketball about 80 yards in response. "That answered the questions about his hips and knees," Preller joked.
Kemp looks quite healthy to start this year, in fact, and is playing the heck out of right field. (The Padres were concerned enough about his medicals to have requested L.A. sweeten the deal after viewing them, but they wound up taking him "as-is" once the Dodgers said no to that request.)
The Kemp deal put Preller on the map. But the Kimbrel acquisition solidified his reputation as a risk taker. To get Kimbrel and shed bloated contracts of outfielders Cameron Maybin and Carlos Quentin, Preller took the dead weight (and $46.35 million left) associated with outfield disappointment Melvin Upton Jr., and he surrendered Wisler, a nice pitching prospect with a great arm, talented long-range outfield prospect Jordan Paroubeck (drafted by ex-Padre exec Chad MacDonald, now with the Braves) and the 41st draft choice.
The Padres declined to part with top outfield prospect Hunter Renfroe in the deal, as Justin Upton is seen as likely to leave via free agency after the year. Meanwhile, the Braves didn't relish top catching prospect Austin Hedges, as they aren't sure he'll hit enough. That left them with Wisler as the key man.
Padres people may view him as a mid-rotation starter who needs to refine his breaking ball, but others like him, including MacDonald. In any case, many rivals saw the Padres' side of the deal, while more exciting, as an "overpay."
Whatever, Kimbrel brings swagger with his shut-down ninth innings. He has big stones, though perhaps rivaled by his new team's GM.
Preller characteristically demurs at such suggestions.
"I am not a big gambler," he said. "We don't think about it that way. We just try to go through the process and make good decisions, and have a big-picture vision."
The Padres look like a strong team on paper. But they recognize some flaws.
They are too righthanded (which actually works in their park). Their only above-average defender, according to one scout, is shortstop Alexi Amarista, a scrappy guy they would consider replacing, if they could. Starlin Castro and Elvis Andrus are veterans who have been speculated as possibilities.
Although, word is neither player is currently on the Padres' radar.
Of course, it doesn't pay to rule anything out with Preller's Padres.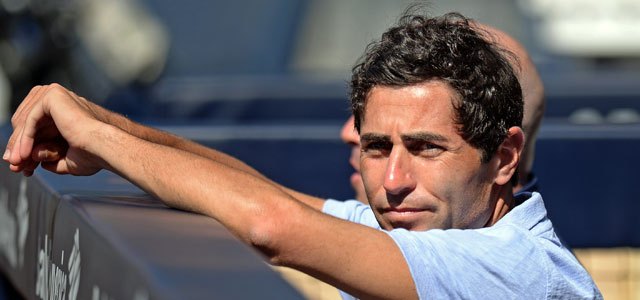 More Inside Baseball...
|   |   |
| --- | --- |
| | Josh Hamilton isn't comfortable with the whole LA/Orange County scene, according to folks close to the situation. So considering the Angels obviously aren't too thrilled with him, folks wonder whether there could be a possible severance figure that could work for both sides. Since yearly salaries become guaranteed on Opening Day, there's no rush on this. While there is some language in Hamilton's contract protecting the Angels should Hamilton lose his playing shape following illegal drug use (his relapse involved cocaine, as CBSSports.com first reported), scores of players -- though not all -- have similar language and it's hard to see the Angels winning a hearing to recover funds. But perhaps Hamilton feels he'd be better off elsewhere and would consider a settlement south of the $64.8 million owed for 2016 and '17. |
| | Mark Buehrle is considering retirement after the year, according to people in position to know. Buehrle, 201-152 with a 3.81 ERA lifetime, has been the hallmark of consistency throughout a brilliant career but will also be remembered for some spectacular moments, such as two no-hitters (one a perfect game) and one of the greatest fielding plays ever by a pitcher on Opening Day of 2010 when he improbably flipped the ball with his glove between his legs for an out. He won in double digits 14 straight seasons, averaging almost exactly 14 wins, made five All-Star teams and won four Gold Glove awards. Buehrle is just as effective as ever (2-0, 3.75 ERA so far this year), and April retirement ruminations aren't always solid, but it seems to be a strong possibility in this case. If so he should be OK. Buehrle, 36, is to make $19 milllion this year ... As of Opening Day, Toronto had four of the six youngest players in the majors. Many of them are performing superbly, including one surprise, Kevin Pillar, who looks like an early Gold Glove candidate in left field. Pillar made a catch not to be believed Wednesday, going over the left field walls to take a home run away from Tim Beckham. The Jays plan to use Michael Saunders when he returns in a week to 10 days, though, meaning either Pillar or talented rookie center fielder Dalton Pompey, or both, would lose playing time. |
| | The Cubs didn't waste any time calling up Kris Bryant. Theo Epstein has a history of never starting top prospects on Opening Day but the timing of the callup suggests the Cubs at least had service time in mind with the decision to delay his callup until exactly 11 days had passed. By waiting until now, he isn't a free agent until after the 2021 season. The Cubs may think Bryant needed to refine his defensive skills, but they also think enough of him that they want to keep him an extra year -- and many more years after that. To get him past seven will be the really tricky part. But they already seemed to have decided they will try. |
| | Detroit folks were shocked they could get Shane Greene last winter following a couple rookie outings for the Yankees in which he didn't allow a run in two starts against Detroit, but while one source said trading Greene was "painful" for the Yankees, the fact is, they did it, and for a .240 career hitter in Didi Gregorius. It appears the Yankees were desperate for a shortstop, and Yankees scouting guru Gene Michael, whose track record is excellent, loved Gregorius, who is off to a slow start with the bat and glove (and the basepaths). Meanwhile, Green is 2-0 with a 0.00 ERA through two starts for the Tigers. The New York Post's Joel Sherman did a blurb on Dave Dombrowski's history of good trades with the Yankees, but the reality is that Dombrowski has been an excellent trader in general, with the Miguel Cabrera deal probably the best of this generation. |
| | The idea of trading Ryan Howard (.148 so far) gets more doubtful by the day. "He looks lost," one scout said. While a four-strikeout game vs. Max Scherzer, who was at 97 throughout, is understandable, Howard has been behind a lot. "Sometimes big guys just lose it, just like that," the scout said ... One big issue with holding Cole Hamels is the market will be full of free-agent starters next winter, one rival GM pointed out. While Rick Porcello has been signed, David Price, Johnny Cueto, Jordan Zimmerman, Jeff Samardzija, Doug Fister, Ian Kennedy and Wei-Yin Chen are all free agents. |
| | It's nice that Russell Wilson has a love for baseball, but one scout says that while he has little doubt Wilson could turn himself into a major leaguer, he believes it'd likely be as a defensively strong utility player. Wilson didn't hit much in the Rockies minors (.229 in two years of A-ball), not enough for scouts to see stardom in his baseball future anyway ... One GM who has some interest in Elvis Andrus suggests it'd be hard for Texas to trade him now. While they have infield depth in their system, most of it is at the lower rungs. And this is the second straight year Jurickson Profar will miss. |
| | One rival GM says the Dodgers are "all over" Cuban right-hander Yadier Alvarez. Alvarez, 19, is an excellent athlete whose fastball shocked scouts by going from the low 90s to 94-97 consistently once he got to the Dominican Republic. The Dodgers are continuing to throw their weight around internationally, having signed third baseman Hector Olivera for $62.5 million over six years ... A contractual obligation might have won Alex Guerrero a spot on the Dodgers, but Guerrero looks like he belongs (.417 batting average). While Guerrero is unremarkable as a glove man, he hit .500 the two weeks before teammate Miguel Olivo bit off his ear last summer. |
| | Manager Fredi Gonzalez didn't have his best year last year and has only one year to go on his contract. But word is, Braves people in power now like him and mainly want to see progress from their kids before extending Gonzalez. He won't be judged on won-loss record is the word (though so far it's surprisingly good) ... The New York Post reported that the Yankees scouted the Braves' big-time second base prospect Jose Peraza. But there would seem to be no impetus for the Braves to trade him. Scouts say he could wind up as an All-Star at second base, third base or even center field ... Andruw Jones has been looking for a job but to this point has been unable to find a suitable one. Judging by what he did overseas, he may still have a little thunder left in his bat. But if no one sees it, and he retires as an alltime great center fielder with 434 career home runs, he has at least an interesting Hall of Fame case. |
| | Baltimore checked in on Dioner Navarro at some point late in spring. Navarro is hoping for a trade so he can be a starting catcher. The Blue Jays seem willing to try to accommodate him, but Navarro isn't exactly a giveaway. While he isn't an ideal DH, if Edwin Encarnacion plays first for the Blue Jays (and he might have to if Justin Smoak doesn't hit), he's probably the best DH Toronto has. The Orioles have Caleb Joseph and Ryan Lavarnway for now, but hope to get Matt Wieters back. Toronto has told Navarro they will consider a trade for him if someone has an everyday job for him. |
| | Carlos Carrasco's $22-million, four-year deal, including two team options, seems very team friendly. But Carrasco was intent on signing, in part because of a previously undisclosed offseason heart surgery, first reported by Ken Rosenthal of FOXSports.com. And Carrasco saw how a quickly a career could be jeopardized when he was truck by liner in the left cheek off Melky Cabrera's bat. Amazingly, Carrasco avoided serious injury, and the cheek contusion pushed his start back only one day. |
| | Boston tried for Jordan Zimmermann this winter, and while both sides agree there's a potential match in terms of players, they never got close, according to people familiar with the talks. Neither have Zimmermann and the Nats come close on a long-term deal, apparently. |
| | Boston's $82.5-million, four-year deal with Rick Porcello seems to fit their M.O. since it's a short deal with a high salary, but the Red Sox also made an offer of at least five years to Porcello. While Red Sox people didn't see much chance to locking him early in spring, by the end of March he was feeling more comfortable as a Red Sox (and liked the offer, too, apparently) ... Boston made at least a preliminary offer to Yoenis Cespedes before trading him, which seems to poke a hole in the theory its coaches "hated" Cespedes. But Red Sox people see Cespdes as "a businessman." Translation: they saw him as extremely unlikely to sign before free agency. No word on the Tigers making much progress along those lines, either. Cespedes original $36-million, four-year deal provided a great aid in his coming free agency; the Tigers can't extend to him the qualifying offer. |
| | The Mets did a nice job getting center fielder extraordinaire Juan Lagares signed for $21 million guaranteed over four years but there was said to be a significant gap in talks with Lucas Duda. At the moment, Duda (.395) looks wise for waiting, as he's off to a nice start. |
| | The Pirates and five-tool outfield prospect Gregory Polanco were close on the seven-year guarantee but got hung up on the option years again. The Pirates have done an excellent job getting good deals with young stars, such as Andrew McCutchen and Starling Marte, but maybe too good. Word is, when Polanco asked some teammates for advice, they didn't necessarily advise Polanco to rush to sign a long deal with team options ... Word got out this week that the Pirates made a run at David Price with an offer of a prospect package before the Tigers nabbed him at the deadline. It was a "very strong try," according to one person familiar with those talks. |
| | The Rockies, who started 6-0 on the road this year, won only six games on the road after June last year. One pundit ranked their winter 30th best out of 30 teams, but they made some under-the-radar moves, like picking up Nick Hundley, who has been good with the pitching staff. They also made the right call extending the qualifying offer to Michael Cuddyer, winning a draft choice when the Mets signed him ... New Rockies GM Jeff Bridich started as well as one could start. Not only did the Rockies begin with a three-game sweep on the road, they did it in Milwaukee, Bridich's hometown. He hails from Whitefish Bay, Wis. |
| | It was a great idea for new commissioner Rob Manfred to speak directly to several teams during spring training, and his talks and question-and-answer sessions were generally very well received. Although, the double Ivy League graduate (Cornell undergrad, Harvard Law School) might need to lighten up the vocabulary for one or two folks. Said one player, good naturedly, "I didn't understand a word he said." |
| | One scout predicts Astros shortstop prospect Carlos Correa will hit 500 homers, in the majors, maybe 600. "He's going to be what A-Rod should have been," the scout said ... One pitcher impressing folks is right-hander Brady Lail, with the Tampa Yankees. The 18-round pick from Utah throws 90-94 and has an impressive hook. The Yankees have more prospects now ... Alex Reyes, at Class-A Palm Beach (Cardinals) is throwing 99 ... There are many more great pitchers coming. But one scout said, "There's nobody in the minor leagues who can hit." That's what makes Correa, the Twins' Byron Buxton and Miguel Sano and the Cubs' great stash so valuable. |