Joe Maddon: Rays won't rush Wil Myers
Rays manager Joe Maddon said he'd prefer that Wil Myers wasn't on the team's roster on opening day.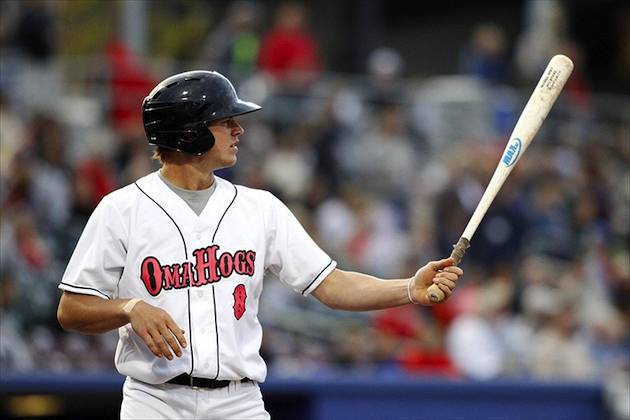 Wil Myers should expect to start 2013 in Durham, NC. (US Presswire)
Rays manager Joe Maddon said he's in no hurry to show off his shiny new toy, telling Roger Mooney of the Tampa Tribune that he'd rather newly acquired Wil Myers start the 2013 season in the minor leagues instead of with the Rays.
"I've always felt that it should be easier for a young player to make the team [with the] season in progress as opposed to out of spring training," Maddon told Mooney. "When they make the team out of spring training expectations get raised even higher, and I think if you're really looking for a young man to apply pressure to himself it's then, when he makes it out of camp and opening day comes and all the stuff is being written and it's tough. It's not an easy place to be, because you go from spring training when people are getting ready to the season, when they turn it up a notch."
Maddon pointed to key contributors to the Angels' 2002 World Series team as players who made their big-league debuts after season had gotten under way, including Jim Edmonds, Garrett Anderson and Tim Salmon. Mooney notes the last five position players to win the AL Rookie of the Year Award (Mike Trout, Evan Longoria, Dustin Pedroia, Bobby Crosby and Angel Berroa) either made their debut after the season began or had tasted life in the big leagues before their rookie season. The last position player to win AL Rookie of the Year and debut on opening day was Eric Hinske, who started the 2002 season with the Blue Jays.
Last year's Rookie of the Year, Trout, had been called up in 2011 and still started the 2012 season in Triple-A.
Despite Maddon's preference, Myers probably shouldn't look at any long-term leases in Durham, NC. Longoria didn't start the 2008 season with the Rays, but he didn't take long, debuting on April 12, 2008, in the Rays' 11th game of the season.
Royals fans may just be hoping it takes more than month for the Rays to call up Myers -- Tampa Bay starts a three-game series in Kansas City on April 30.
For more baseball news, rumors and analysis, follow @EyeOnBaseball on Twitter, subscribe to the RSS feed and "like" us on Facebook.
Adell shows part of the reason why Los Angeles drafted him 10th overall in 2017

And, well, they're probably right

Supposedly, MLB execs have discussed letting teams hit any three hitters they want in the...
Keep tabs on the top 50 free agents on the market right here

After the departures of Steven Souza and Corey Dickerson, the Rays add a right-handed bat

Rasmus essentially walked away from baseball during last season