Just Because: Bare-handed catcher's hands in 19th century
Here's a photo of a bare-handed catcher from the 1870s. Hint: It looks painful.
Other "Just Because" coverage: Walter Johnson's motion | Hack Wilson was tough
This past Sunday, no living players were inducted to the Baseball Hall of Fame, but there were three inductees. Among them was Deacon White, a 19th century catcher with a career line of .312/.346/.393. What is notable here, however, is that White was a bare-handed catcher, and is considered to be the first to move up under the batter as catchers today do. And, again, he did so without a glove.
How may his hands have looked? Well, here's a picture of Doug Allison's hands, also a bare-handed catcher from the 19th century, via thamesbbc.org: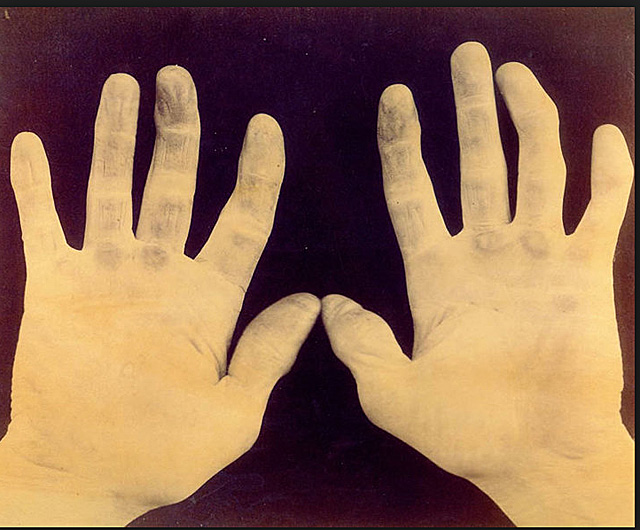 Allison was a catcher from 1871-83, catching in 279 likely painful games.
While we're here, a sampling of the 19th century teams he played for: Washington Olympics, Troy Haymakers, Brooklyn Eckfords, Elizabeth Resolutes, New York Mutuals, Hartford Dark Blues, Providence Grays and -- finally a familiar name -- the Baltimore Orioles.
The coveted right-hander would certainly be a fit in Milwaukee

We rate the best mustaches from random baseball cards because, why not?

Colon wants to break a Dennis Martinez record
The Twins have been rumored to be interested in Darvish all winter

Rolen is one of the best third basemen of all time, but you wouldn't know it based on this...

Neither Josh Donaldson nor Brian Dozier have talked about a new contract extension