Marlins getting 3 top prospects from Blue Jays in megadeal
Of the reported seven players sent to the Marlins are three of the Blue Jays' top 10 prospects, according to Baseball America.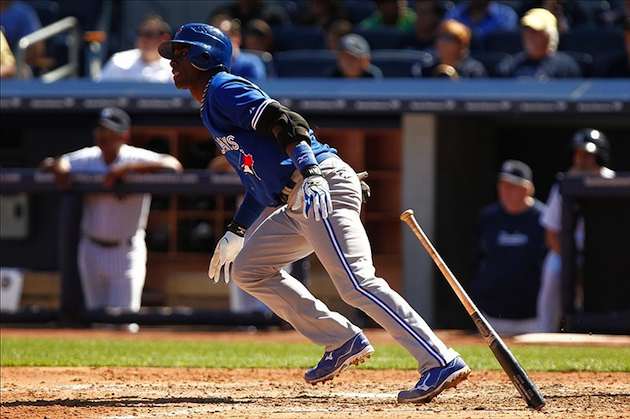 Adeiny Hechavarria was ranked the Blue Jays' No. 8 prospect by Baseball America. (US Presswire)
In his first two years as the Blue Jays' general manager, Alex Anthopoulos concentrated on stocking his minor-league system. A stocked minor-league system's can not only produce major-league talent, but as we saw Tuesday night, it can be used to bring in big-leaguers in a trade. Josh Johnson, Jose Reyes and Mark Buehrle are headed to Toronto along with Emilio Bonifacio and John Buck.
So, what are the Marlins getting in return for three of their most recognizable names? Of the reported seven players sent to the Marlins are three of the Blue Jays' top 10 prospects, according to Baseball America, along with three big-leaguers.
RHP Henderson Alvarez: The right-hander was 9-14 with a 4.85 ERA in 31 starts for the Blue Jays this season and will be 23 at in April. He made 10 starts for the Blue Jays in 2011, going 1-3 with a 3.53 ERA. A sinkerballer, Alvarez doesn't miss many bats, striking out just 4.3 batters per nine innings in the big leagues and 6.5 in the minors. Alvarez showed potential in 2011, but struggled a bit in 2012, with his WHIP going from 1.131 to 1.441.
More Marlins-Jays trade coverage
More MLB coverage
RHP Anthony DeSclafani: A hard-throwing right-hander out of the University of Florida, DeSclafani was 11-3 with a 3.37 ERA in 28 games and 21 starts for low-Class A Lansing of the Midwest League in his pro debut this year. While he has a good fastball, he had a WHIP of 1.382 and struck out just 6.7 batters per nine innings. His stuff would suggest he would miss more bats, but he allowed 145 hits in 145 innings, while striking out 92. He could end up being a bullpen arm, but that's certainly down the road for DeSclafani, who will turn 23 in April.
SS Yunel Escobar: The supremely talented 30-year-old shortstop has now worn out his welcome in two organizations, first in Atlanta and then Toronto. It's too bad Ozzie Guillen isn't around, because the combination could have been fun -- in a car wreck sort of way. He's signed for $5 million for 2013 and the Marlins will inherit two club options for 2014 and 2015, worth $5 million each. A career .282/.353/.390 hitter with solid defense at shortstop, Escobar struggled a bit in 2012 when he hit .253/.300/.344 with nine home runs. His attitude rubbed many in Atlanta the wrong way, including Bobby Cox. This year he got in trouble when he wrote a slur on his eyeblack during a game in August and was suspended three games. 
SS Adeiny Hechavarria: A slick-fielding shortstop, the 23-year-old Cuban signed a $10-million big-league contract in 2010 after defecting in 2009. His $4 million signing bonus is still the highest bonus in team history. Hechavarria struggled to hit until he got to hitter-friendly Las Vegas in the Triple-A Pacific League. He was called up to the big leagues in August after Brett Lawrie's injury. Although he played mostly third base after he was called up, he's a fantastic defensive shortstop. He hit .254/.280/.365 in 41 games and 137 plate appearances in the big leagues last season. He was hitting .312/.363/.424 at Las Vegas -- but it should be noted that the team as a whole hit .298/.370/.455, which shows what an extreme environment it is for hitters. Baseball America had him ranked as the Blue Jays' No. 8 prospect.
CF Jake Marisnick: A five-tool center fielder, the right-handed hitting Marisnick was the Blue Jays' No. 2 prospect, according to Baseball America. A third-round pick out of high school in 2009, Marisnick hit .249/.321/.399 between high-Class A Dunedin and Double-A New Hampshire, with eight home runs. At 6 feet 4, 200 pounds, he may grow out of center field, but could develop into a corner outfielder. Still, he's been successful in 84 of his 104 stolen-base attempts as a pro, including 24 steals in 2012. He will be 22 in March.
C Jeff Mathis: Mathis, who will be 30 in March, has the reputation as a good defensive catcher but has struggled to hit in the big leagues, hitting just .198/.256/.314 in parts of eight seasons in the big leagues, the first seven with the Angels. The Angels traded him to Toronto last December. He hit .218/.249/.393 in 71 games for the Blue Jays last season, hitting eight home runs. 
LHP Justin Nicolino: The Jays' second-round pick out of high school in 2010, the lefty is tall (6-3) with what Baseball Prospectus' Jason Parks calls a "money pitch." According to Parks, Nicolino has "more pitchability than stuff," but is impressed with that pitchability. Nicolino's fastball is still in the low-to-mid 90s, despite his slight frame. Baseball America had him ranked No. 5 in the Blue Jays system after going 10-4 with a 2.46 ERA in 28 games and 22 starts for Lansing. He led the Midwest League in ERA and WHIP (1.070), striking out 119 batters in 124 1/3 innings, and walking just 21. He didn't allow a home run in 2011, his first year of pro baseball. He will turn 21 on Thanksgiving Day.
For more baseball news, rumors and analysis, follow @EyeOnBaseball on Twitter, subscribe to the RSS feed and "like" us on Facebook.
The child is receiving medical attention at an area hospital, the Yankees said in a statem...

Brantley has not played since August 8 due to an ankle injury

Plus the Red Sox can lock down a postseason spot and all you need to know from the world of...
Neshek called Greinke an 'ahole' and a 'turd' on a message board

Ausmus' job security has been in question for years now

Sano has been out with a stress reaction in his left shin since Aug. 19