Omar Vizquel passes Babe Ruth on all-time hit list
With two hits in the first game of Wednesday's doubleheader against the Yankees, the Blue Jays' Omar Vizquel tied and passed Babe Ruth on the all-time hit list at 2,874. Ruth is in the Hall of Fame. Will Vizquel join him?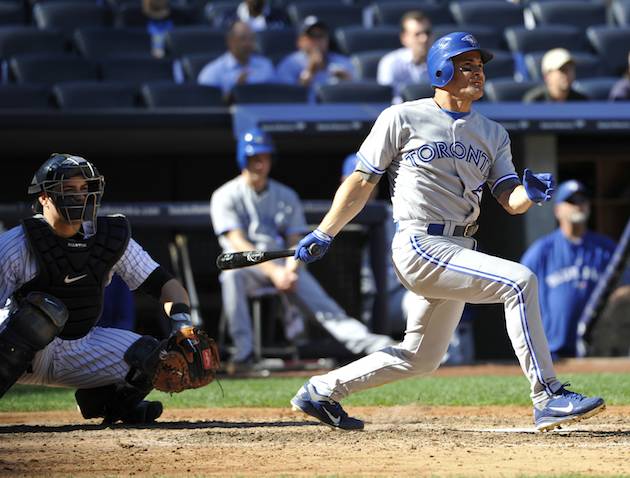 Omar Vizquel's eighth-inning double gave him 2,874 career hits -- one more than Babe Ruth. (AP)
If you're not going to get to 3,000 hits in your career, 2,874 isn't a bad target. That's one more hit than Babe Ruth, and just happens to be the new career total for Blue Jays utility man Omar Vizquel.
Playing in the house that replaced the House that Ruth Built, the 45-year-old Vizquel singled and doubled in Toronto's 4-2 loss to the Yankees, his first hit tying him with Ruth and second putting him one ahead of arguably the game's greatest player. The 2,874 hits puts Vizquel 41st on the all-time hit list, two behind Mel Ott at 40th. The only active players ahead of Vizquel are a pair of Yankees, Derek Jeter (3,287) and Alex Rodriguez (2,887).
Vizquel has already announced this season, his 24th, will be his last. He's hitting .234/.267/.277 in 56 games and .272/.336/.352 in his career. 
"I think when you get a hit to tie one of the best hitters in baseball, it's an amazing feeling. I mean, this guy has been a legend in the game for a long time and, to mention my name right next to his makes me feel so little," Vizquel said, according to the Associated Press. "I never thought -- never, ever -- in my career of baseball that's been a long one, that I was gonna come close, to even compare my hits with the Babe. It's just unbelievable. It's very emotional, especially here in New York, the house that he built."
It's more impressive that it was done by Vizquel, whose resume includes 11 Gold Gloves, including nine in a row from 1993-2001. For most of his career, Vizquel had a reputation of an all-glove, no-bat player, but the career totals say otherwise. Any discussion of Vizquel's Hall of Fame chances will center on his defense, where he was considered one of the all-time best at the game's most important defensive spot. His offensive numbers are better than first-ballot Hall of Famer Ozzie Smith, considered the greatest defensive shortstop of all time. Smith was a career .262/.337/.328 hitter with a total of 2,460 hits. Smith holds the edge in career stolen bases -- 580 to Vizquel's 404 -- but Vizquel nearly triples the Wizard's home run total -- 80 to 28.
There's also the fact that of the 10 players eligible for the Hall of Fame that have more hits than Ruth but fewer than 3,000, are all in the Hall of Fame. Two players -- Barry Bonds and Rodriguez -- have more hits than Ruth but are not yet to 3,000. Among the others in that group are Frank Robinson (2,943), Rogers Hornsby (2,930) and Mel Ott (2,876). While 3,000 is often seen as the magical number, perhaps it's 2,873. Just behind Ruth, now at 43rd on the all-time list, is Harold Baines (2,866), who is not in the Hall.
Vizquel's Hall of Fame candidacy will be interesting. Right now I'm not so sure he'll get the nod, even with numbers that favor him in relation to Smith. However, the voting panel will be much different five years down the line, and so, too, perhaps will be the way we value and evaluate defense. It's too easy to say he definitely will or definitely won't be in the Hall, but he certainly has a compelling case, especially in relation to Smith.
For more baseball news, rumors and analysis, follow @EyeOnBaseball on Twitter, subscribe to the RSS feed and "like" us on Facebook.
This would undoubtedly be the worst trade in Miami Marlins history

The Pirates recently shipped Gerrit Cole and Andrew McCutchen to Houston and San Francisco,...

Surely, Martinez and his agent are holding out for more
The reliever had a very good 2017 season with the NL Central champs

We don't need to discuss Chipper's Hall of Fame case, so let's have fun instead

Dioner Navarro still hopes to return someday