Yankees retire Mariano Rivera's number
The Yankees held Mariano Rivera Day Sunday, and in a pregame ceremony they retired Rivera's number 42.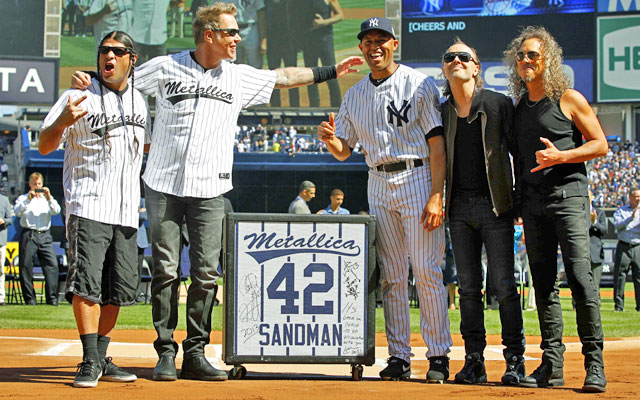 NEW YORK -- There were gifts, of course. More gifts for Mariano Rivera, who can fill more than one house with everything he has been given through his retirement tour.
The Yankees had to give him more, and they did.
They retired his number while he's still wearing it.
Rivera was already the last player to regularly wear 42, which was retired throughout baseball 16 years ago in honor of Jackie Robinson. But the Yankees retired it again Sunday for Rivera, as part of a 50-minute pregame ceremony on Mariano Rivera Day.
They could have waited, but why? There was never a question that Rivera's number would go up in Monument Park, just as there's no question that Rivera will go into the Hall of Fame as soon as he's eligible.
There have been tributes all season for Rivera, befitting a man who is not only the greatest closer ever, but also one of the most respected players in the game. Rivera was honored in every city the Yankees visited, and he also took time to visit fans or stadium workers at every stop.
But this was always going to be the big one, because Rivera played for only one team in his 19-year career.
So the Yankees brought back many of Rivera's former teammates, and also brought in the band Metallica, for a live version of Enter Sandman. Rivera walked slowly from the bullpen to mound as the band played the song live, just after a tape of the late Bob Sheppard introduced him.
The Yankees also included Robinson's family in the ceremony, and placed a new plaque honoring Robinson in Monument Park.
But the best part of the ceremony was Rivera himself, speaking without notes, but with great emotion and even some humor.
"Thanks to my parents for having me," he said. "I guarantee it was a great day or a great night."
The Yankees added Giancarlo Stanton in a blockbuster trade, though they now have openings at...

Smyly is currently on the mend from Tommy John surgery

Could Greinke really wind up in Texas?
The Orioles, Blue Jays and Rays have star players they should use toward rebuilding for the...

The Yankees may not be done collecting stars

The team could instead use a closer by committee approach