2014 Offseason Report: Chicago Bulls
The Bulls just had a storybook regular season and added pieces that they'll need in the playoffs.
• 5 min read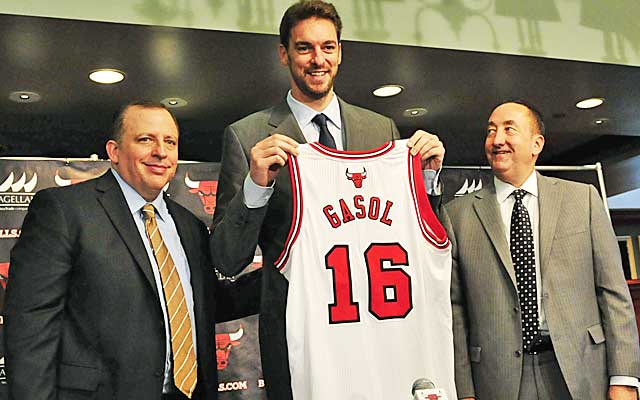 Offseason: Free Agency | Latest from Ken Berger | Rumors
Over the next month, CBSSports.com's Eye On Basketball will take a team-by-team look at the 2014 NBA offseason. We start with the Eastern Conference maybe-favorites, the Chicago Bulls.
How they finished 2014
The Bulls were somehow both a surprising success story and a disappointment. Derrick Rose tore his meniscus in November, the front office dumped Luol Deng in January and it looked like their season was going to hell. They then turned it around to such a degree that, when the Washington Wizards beat them in five games in the first round of the playoffs, it seemed shocking. Last year's 48-win regular season was another showcase for head coach Tom Thibodeau and for the many talents of Defensive Player of the Year Joakim Noah, but the foul-tasting finish showed that there are limits to how far a great defense will take you. Chicago scored just 69 points in its final game.
Offseason needs
This wasn't complicated. The Bulls needed guys who could create shots for themselves and others. They needed guys who could space the floor. Chicago knew that Derrick Rose would take care of some of this, but the idea wasn't to have him come back and do everything himself. More than any other team in the league, the objective was obvious.
Plan A was using the assets assembled over the past few years to make a play for another star. Noah had been recruiting Carmelo Anthony, and the Bulls were in a position to make a solid offer for Kevin Love. Even if the chances were slim that he'd really listen, they could offer LeBron James a big market and a championship-ready supporting cast. 
Plan B was using a combination of draft picks (Nos. 16 and 19) and financial flexibility (the Bulls could amnesty Carlos Boozer's $16.8 million salary) to add some additional weapons.
Generally, Chicago needed an infusion of talent. Thibodeau routinely played his guys 40-plus minutes not just because that's what he does, but also because the team was shallow and had very little margin for error. The Bulls had to scratch and claw for wins, and when the postseason hit, it was extremely easy for Washington to prepare for them. Management had to give Thibodeau more options. 
The draft
Doug McDermott should fit right in. Chicago needed shooting desperately, and his quick release and smooth stroke leave no doubt as to whether his 46-percent career college shooting from the three-point line will translate to the pros. He looked as comfortable as anyone on the court at summer league in Las Vegas, where he flashed some of his underrated playmaking ability. He also revealed there that he received advice from fellow former Creighton Bluejay Kyle Korver about playing for the Bulls.
Chicago traded two first-round picks to move up to No. 11 to take him, and some will question that price for a guy who is almost assuredly going to struggle on defense. This is a win-now team, though, looking for someone like him who can come right in and contribute, and it's equipped to cover up for his defensive deficiencies. The deal also meant the Bulls had a bit more money to spend in free agency. 
They took Aussie Cameron Bairstow with the No. 49 pick and signed him after an impressive summer league. A four-year college player like McDermott, the 6-foot-10, 250-pound Bairstow was a prolific and efficient scorer for the New Mexico Lobos and looks physically ready for the league. Chicago will hope this goes better than the Erik Murphy experiment.
Free agency and trades
Anthony stayed with the New York Knicks. The Bulls wined him, dined him and made his choice difficult, and though Anthony told ESPN it was "pretty much always Chicago or New York," second place doesn't count for anything. If you're of the opinion that anything short of adding another star in his prime was a failure, then, sure, the Bulls failed this summer. LeBron never considered any team other than the Cavs and Heat. Chris Bosh only considered Houston and Miami. The Love chase might not be officially over, but it looks highly unlikely he'll be headed to the Windy City. Chicago did very well with its backup plan, though, and that should be evaluated on its own merits.
We'll start with the biggest name. Pau Gasol should be huge for the Bulls. He actually rebounded at about the same rate as the amnestied Boozer did last season, and he'll add another dimension to Chicago's offense. Having him and Noah in the frontcourt seems almost unfair; no other team outside of San Antonio will have anything resembling this sort of big-to-big passing. He got three years and $22.3 million, which might seem high for the 34-year-old, but he should be rejuvenated surrounded by superb defenders on a championship-caliber team. Gasol's not perfect -- he was pushed around on defense all the time last year -- but his experience, smarts and skills mean he should be worth it.
Thibodeau favorite Kirk Hinrich is coming back for two years and $5.6 million, which, fine. Point guard DJ Augustin went to Detroit for a bigger payday and was replaced by Aaron Brooks, who's probably just as good, for the minimum. Guys like him always do well with the Bulls. 
Nikola Mirotic is finally here. Chicago drafted the 6-foot-10 forward in 2011 with the knowledge that he'd stay with Real Madrid awhile. He signed for three years and $16.6 million, which is more than reasonable for a guy who many felt was the best player in Europe. Mirotic was the MVP of the Spanish League in 2013 and the Spanish Cup in 2014, and the only issue is that Thibodeau has to figure out where his minutes will come from with Noah, Gasol and Taj Gibson up front. This is a great problem to have.
Overall grade and accomplishments: A
Some Bulls fans might be disappointed about Anthony. That's OK. Chicago did what it had to do. It needed more firepower and it acquired that. With some development from Jimmy Butler and Tony Snell -- the 22-year-old swingman looked great in summer league, by the way -- along with Rose, Gasol and McDermott entering the equation, the Bulls could turn into a juggernaut on both ends instead of just one.
There are risks and flaws here. The presence of Brooks and Hinrich doesn't make the thought of Rose missing time any more tolerable. Gasol missed 20-plus games last year and 30-plus the year before. Chicago didn't find a dynamic, athletic shot creator on the wing for when Rose goes to the bench. It's not immediately apparent what the rotation will look like next year.
This is all nitpicking, though. The Bulls, a team with as strong a culture as you can hope for, improved in a major way. They will still wear teams out with physicality, and their style will still reflect the personality of their intense coach. The core and the philosophy is the same, but they're going to be tough to stop now. Aside from the Cavs and maybe the Mavs, no team did a better job this offseason. 
LeBron and Durant both responded to a newswoman's recent comments, telling them to 'shut up...

Mitchell's Slam Dunk Contest win was the icing on the cake of an incredible run of success

Dennis Smith Jr. had a great dunk contest, but the judges didn't feel the same way
Mitchell was awesome, but Larry Nance Jr. and Dennis Smith Jr. had some serious moves of their...

Silver noted that there are many factors at play with the issue affecting both the NBA and...

Jazz rookie Donovan Mitchell came in as a replacement and ended up winning the whole thing