Andrew Bogut, Mo Williams suspended one game for scuffle
Andrew Bogut and Mo Williams have been suspended for one game each for their part in a physical altercation during Saturday's game. Three other players fined.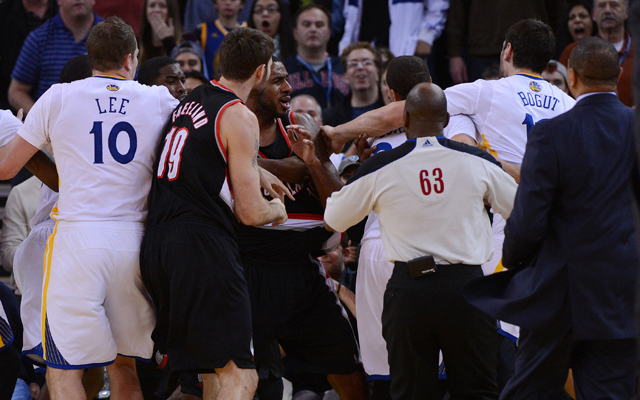 During the third quarter of Saturday's game between the Portland Trail Blazers and the Golden State Warriors, Andrew Bogut and Joel Freeland got tangled up a bit after some jostling for a rebound occurred. The two lineups on the floor started pushing, separating, and barking at each other while order tried to be restored. Mo Williams took exception to the action and eventually helped escalate the problem even further with Draymond Green.
The NBA announced Monday that Bogut and Williams will be suspended one game each for their part in the altercation. LaMarcus Aldridge will be fined $45,000 for his part in it and Wesley Matthews will be fined $20,000. Green from the Warriors is also receiving a $20,000 fine.
The Blazers ended up winning the game 113-101 for their 10th straight victory. 
Bogut caught Freeland with an elbow after Freeland had pushed Bogut in the back with his elbow. Once Bogut seemed to respond to the initial physical contact, Aldridge, Williams, and Matthews stepped in to stick up for their guy and seemingly prevent further action from Bogut. Then all 10 players on the court seemed to get involved with some of the peace being kept except for some extracurriculars from Green and Williams. 
T.J. Warren gets paid big money by the Suns in a four-year deal

Melo didn't hold back on his feelings about President Donald Trump and urges for help in Puerto...

The Wizards star says the NFL won't change until important players like Brady and Rodgers speak...
Popovich spoke at length about sports, race, culture, and politics during Spurs media day on...

Carmelo Anthony finds the idea of coming off the bench very funny

Several teams spoke about Trump's recent comments about protests and the Warriors' White House...