Nets-Heat Game 4 Preview: Nets need to tie things up
The Nets will try to turn this second-round series into a best-of-3 on Monday.
• 2 min read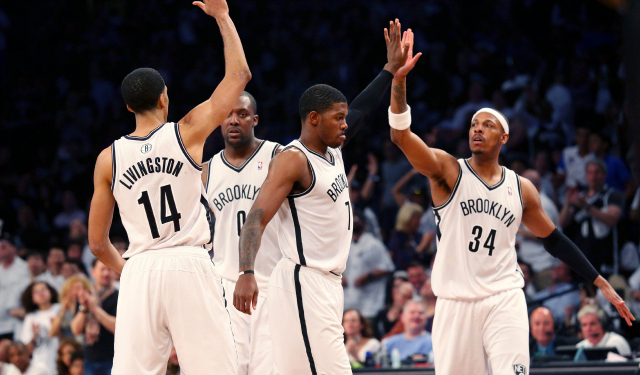 More postseason coverage: Playoff schedule, results | Latest news, notes
Game 4: Miami at Brooklyn (8 p.m. Mon. TNT)

1. Where We Are: The Brooklyn Nets did what they were supposed to do on Saturday, protecting home court and handing the Miami Heat  their first loss of the playoffs. Now down 2-1, they need another win or they're going to return to Miami facing elimination. Brooklyn shot a ridiculous 15-for-25 from behind the three-point line in the 104-90 victory, a franchise playoff record for makes and the highest total in this year's postseason. 
LeBron James made six of his seven first-quarter attempts, and had 16 points in the period. He strangely only made two field goals the rest of the way, and a miserable Miami third quarter cost the Heat the game. They still seem like the best team in the East, though, and they'll have firm control of the second-round series if they win on Monday.
2. The Big Number: 44 percent. That's the Heat's shooting percentage on uncontested shots in Game 3, per SportVU. They actually shot three percentage points better on contested ones. This is the sort of thing that should balance out, and it should scare Brooklyn. The Nets played well in Game 3, but they were helped by some uncharacteristically poor Miami shooting. They cannot count on that happening again.
3. Key Adjustment: Well, James wants one specific adjustment: "I don't see why [James Jones] shouldn't play," the superstar told reporters on Sunday, via the South Florida Sun Sentinel. James' point is that you can't help off the sharpshooter when he's on the court, and the numbers back up his assertion: the Heat are putting up an absurd 134 points per 100 possessions with Jones on the court in the postseason, per NBA.com. 
It might make sense to give Jones some of Rashard Lewis' playing time. Jones has made 10 of his 20 three-point attempts in 75 playoff minutes, while Lewis has shot just 2-for-12 from deep and 6-for-19 overall in the same amount of minutes. Lewis is out there because of his shooting; if he isn't converting, he isn't adding much value. 
4. The Big Story: Can Brooklyn make this a series? Miami has been mostly dominant through seven playoff games, and the Nets have a tough task ahead of themselves. Brooklyn head coach Jason Kidd has thrown out some wacky lineups, taken players in and out of the rotation and tried to catch the Heat off guard. It worked well enough last time, but it'll probably be for naught if the Nets can't find a way to recapture that same sort of magic. Led by Deron Williams, they moved the ball beautifully last time and got good looks. Miami, on the other hand, lacked desperation. Brooklyn knows how important this next game is, and the Heat will likely do a better job of matching the intensity. 
5. The Facts: 8 p.m. ET. Everybody's healthy enough to play, save for Brook Lopez.
Fergie: 'I'm a risk taker artistically, but clearly this rendition didn't strike the intended...

Victor Oladipo had a successful R&B album over the offseason and Jamie Foxx is a fan

Klay Thompson makes sure he stands out during All-Star Weekend
There's no shortage of moments to choose from

The Trail Blazers almost traded for Charles Barkley, but when they didn't, it put them in debt...

The self-proclaimed ASG snub Williams may be bitter about Butler requesting to sit out Sun...