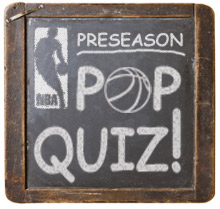 Posted by Matt Moore 

Fall is here, hear the yell, back to school, ring the bell ... The NBA season is right around the corner. To get you ready for the NBA season, we've put together pop quizzes. Pencils ready? We kick off our Pop Quiz series with the following question... 
The Suns went through a transformative offseason. After years of refusing a trade of Steve Nash, not only did they decide to let him walk in free agency, but they then facilitated a trade of their icon to their most bitter rival, the Los Angeles Lakers. It was the most drastic case of masochism by an NBA franchise in history.
Out of the rubble, GM Lon Babby and the Suns organization decided to built an almost entirely new team. Only not really. It's complicated. Let us explain. 
The pieces are almost all gone. Nash, Josh Childress, Grant Hill, Robin Lopez, Michael Redd, Hakim Warrick, all gone from the roster. The Suns became incredibly aggressive in free agency. They made a free-agency swing for Eric Gordon but swung out when the Hornets matched as soon as they were able to. They brought in Goran Dragic for big money, gave Michael Beasley $18 millon, and landed Luis Scola off the waiver wire. They brought in Wesley Johnson and drafted Kendall Marshall. 
Outside of a very select few players, this roster bears no resemblance to the team that went to the Conference Finals a few years ago. 
But the trick is, they haven't really gone anywhere. 
I was watching some video Thursday of Goran Dragic, whose offensive game is terrific, trying to guard fast point guards. And it, well, it was not pretty. It's not really Dragic's fault, trying to guard point guards in this league is almost impossible. But his inability to stay in front of the opponent laterally is as bad as.... you guessed it, Steve Nash. 
Luis Scola is a hard-nosed player who can hit the mid-range jumper and work well in the pick and roll. But Scola's age has impacted his defense and limited his abilty to roatate. He's a far better defender than Amar'e Stoudemire, even the Stoudemire from a few years ago, but he's still going to become more and more of a liability, hence why the Rockets used their amnesty clause on him. 
Michael Beasley is going to shoot, and shoot, and shoot, because that's what he does. There isn't a player to compare him to from Suns past because most of those players shot in the system and shot efficiently. But Beasley is emblematic of the kind of team the Suns have assembled once again. 
They can score, they can run, they have athletes, they have skill. They can't defend, rebound, or play consistently, in all likelihood. The question will be whether the combination of skills they've put on the floor, along with Marcin Gortat who was hyper-efficient next to Steve Nash (who isn't?) is going to be enough to make the team compelling. 
This isn't an awful roster. But it's not remarkably different from the same Suns team we've seen over the past two years. A dynamic point guard, a player down low who can hammer in dunks (Gortat), shooters, versatility, and the fun that is Jared Dudley. But there's no way to assess that this team will be fundamentally different in execution. 
The names and faces have changed, but the jerseys are the same. It's not that offense-over-defense can't be effective. It's that you have to have an effective group of players with an effective approach in that design for it to work. That's the biggest challenge facing the Suns, and the biggest doubt from critics they'll have to prove wrong. 
It's not that people don't believe in who the Suns are. It's that they've already seen this show with the original cast before.