Report: Brooklyn Nets to meet with free agent forward Blatche
The Brooklyn Nets are reportedly set to meet with unrestricted free agent forward Andray Blatche.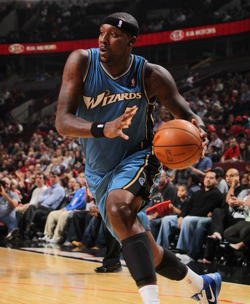 Andray Blatche will reportedly meet with the Brooklyn Nets.
 (Getty Images)
At least one team was listening when Andray Blatche made a desperate plea for a job.
Roughly two weeks ago, Blatche said that he was willing to take any basketball opportunity, including the D-League, after the Washington Wizards released him using the amnesty clause earlier this summer.
The New York Times reports that the Brooklyn Nets have expressed interest in Blatche and plan to meet with him this weekend.
He was set to meet with Nets Coach Avery Johnson sometime this weekend, according to two people with knowledge of the meeting. It was not clear whether the Nets were prepared to make Blatche an immediate offer or were simply exploring their options.
Blatche, who just turned 26, brings with him significant baggage. The basement-dwelling Wizards paid $23 million to not show up for work and his time in Washington included multiple arrests, an incident in which he punched a teammate, spats with coaches, a long-term benching because he wasn't in shape last season, and the infamous "Lapdance Tuesday" promotion.
As noted a few weeks ago, if Blatche is going to succeed in creating a second chapter for himself, it will likely need to come on a veteran-dominated, playoff-bound team where he can play a specific role as a productive reserve. No real pressure, no real responsibilities, no real expectations.
The new-look Nets happen to fit that set of criteria fairly well. After a busy offseason which saw the assembly of a solid rotation that goes nine or ten deep, the Nets are looking to bolster a relatively thin frontcourt that has been hit with injuries in the past. The frontcourt rotation currently includes center Brook Lopez, forwards Kris Humphries and Reggie Evans and combo forward Gerald Wallace, who can play some four if necessary. If Lopez, who played just five games last season due to a foot injury, were to go down again, the Nets would be stuck playing lots of small ball. 
The list of available free agent big men is quite short this last in the offseason and includes the likes of Kenyon Martin, Anthony Tolliver, Ivan Johnson and Chris Andersen.
Blatche holds career averages of 9.9 points, 5.4 rebounds and 1.5 assists per game during a 7-year NBA career.
There were some weird discrepancies between the fan, media and player votes

LeBron and Steph will be the captains for the 2018 NBA All-Star Game

We've got all the scores, highlights and news for Thursday night
Arron Afflalo was involved in an altercation with Timberwolves big man Nemanja Bjelica on...

Fergie and Canadian rock band The Barenaked Ladies will sing their respective national ant...

Based on Gentry's tongue-in-cheek price, Boston is highly unlikely to acquire the big man