Report: Nets, Heat to sport nickname jerseys next year
The Nets and Heat are reportedly going to wear jerseys with their nicknames on them next season.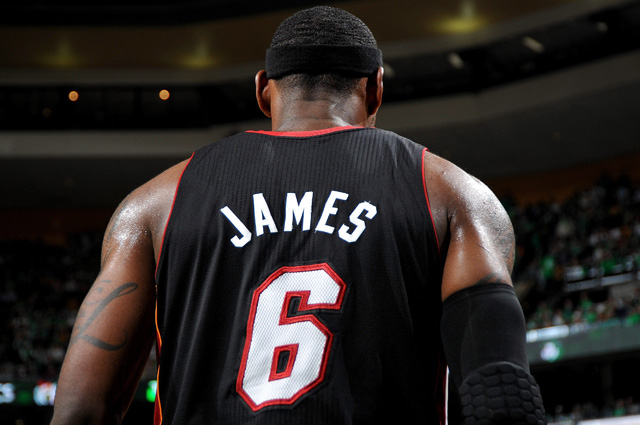 The AP reports that the NBA is considering using nicknames on jerseys next season. 
Some members of the Miami Heat have been told the NBA is considering having them and the Brooklyn Nets wear "nickname jerseys" in at least one of their four matchups this season. The NBA has not announced the plan, but teams apparently have been aware of the likelihood of it happening for at least several weeks.

For now, only the Heat and the Nets would be taking part. It's unclear how many times those teams would wear the nickname jerseys, or if they would ever wear them against other opponents.

"It shows growth in our league and it shows we do adapt to what's going on around us," said Allen, the Heat guard who plans to wear Shuttlesworth on his jersey, a nod to his character from the "He Got Game" film. "And we're still kids, playing a kids' game. Even though we're now men playing a kids' game, we still remember where we come from. Everybody had a nickname and it's a way to let the fans in a little bit more."

Players were asked to submit what names they would want on the jerseys.
via NBA may have Heat, Nets wear nicknames on jerseys.
In short, if you like nicknames, you will like these jerseys, if you do not like nicknames, you will hate these jerseys. The end. 
I think it's nickname-dependent. I'm lukewarm on "King James" for LeBron James and would prefer "Chosen One." Dwyane Wade should really quit trying to get away from it and just accept "Flash." "The Truth" is good but the original name and "The (Expletive) Truth" would be better. "KG" is not a nickname. It's his initials. I would subscribe to "Ticket" across KG's back, though. 
The best would be if Chris Bosh just had "Like A" on his back. 
Shane Battier said he wanted "Batman" then changed it to the non-trademarked "Shaneo" which is terrible. "The Professor" or just his name in binary would be superior. 
If this expands, it could get out of hand, though. We don't want to go down "He Hate Me" Lane or anything. 
Is this rock bottom for the Cavaliers because it sure feels like it is

Wade, as he's done so many times in his career, threw it up to LeBron for the thunderous f...

The Warriors coach added there should be no shame in being picked last since everyone's an...
We've got all the scores, highlights and news from all of Saturday's games

The two teams have reportedly not had any substantial discussions to this point

Oladipo may be getting most of the shine, but this second-year big man has been phenomenal...