Report: Nuggets interested in free agent Nate Robinson
The Nuggets are reportedly interested in signing free-agent guard Nate Robinson.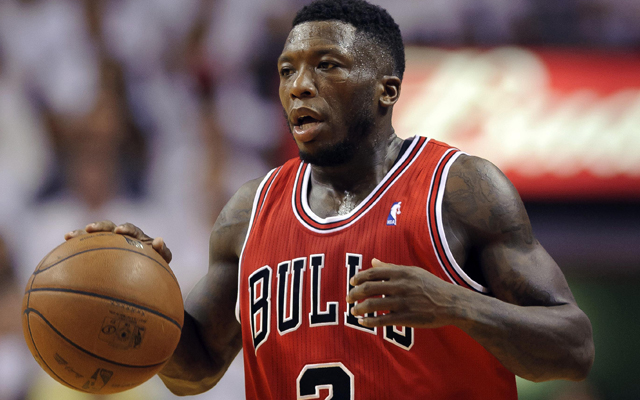 The Nuggets appear to be filling in the gaps of their roster after their front office, coaching and roster upheaval this summer by going for ... um ... value. With Andre Iguodala off to Golden State, and Corey Brewer on his way to Minnesota, the Nuggets have a little bit of space to pursue some guys. 
And backcourt is apparently where they're targeting. To review, here's the Nuggets' current backcourt formation:
Ty Lawson, Andre Miller, newly-signed Randy Foye, Evan Fournier, Erick Green and Quincy Miller if you want to throw him in. 
Now ESPN reports that the Nuggets are pursuing Bulls free-agent point guard Nate Robinson. 
Rumble out of the Rockies: Denver Nuggets expressing certifiable interest in trying to sign free-agent PG Nate Robinson

— Marc Stein (@ESPNSteinLine) July 13, 2013
A return to Chicago, even after Nate's playoff heroics, appears unlikely in the extreme given reservations of Bulls coach Tom Thibodeau

— Marc Stein (@ESPNSteinLine) July 13, 2013
So you would have to think the Nuggets will move Miller if this happens. There's just no room for Lawson, Foye, NateRob and Miller on the team, especially with Miller's attitude and the seemingly rebuilding effort in place. 
Robinson would provide a perimeter scorer off the bench who can create his own shot, something the Nuggets struggled with last season, and seemingly at a discount. Of course, the quality of those shots is always the question with Robinson. The real value might be his eternally optimistic attitude, however. We'll see if the Nuggets take the plunge on the diminutive scorer and if that leads to even more changes to a team in flux. 
Warriors' forward doesn't understand the reasoning behind the all-too-common double technical...

Hardaway Jr. gave a 'safe' call like he was an umpire in baseball

Barnes hits the trey with less than a second left to lift Mavericks to dramatic 95-94 vict...
Kevin Durant was once again back in Oklahoma City

Gregg Popovich has never seen an injury lead to the issues that Kawhi Leonard has been fac...

Kobe Bryant, of course, had his 81-point game against Rose and the Raptors back in 2006