The 4-Point Play: Memphis Grizzlies defensive attack vs. Thunder
Memphis's Tony Allen and company will face the Thunder short-handed Thursday. How can they slow down Oklahoma City when they're down a man on the wing? All that plus photos, GIfs and quotes.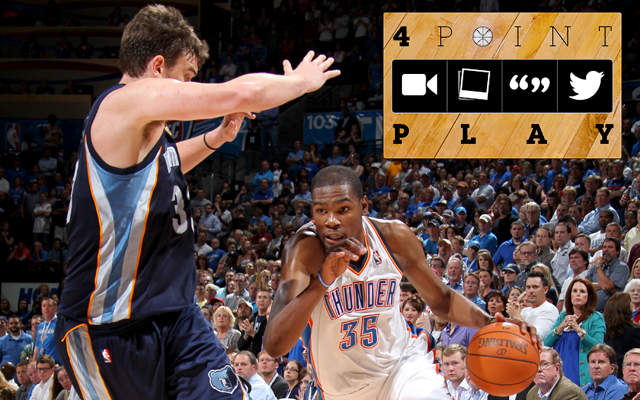 Memphis' team defense will need to be sharp vs. Kevin Durant on Thursday.
(Getty Images)

The Memphis Grizzlies will be short-handed when they walk into Cheseapeake Energy Arena to face the Oklahoma City Thunder on Thursday night. Having just traded a superb wing defender in Rudy Gay, and with Tayshaun Prince and even Austin Daye yet to arrive for the Blue Bears, Memphis has the following defenders to throw at the juggernaut combo of Kevin Durant and Russell Westbrook: Tony Allen, Mike Conley, Tony Wroten, Jerryd Bayless, Chris Johnson. That's one DPOY candidate, a good defensive point guard with limited lateral movement, an undersized speedster with poor instincts, a rookie and a D-League call-up. 
So no, this isn't going to end well. 
While the trade might be the best thing for Memphis long-term, in the short term it will be painful, and no more so than before the reinforcements arrive. The one, best chance that Memphis has of taking out OKC as it did in the first meeting is with its systemic defense, which caused 15 turnovers, nearly double Memphis's in the 107-97 November win. 

Allen is Memphis's one, best hope. And while Allen would gladly go 48 minutes Thursday night, foul trouble is unlikely to allow it. Durant is the best player in the league at drawing fouls, and he does so particularly against aggressive defenders like Allen. But Allen's ability to make plays as a help defender are just as important. Take a look at how the Grizzlies converge on Durant once he makes his move here, with multiple defenders to confront him once he gets to the lane, distracting him as Allen reaches in perfectly. 


Allen's ability to play the passing lanes is one of his strengths, not just on Memphis, but leaguewide. Here the Grizzlies again trap the ball-handler, forcing the pass, and when he makes it, Allen is all over it. If you want to reverse the ball, you can't do it through the lane too often against Memphis. They'll make you pay. 


The Grizzlies are known for that Grit-Grind approach, which attacks with physicality and effort. Watch them bust through the screen here to disrupt Westbrook and cause the turnover. Going to need a better pick than this. 


And it's not just the defense at the moment of attack that Memphis hurts you with. Watch here as the Grizzlies attack the Thunder at multiple spots, on and off-ball, forcing Serge Ibaka into an ill-advised drive-and-dump attempt that results in once again throwing it away. You'll see Marc Gasol's defensive prowess on display here. Getting the Thunder into more of these sets will be crucial for Memphis. 


Durant might wind up scoring 40. Westbrook should have his way. The Grizzlies' best tactic short-handed is, well, the same thing they always do, defensive effort and multiple attacks combined with savvy playmaking and a healthy dose of Zach Randolph and Gasol. 

Ninja defense doesn't really work if you let the guy go baseline.
(Getty Images)
Kids always screw up school photo day.
(Getty Images)
"I just realized I'm scared of heights!"
(Getty Images)
I really think the Durantula nickname is wro... oh God, how do his legs move that way?!
(Getty Images)
The ruler of the free world and President Obama.
(Getty Images)
Anthony Davis, master of odd angles.
(Getty Images)
The Lakers are getting excited for their fifth season of 2013.
(Getty Images)
You don't really need a caption here, right?
(Getty Images)
Rajon Rondo, pictured above, tore his ACL ... breaks down into uncontrollable sobbing.
(Getty Images)

"(...)" -- George Karl on his reaction to the JaVale McGee GIF seen below. Karl literally saw it and walked away. No headshake, no laugh, nothing. 
"Best perimeter defender ... Jrue Holiday is crazy. I once saw him guard Derrick Rose full-court. He wasn't stealing the ball from him, but he was pressuring him. At first I'm thinking like, 'Yeah, right. Get back.' But it was effective. And after going at him in practice, going at him full-speed and he's able to get in front of me, able to get steals off of me, this dude is tough." -- Andre Iguodala on former teammate and first-time All-Star Jrue Holiday
"'All-for-one' didn't last a whole lot, did it? Eight-hour shelflife. We'll take what we can get." -- Mike D'Antoni on Pau Gasol's continued unhappiness at his role in L.A. via Ken Berger of CBSSports.com. 



A brief recap of the Celtics' epic collapse to Atlanta on Friday night.


Tony Allen celebrating the play of his protege, Tony Wroten.
Joe Johnson does Chris Bosh WRONG via SBNation.com


Steph Curry's tear drop is beauty.
T.J. Warren gets paid big money by the Suns in a four-year deal

Melo didn't hold back on his feelings about President Donald Trump and urges for help in Puerto...

The Wizards star says the NFL won't change until important players like Brady and Rodgers speak...
Popovich spoke at length about sports, race, culture, and politics during Spurs media day on...

Carmelo Anthony finds the idea of coming off the bench very funny

Several teams spoke about Trump's recent comments about protests and the Warriors' White House...