Worker files suit against Rockets for sexual discrimination
A former catering worker is suing both his former boss and the Houston Rockets for slurs levied against him in Rockets locker room at Barclays.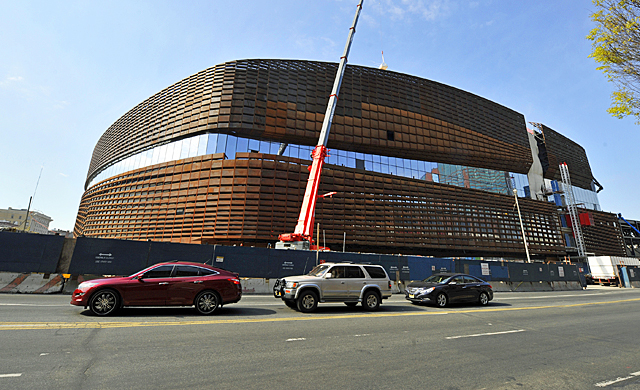 More NBA: Power Rankings | Expert Picks | Latest news, notes
The New York Post reports that a catering worker at Barclays is suing both the Houston Rockets and his former employer after what he claims were a series of homophobic slurs directed at him by the Rockets and his subsequent firing by his employer after complaints related to the incident, which occurred in February of 2013. 
A gay Barclays Center food server claims that Houston Rockets basketball players pelted him with homophobic slurs in a locker room before a 2013 game against the Nets — and that he was coldly canned by his catering company after he complained about the abuse, according to a Brooklyn federal lawsuit filed Tuesday.

Rasean Tate, 28, of Brooklyn, is suing the Rockets and the company that handles catering at Barclays, Levy Restaurant Holdings, for a slew of civil rights violations and anti-gay discrimination.

Tate claims that he was setting up a buffet in the visiting Rockets locker room before a game on Feb. 22, 2013, when he was all but chased from the area because he was gay.

"When the plaintiff's back was turned to defendant Rockets players, he began to hear laughter and taunting voices saying 'get this f—– out of here!' " according to the suit, and " 'He's trying to catch a sneaky-peeky!' "
via Houston Rockets taunted server with anti-gay slurs: suit | New York Post.
Neither the Rockets nor the catering company have issued statements as of yet. 
Earlier this year, Nets center Jason Collins became the first openly gay athlete on an NBA roster when he was signed by Brooklyn. The NBA has made significant efforts within the past few years to educate and discourage discrimination based on racial, gender, or sexual basis. 
At the rookie transition program, a series of experts and former players speak on the subject of tolerance as well as relating past experiences. Additionally, each team has a designated "player development" staffer responsible for coordinating meetings throughout the year with topics relevant to the players, including discrimination. And the NBA's no discrimination policy is a mandated and negotiated function of the CBA with the players. 
Players have also taken part in PSA's on the matter like this one featuring now-former player Grant Hill and Steve Nash.
Is this rock bottom for the Cavaliers because it sure feels like it is

Wade, as he's done so many times in his career, threw it up to LeBron for the thunderous f...

The Warriors coach added there should be no shame in being picked last since everyone's an...
We've got all the scores, highlights and news from all of Saturday's games

The two teams have reportedly not had any substantial discussions to this point

Oladipo may be getting most of the shine, but this second-year big man has been phenomenal...