2013 NFL Free Agents: Cap casualties under the microscope
As teams enter the 'adjustment season', Pat Kirwan looks at the fate of veterans who have or will fall victim to NFL economics.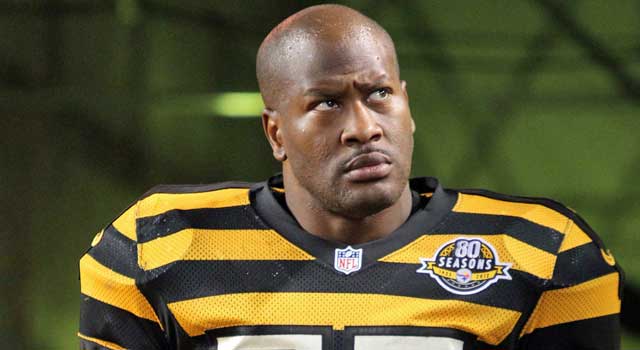 The Steelers rarely re-up with aging linebackers like James Harrison. (US Presswire)
The football season is done, the new salary-cap season isn't here yet and the draft is months away. We are now in the small window of the year I like to call the "adjustment season."
Clubs are preparing for the open market and they are approaching players about their salary situations. Teams are trying to strike deals with veterans who have expired contracts, restructuring players under contract, decreasing player-contract values, extending player contracts and, of course, terminating veteran contracts all in the interest of being prepared for the start of the league year.
There are a few things fans have to keep in mind when hearing all the contract talk in February. An agent will say his client is willing to renegotiate a deal to help the club. That is quickly defined as meaning the player is willing to take a signing bonus instead of salary, but not a penny less in real dollars. All players would love a guaranteed signing bonus now rather than weekly unguaranteed salary seven months from now.
Teams will do this occasionally, but usually with younger starters where there is less risk the player's career is coming to an end. The Steelers' James Harrison is amenable to a restructure, but not to a pay cut. The Steelers have salary cap concerns but, also know the aging Harrison has medical issues and most likely want him to take a pay cut from his $6.75 million salary. The Steelers parted ways with linebackers like Joey Porter, Jason Gildon, Chad Brown, and Clark Haggans in the past and are capable of doing it in this case. Harrison is not alone in being at a crossroads of his career when it comes to economic value. Michael Vick realized his value had changed and he took a reduced deal to stay employed by the Eagles. Not everyone can see the economics clearly and others don't even get a chance to take pay cut.
During the last two weeks the following players have been released:
Ahmad Bradshaw 
Demetrius Bell
Jason Smith
Chris Canty
Frostee Rucker
Kyle Vanden Bosch
Osi Umenyiora
Michael Boley
Nick Barnett
George Wilson
Guys like Bart Scott and Calvin Pace aren't far behind. Players under contract with big salaries, age concerns, injury or production issues have to wonder when they are going to get the call to turn in their playbook.
NFL pro personnel people study player contracts, or at least I did, to predict which veterans not on the original free-agent list would probably come available over contract issues. There could be better players coming free -- known as cap casualties (CC) -- than would be on the original 2013 unrestricted veteran list. For example, I looked through defensive players still under contract, but who could be released and found some interesting names.
Will Smith
Tyson Jackson
Antonio Smith
Ryan Pickett 
Jon Beason 
James Harrison 
Jon Vilma 
Stewart Bradley
Champ Bailey
DeAngelo Hall
On average these players make over $5 million each next season and some north of $10 million. Asomugha has $4 million guaranteed in 2013 but he has another $11 million unguaranteed. The Eagles can cut him and write a check for $4 million or looked at another way, release him and save $11 million.
There are some players with so much guaranteed money left in their deals that it may prevent the club from terminating the contracts. Some believe Trent Cole isn't going to be a fit in the Eagles' new 3-4 defense but his 2013 salary is fully guaranteed.

Players have to understand how the economics works.
Consider your age, health, and production in 2012
Look closely at your team's salary cap issues and make a judgment about how aggressive your team has to be to be in compliance when free agency starts. 
Know the volume of free agent veterans at your own position. I looked at 24 veteran defensive tackles scheduled for free agency. Does a veteran with a contract really want to be thrown into that pool of players or take a pay cut to stay right where he is?
Take a look at the draft pool of talent at your own position. Most college personnel people will tell you there could be between 11-15 defensive tackles taken in the first three rounds, which clearly will eliminate more jobs for veterans. 
The truth is it looks like a buyers' market this year due to little salary cap growth and the number of veterans who will hit the street. Players have to think long and hard about taking a reduction and not getting hung up on a restructure.

Often veteran players want to shoot the messenger, and when the home club tells a player "we have to reduce your salary or release you," the veteran becomes furious with the club. Hopefully, veteran agents know when they have the best deal and communicate if the player should stay or walk. Many times veterans find out that the only thing waiting for them is a veteran-minimum wage deal, which turns out to be worse than what the club was offering.
Warren Sapp was one of several players named in a lawsuit against NFL Network

Check out the uniforms that Denver and Indianapolis will be wearing on Thursday

The Cowboys are going to need a few things to go their way to get into the postseason
Rudolph will be put under the microscope in Mobile by clubs looking for a quarterback early...

This fan is taking the Saints to court for using 'football games as a platform for protest...

Can Aaron Rodgers get the Packers to the postseason? Even if they win out, they'll need he...