Film study: Why Ryan Fitzpatrick is not the Jets' quarterback cure
The Jets shouldn't re-sign journeyman quarterback Ryan Fitzpatrick this offseason. New York would be much better off spending its money elsewhere. Here's why.
• 7 min read
Ryan Fitzpatrick is not the Jets' quarterback cure. He's not their short-term plug for next season and he's not their long-term savior for the years beyond. Ryan Fitzpatrick is still Ryan Fitzpatrick, the antithesis of dependable, a synonym for inconsistent. 
In just a few days, the new league year will officially begin. And that means free agency will finally commence. This is what the free-agent quarterback landscape looks like:
Brock Osweiler, Ryan Fitzpatrick, and Chase Daniel are now the top free agent quarterbacks on the market.

— Peter Schrager (@PSchrags) March 1, 2016
So, Fitzpatrick might be the best or second-best quarterback available for hire. Let that sink in.
If this past week reminded us all of anything, it's that there's no such thing as a middle class of quarterbacks, at least when it comes down to their paychecks. It doesn't exist. The Eagles signed Sam Bradford to a two-year contract worth $36 million, including $26 million guaranteed. Kirk Cousins will be playing under a franchise tag that's worth nearly $20 million. That's just the nature of the quarterback market.
Fascinating: 19 QBs make $16M APY. But only 1 QB (Nick Foles, $12.3M) has deal averaging between $6.5M and $16 M per. No real middle class.

— Eric Edholm (@Eric_Edholm) March 1, 2016
Fitzpatrick might be next. After all, Jets general manager Mike Maccagnan feels "good" about re-signing him. Top wideouts Eric Decker and Brandon Marshall "love" Fitzpatrick. Head coach Todd Bowles reports the Jets are "working" to bring him back -- as if Fitzpatrick is Matt Damon stuck on Mars and the Jets are NASA scrambling to conjure up a daring rescue mission.
It's unclear, though, why that's the case, because it certainly shouldn't be.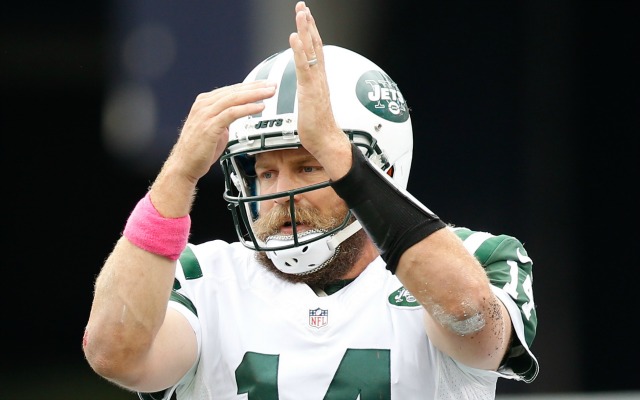 Not too long ago, the idea of Fitzpatrick starting for the Jets wasn't even an idea. Then, IK Enemkpali clocked Geno Smith. Smith landed in the hospital and Fitzpatrick ended up atop the depth chart before the onset of the season.
Fitzpatrick kept the starting job and, over the course of the year, accumulated an 88.0 passer rating, finishing as the 24th best passer in the league by that metric. He also completed 59.6 percent of his passes (29th in the league), averaged 6.9 yards per attempt (27th in the league), threw 31 touchdowns (tied for 10th in the league) and 15 interceptions (tied for the fifth-most in the league). 
Yet, according to his supporters, Fitzpatrick experienced a career-year (despite the fact that Fitzpatrick actually experienced a better season in Houston the year before, when he started 12 games and posted a 95.3 rating.) When those supporters talk him up as a worthy quarterback, a word that often comes into play is "veteran." The implied meaning is that Fitzpatrick manages the game, plays within the offensive system, generally knows what he's doing, and is reliable.
That's just not true. As my colleague, Jared Dubin, wrote back in November:
Fitzpatrick is often touted as a smart player that doesn't make mistakes, mostly because he went to Harvard and Harvard is a school for smart people. But it's not true. Fitzpatrick makes lots of mistakes. Of the 53 quarterbacks to throw at least 1,000 passes since Fitzpatrick first played a game back in 2005, he has the eighth-highest interception percentage, per Pro-Football-Reference. He's more interception prone than Jay Cutler, Tarvaris Jackson, Josh Freeman, Christian Ponder and Joey Harrington. That does not sound like a smart, mistake-free QB to me.
Fitzpatrick's 2015 game film backs up the stats.
Immediately, a few negative characteristics stand out. The first is his tendency to lock onto one receiver without surveying his other options.
In the play below, Fitzpatrick stares down the receiver to his immediate left for the duration of the play. He eventually throws a pass into tight coverage toward that receiver. Keep an eye on the middle of the field, though, where a space opens up and a lone receiver fills the void.
Fitzpatrick never spots the opening.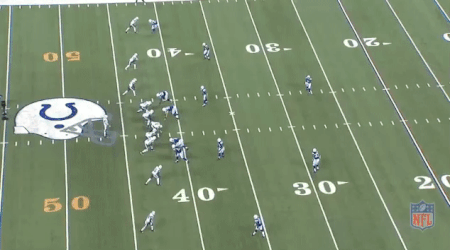 Here, Fitzpatrick stares down a slant. The defender reads his eyes, jumps the route, and nearly snags a pick-six.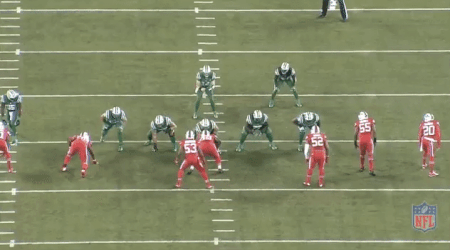 This near pick-six should look familiar too: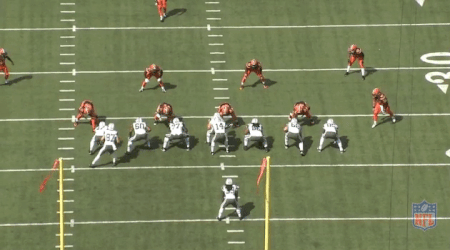 Below, Fitzpatrick fails to recognize that the two crossing patterns to his right won't result in an opening. But instead of getting off those reads, he forces a throw into coverage. Meanwhile, on the left, a receiver runs a successful out-route. Fitzpatrick doesn't see him because his head never moves.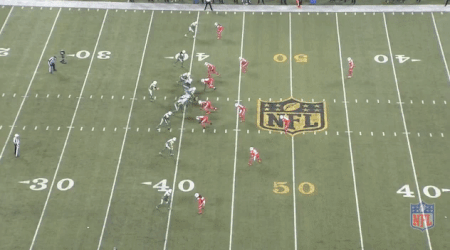 Again, below, Fitzpatrick fails to spot an opening. Over the middle, you'll spot Decker surrounded by nothing but green. Fitzpatrick winds up firing an incomplete pass into double-coverage down the sideline.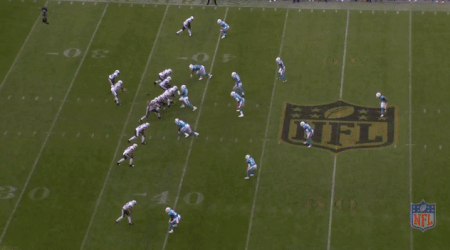 In the GIF below, Fitzpatrick starts with his eyes to his left before rotating his vision over to the right portion of the field. There, Decker sprints up the seam while Marshall runs an in-cutting route. Decker manages to get behind the zone coverage -- you can see the defender pass Decker off to nobody -- and is wide-open for a touchdown in the back of the end zone.
Fitzpatrick throws it to Marshall, who's surrounded by defensive backs.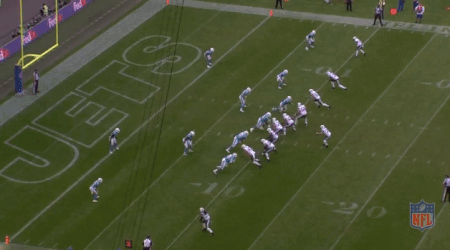 In the photo below, the heart surrounds the player Fitzpatrick should've targeted. He's running away from the defender in the middle of the field and toward empty space. The circle is where Fitzpatrick threw the ball -- right into tight single-coverage with a safety providing help over the top.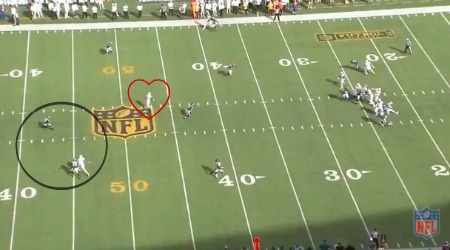 Fitzpatrick also has a tendency to rely too heavily on his wide receivers. He frequently forces passes into coverage and hopes his receivers win in man coverage. Sometimes, that leads to spectacular touchdowns. More often, it leads to dangerous incompletions that have the potential to lead to interceptions.
Like this throw: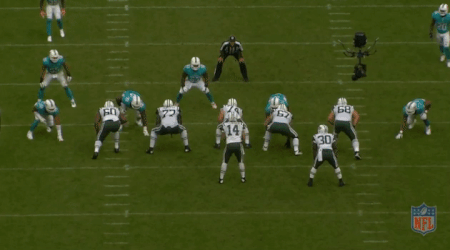 And this one: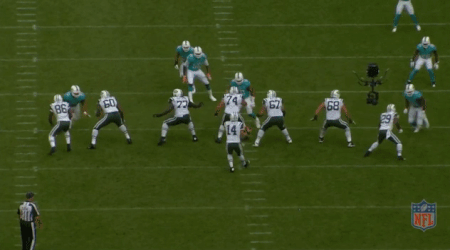 And this: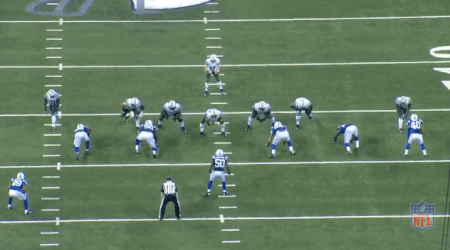 Furthermore, there's a fundamental quarterback characteristic that Fitzpatrick lacks: accuracy. His ball placement is less than ideal, often turning big gains into tough catches or sure completions into incompletions.
This should result in a connection. It doesn't.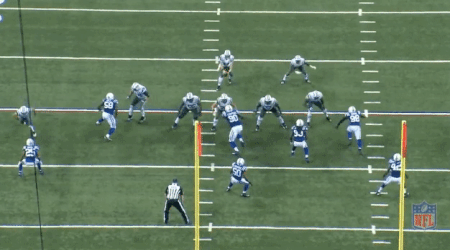 This is an easy throw. It's easy, but Fitzpatrick misses a chance to secure a large chunk of yards.
This one actually turns into a catch, but the receiver is required to rescue a wild throw behind his body.
I'm not cherry picking these moments. They happened ALL THE TIME this past season -- so much that I began to run out of file names for my GIFs and, eventually, ran out of room in this article to include all of them.
page one of the GIFs I'm working with for a Fitzpatrick article. Running out of names for my GIFs. pic.twitter.com/Ndf2shATgH

— Sean Wagner-McGough (@seanjwagner) March 4, 2016
So, what should the Jets do then? 
Well, their options are limited. The first step, however, is saying no to Fitzpatrick. If Fitzpatrick is asking to become a member of the quarterback upper class, then he's not worth the investment. Do the Jets really want to tie themselves and millions of dollars to a quarterback who's been around for 11 years and has pieced together zero quality 16-game seasons in that span?
Again, let's turn to Dubin to explain why they don't want to do that. Here's what he wrote about Fitzpatrick in December:
Fitzpatrick is a journeyman who has had the likes of the Rams, Bengals, Bills, Titans, and Texans come to the realization that he's not the quarterback for them. Four of those five teams came to that conclusion within two years. Only the Bills stuck with Fitz longer than that.

Why have those teams all reached the same conclusion? Well, because Fitzpatrick's stretches of good play have never lasted all that long (note Bowles alluding to his inconsistent successes), and over larger samples, he's been a clearly below-average quarterback.

Fitzpatrick has thrown at least 200 passes and made at least eight starts in every season since 2008. In that time, his teams have gone 41-57-1 in his starts as he has completed 60.32 percent of his passes for 6.71 yards per attempt. Over that same span, he's been intercepted on 3.23 percent of his pass attempts and recorded a quarterback rating of 81.8. Every single one of those figures (winning percentage, completion percentage, yards per attempt, interception percentage, and QB rating) ranks dead last among the 14 quarterbacks that have thrown at least 3,000 passes since 2008, per Pro-Football-Reference.
According to Spotrac, the Jets own $6,700,365 in cap space. That's not much room to operate. And that's why the Jets would be better off spending their money elsewhere, so they can build a quality team around a younger, cheaper quarterback. Like Geno Smith or -- if they feel he's ready -- NFL sophomore Bryce Petty.
Neither Smith nor Petty are guarantees to work out. Both would most likely struggle in 2016. But, if history tells us anything, it's that Fitzpatrick will also struggle. He's struggled for 11 years now. At this point, expecting Ryan Fitzpatrick to turn into someone other than Ryan Fitzpatrick is a fantasy.
Pick Six Newsletter
Get the day's big stories + fun stuff you love like mock drafts, picks and power rankings.
Please check the opt-in box to acknowledge that you would like to subscribe.
Thanks for signing up!
Keep an eye on your inbox for the latest sports news.
Sorry!
There was an error processing your subscription.
NFL teams are prohibited from any in-person prospect meetings ahead of the draft

With Tom Brady on the Bucs, Jarrett Stidham and Brian Hoyer are the only two QBs on New England's...

Dempsey also battled Alzheimer's disease and dementia since 2012
The Jaguars take the first wide receiver in this draft, changing up the draft board for receiver-needy...

Wolfe wants to be on the Ravens well past this year

Clowney, a three-time Pro Bowler, will be the prized edge rusher on the market if he hits free...
Breaking down the latest rumors, news, signings and trades across the NFL

Check out all the picks made during the CBS Sports HQ three-hour mock draft special

Live scores, highlights and updates from the Jaguars vs. Colts football game