Monday Musings: Haslett doing nice things with Redskins D
Jim Haslett's blitzing ways are a big reason why the Redskins have made a playoff run.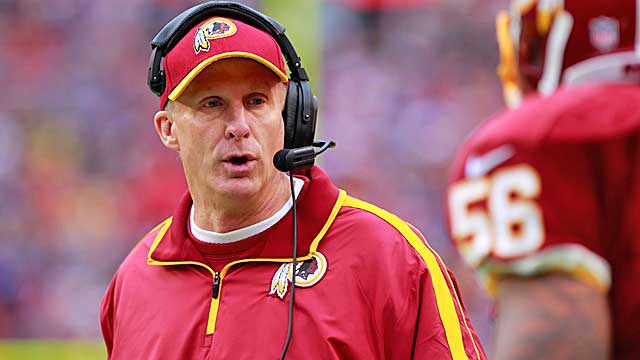 Injuries have forced Jim Haslett to get creative in Washington. (US Presswire)
• Lost in all the Robert Griffin III hype and the talk of Kyle Shanahan now being a great coach is how good a job that defensive coordinator Jim Haslett has done in Washington since the bye week.
Haslett has turned a defense that was a disaster early, one hit hard by the losses of key players (injuries and suspensions), and made it a formidable unit during the playoff run. That unit -- with three picks of Tony Romo -- is a big reason why the Redskins beat the Cowboys on Sunday night to win the NFC East. Haslett is doing it without Brian Orakpo, his best pass rusher, who was lost for the season in the second week. That has led to more blitzing, more aggression and more scheming to put pressure on opposing quarterbacks. He is also doing it without his projected starting safeties. That has led to more creativity.
The Redskins still don't have glowing numbers -- ranking 21st in points allowed -- but during the run, the numbers have improved. Haslett has used more players in the rotation, and he's attacked more than he did earlier in the season. You saw the number of blitzes that he threw at Romo on Sunday night. There were many Redskins fans who wanted him fired during the bye week. But if you study his defensive roster, the above-average players are nose tackle Barry Cofield, linebackers London Fletcher, Perry Riley and Ryan Kerrigan and corner DeAngelo Hall, and he has major lapses at times. Yet Haslett has done enough to get this defense turned around.
Why can't he get another NFL head-coaching job? He had a nice run as the head coach in New Orleans. As the interim coach in St. Louis, the players loved him. Maybe it's time that he gets another shot. His work with the Redskins the past six weeks is truly impressive, especially when you consider what he has in terms of players.
• It's early, but I think I have a candidate to be my top player on the list of free agents in 2013. It would be Bengals defensive end Michael Johnson. Johnson had two sacks against the Ravens on Sunday to finish with 11 1/2. At 25, he is the perfect age in terms of target free agents. The Bengals could opt to franchise him, but they also have the contracts of DT Geno Atkins and DE Carlos Dunlap coming up after the 2013 season. Tackle Andre Smith is also a free agent after this season. I told Dunlap the team might tag him, which most players don't like, and he said, "That's fine. I've never had anything in life. I'll take it."
• The Jaguars fired GM Gene Smith on Monday. Smith was a hard worker, but the proof is in the pudding. He didn't get it done. One of the main issues that I had with Smith was that he always wanted good soldiers in the building. His players didn't have an edge. There weren't enough nasty boys. It's one thing to have good guys, but they need to be nasty players on the field. The Jaguars didn't have that. It didn't help that QB Blaine Gabbert, Smith's choice in the first round in 2011, hasn't developed into a quality starter. 
• The Titans have a future star in speedy LB Zach Brown. He had two interceptions for a touchdown against the Jaguars on Sunday, but it has been the past four games or so when he's flashed star potential. He has great speed, and the knock on him coming out of school was that he might not be tough enough. That's not the case at all. Brown has great speed, and he is a willing tackler. 
• It's too bad there were so many games on Sunday that didn't mean a thing. It felt like bowl season, where the games don't matter. Or even the preseason -- where the games don't matter. It usually doesn't work out that way, but it did this week. The game that I covered -- Baltimore-Cincinnati -- was dreadful. Imagine paying money to watch Bruce Gradkowski matched up against Tyrod Taylor. Oh, boy. 
• I loved what Arian Foster did in paying homage to Chuck Pagano after he scored a touchdown. There is so much more important than winning and losing, and Foster was big enough to acknowledge it.
• Mike Tannenbaum's fate was sealed in New York when he brought in Tim Tebow. The circus that came with it wasn't worth it. That's what happens when you give a cap guy GM power. 
• I've been saying for months that Jon Gruden might wind up in Cleveland. I keep hearing it.
• There are a lot of people now doubting the Falcons after they lost to Tampa Bay on Sunday with their starters playing. One word: Motivation. They were playing for nothing. That matters in the NFL. Don't read too much into it.
• Why would the Chiefs bring back GM Scott Pioli? He is the guy who signed Matt Cassel, right?
• It's official: The replacement refs cost the Green Bay Packers a bye. Either that, or the fact they failed to tackle Adrian Peterson in the final minutes on Sunday.
• Mike Vick wasn't very good against the Giants. Who wants him now?
• Isn't it funny how good the Denver receivers look now that they have a real quarterback throwing to them?
• If Rex Ryan wanted more of Tebow, shouldn't he have been given that? He is the head coach, after all.
• Still don't think Aldon Smith feasted on the holding by Justin Smith. He doesn't have a sack without Smith in the lineup the past two games after getting 19 1/2 with him in the lineup. Just saying.
• The Bills need to hire Mike Zimmer. He would take that defense -- which has talent in Mario Williams, Stephon Gilmore, Jairus Byrd and others -- and make it a good one. It makes too much sense.
• Now that Lovie Smith is gone, it's time for the Bears to get with the times. Build around Jay Cutler and Brandon Marshall. Go up-tempo. Don't give me the crap about the weather. The Packers threw it around, and last time I checked Green Bay wasn't all that warm.
Mariota and left tackle Taylor Lewan both escaped serious injuries

This might go down as the most expensive snowstorm of Adam Vinatieri's life

The Cowboys unveiled a new look on Sunday and their fans seemed to love it
Conquerors of adversity in 2017, the Eagles are still on the fast track to claiming the NFC's...

Cord-cutters are probably going to like this new deal between the NFL and Verizon

Stephen Oh has his finger on the pulse of Bill Belichick's team and just locked in a strong...