Austrian coach 'shocked' by team's heavy partying before final loss
Austria's hockey coach said he's shocked to learn some players were partying well into the morning before playing Slovenia and that 'there will be consequences.'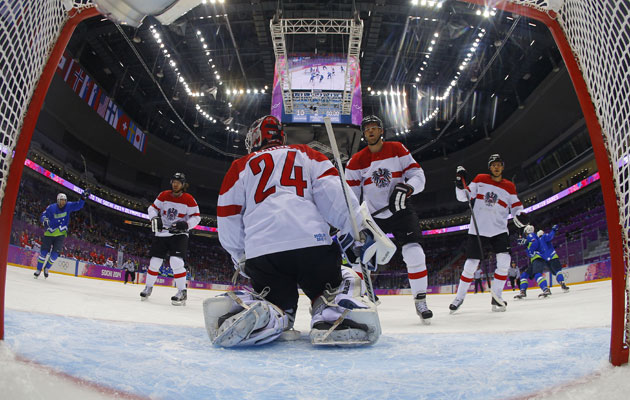 More NHL: Scores | Standings | League Leaders | Odds | Injuries | Power Rankings
Coming out of the Olympics with a win was going to be considered a great trip to Sochi for Austria, which has had very little successs to speak of on the international level. They got their win but it's hardly a celebration back in Vienna. Some on the team already had their celebration and its spoiled the mood.
Reports out of Austria since the team lost 4-0 to Slovenia to miss the quarterfinals are telling stories about partying before the knockout round began. Some really heavy partying.
Eurohockey.com has some of the details.
After a 3-1 win against Norway to end group B on the 3rd spot on Sunday a group of players celebrated way too heavy. Until up to 6 am the players hung out drinking In the Austria House and a local club in Krasnaya Polyana.
Head coach Manny Viveiros, who said he didn't understand why players would do this before one of the biggest games Austrian hockey has ever had (reaching the quarterfinals would have been a huge achievement) and that there would be repurcussions. It won't be long before Austria names names of the party people.
And don't be surprised if it includes the names of Austria's three NHL players Thomas Vanek, Michael Grabner and Michael Raffl.
Viveiros who trusted his team fully and who didn't want to babysit them as they are grown men and professional athletes added: "I had no idea about it. I was shocked. We knew the players went there (Austria House) to eat something. But it was planned that they return to their rooms right afterwards."

It is not yet clear how many players were involved but Viveiros let no doubt that "there will be consequences" and "we will publish their names in the next days."

Viveiros is especially disappointed by Thomas Vanek who he made team captain. According to ÖEHV (Austrian Ice Hockey Federation) president Dieter Kalt: "He also chose Vanek as team captain to have an experienced player and this obviously went wrong". The star forward of the New York Islanders and his NHL colleagues Michael Grabner and Michael Raffl apologized in a letter for their behaviour.
Whether the partying played a role or not, Austria certainly did look flat against Slovenia. They were unable to generate much in the way of offense and didn't score a goal, losing by four goals in what was certainly a winnable game.
In the grand scheme it might not seem like much, Austria lost before the quarterfinals and they were very unlikely to advance beyond the quarters anyway. But it was a big game for Austrian hockey, which finished 12th in Salt Lake City, the last time they competed in the Olympics.
The Austrian team's goal was to make the country proud but Viveiros said that won't happen now. It's a tough finish to what was otherwise a good showing for Austria in Sochi.
The decision would likely be met by anger from some fans, but it could also make sense

Toronto shoots to the No. 1 spot, just ahead of the Chicago Blackhawks

The Penguins' standout is at it again
Gary Bettman all but reverses course from his September comments on anthem demonstrations

The 'Washington Post' says many teams have stopped booking stays at Trump-owned properties

New Jersey has the long-term promise; Vegas is nothing like an expansion pushover