Brendan Shanahan: 'I hate what Ray Emery did'
NHL discipline boss Brendan Shanahan weighed in on the Ray Emery, Braden Holtby situation, saying he hated what Emery did but he has to follow the rulebook.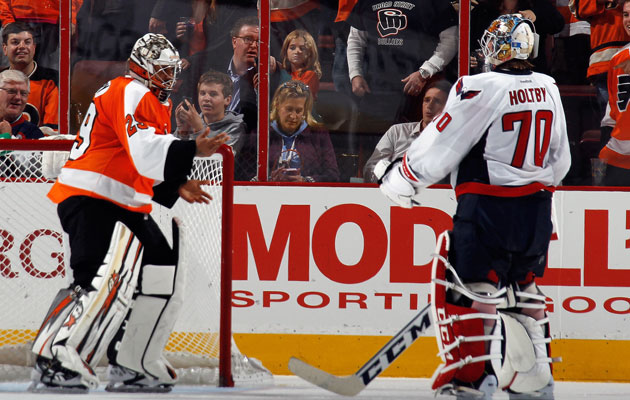 More NHL: Scores | Standings | League Leaders | Odds | Injuries | Power Rankings
By now just about everybody whose opinion on the Ray Emery-Braden Holtby fight on Friday night matters has weighed in. One of the last to do so was the NHL's czar of discipline Brendan Shanahan.
Shanny joined the Sportsnet Hockey Central crew on the radio Tuesday and naturally the Emery situation came up. Specifically, he was asked why Emery wasn't suspended and he could have done about it, if anything. Shanahan was relatively candid.
"I hate what Ray Emery did," Shanahan said. "I wouldn't like it if I were a teammate of his. I wouldn't like it if I were an opponent of his. And I think, more important, if the rest of the caretakers of our game, the general managers, don't like it, it's important for us to say when a rule is not properly addressed in the rulebook. And I don't think it is. That's their opportunity to maybe see a bigger change for the game going forward."

...

"I'm not defending this one bit, I hated what I saw. I hated what I saw. But I do think the proper thing has to happen here. The general managers need to discuss it. If they have a proposal and they will pass it to the competition committee and if they approve it it will go back to our GMs and then to our Board of Governors. That's not a decision I can make on a Saturday night because I just don't like something. I have to follow the rulebook."
Put another name down on the side of saying things need to be looked at. Undoubtedly at this point with the voices mounting, this will be a serious discussion point at the next GM meetings where even the idea of a 10-game ban could arise for goalies who leave the defensive zone to fight.
About the only course that Shanahan could have pursued for supplemental discipline woud have been under the guise of the Aggressor Rule. But Shanahan brought up the only other time he's given a suspension for the Aggressor Rule, and it was just one game to Matt Carkner in in 2012. However, Shanahan noted that he thought the Carkner situation was much worse than Emery's actions.
At this point I'm wondering who outside of the Philadelphia dressing room and the Philly fan base actually did like it. But it sure seems like soon enough Shanahan will have more power to act on something like this that he and many others hated.
The Penguins center added another incredibly impressive goal to his highlight reel

'It's hard to see the light at the end of the tunnel but we know one day we'll get there' Karlsson...

And just in case you were wondering, the Blackhawks and Red Wings are now off the board en...
The league's GMs want goalie interference to be determined by the situation room in Toront...

Donato was signed to the Bruins on an entry-level contract Sunday

Erik and Melinda Karlsson announced they were expecting their first child back in November