Caps get last swing in back-and-forth game, put defending champs on ropes
The Washington Capitals put the defending champion Bruins on the verge of extinction from these playoffs with a 4-3 win thanks to a late goal from Troy Brouwer.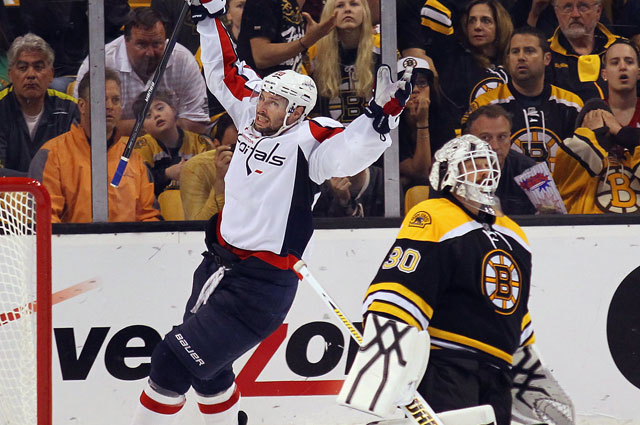 Brouwer celebrates his winner with 1:27 left. (Getty Images)

Troy Brouwer. It's tough to pick one player for the Capitals in this one, it truly was a balanced effort. So when in doubt, go to the guy who scored the game-winner, which was Brouwer with only 1:27 left in the game. Despite four goals for the Caps, no player had more than one point.

Benoit Pouliot's penalty at the 17:10 mark of the third period. In what was a game with plenty of ebbs and flows, it was the ultimate ebb. Because it put the Capitals on the power play and that's when Brouwer converted on a shot that, quite frankly, Tim Thomas should have had. But with the power-play goal coming so late in the game, it gave the Bruins too little time to try and come back.

Entertaining. That was one spectacular playoff game. There were amazing saves, balanced action, momentum swings. It had all that you'd ask for in an exciting playoff game. The good news, at least for fans? They will do this again in less than 24 hours. Game 6 drops the puck at 3 ET in Washington on Sunday afternoon.
For more hockey news, rumors and analysis, follow @EyeOnHockey and @BrianStubitsNHL on Twitter and like us on Facebook.
The 40-year-old center is returning to the Wild after a successful run in Pittsburgh

Edmonton locks up its 21-year-old RFA a month after McDavid's historic extension

Even with a new coach and added veteran help, the Canucks have a long road ahead
Unlike expansion teams before them, the Knights have enough talent to entertain right away

Brian Lawton says he 'would not be surprised' if Boston deals its young star to end contract...

It turns out Phil does love his hot dogs, especially when they're in a Stanley Cup