Chris Kunitz signs three-year extension with Penguins
Chris Kunitz has signed a three-year contract extension with the Pittsburgh Penguins. The extension is worth $3.85 million per season.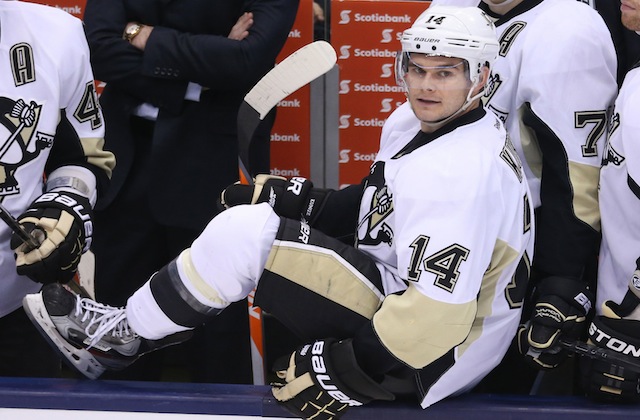 More NHL offseason: Rumors | Top 50 Free Agents | Top 50 Prospects | Mock Draft
The Pittsburgh Penguins came into the offseason with a lot of work to do, not only in terms of trying to re-sign this year's free agents like Pascal Dupuis and Matt Cooke, but also trying to work out new deals for next year's free agents like Kris Letang and Chris Kunitz.
While Letang's name continues to swirl around the rumor mill, the Penguins announced on Thursday they have signed Kunitz to a three-year contract extension that will pay him $3.85 million per season. That's a small raise over the $3.725 million he made per season on his last contract with the Penguins.
The Penguins acquired Kunitz during the 2008-09 season from the Anaheim Ducks in exchange for defenseman Ryan Whitney. Kunitz has become a key component ever since. He doesn't always put up numbers that jump off the page, but he can usually be counted on for around 25 goals and 50 points over an 82-game season. He is a solid all-around player who excels in a lot of areas. His underlying puck possession numbers are always outstanding.
He spent this season playing on Pittsburgh's top line with Dupuis and Sidney Crosby and was on pace for what would have been his most productive season in the NHL had it been a full year.
The 45-year-old free agent is taking things patiently as September approaches

The playoff drought might not end immediately, but something is brewing in restocked Buffa...

Former Lightning standout will be guarding the net in style in 2017-18
Devils are still in rebuilding mode, but they have reason for hope thanks to young additio...

Buffalo is in the midst of contract extension talks with Jack Eichel, and the payout could...

Los Angeles isn't rushing to sign the 45-year-old forward any time soon