Daniel Alfredsson game-time decision after suffering concussion in Game 2
Despite suffering a concussion less than 48 hours ago, Daniel Alfredsson joined the Senators for their morning skate on Monday and said after the session that he's a game-time decision for Game 3.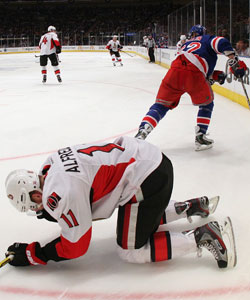 Alfredsson stayed down after a hit from Hagelin. (Getty Images)
Ottawa Senators captain Daniel Alfredsson confirmed on Monday that he did suffer a concussion thanks to a Carl Hagelin elbow to his head in Game 2 on Saturday. Bad news, right? Yes, but not as bad as you might think.
Despite suffering a concussion less than 48 hours ago, Alfredsson joined the Sens for their morning skate on Monday and said after the session that he's a game-time decision for Game 3. He says it didn't take him long to start feeling better.
"Yesterday was better than Saturday night," Alfredsson told reporters. "I did a bike ride yesterday and felt pretty good throughout the day, was active at home with the kids, felt pretty good this morning, so the next step obviously was to skate today, this morning, and see how I feel after."
His coach Paul MacLean confirmed Alfredsson's status for Game 3.
"He has to pass a baseline test and he's done that and passed that," MacLean said. He's a game-time decision."
It's a surprising development. Typically, even the least conservative of response from a concussion have a player miss a couple of games. It's also the playoffs when players, often unwisely, come back quicker from injury. But this soon with how much we've seen regarding concussions? Doesn't seem like a smart move to me.
This is going to raise some eye brows among the Rangers faithful to be sure. Hagelin was just suspended three games and one of the big reasons the suspension was that long was because of the concussion Alfredsson sustained. It was that injury standard playing a role again.
But don't get too carried away with that one, Rangers fans. In no way would I buy for a second that Alfredsson, as good as he is, would embellish a concussion and remove himself from the remainder of a game in the playoffs that was as tight as Game 2 was. The Senators needed a road split in the game, he's not going to fake an injury to that extent.
And for the record, Alfie doesn't have any ill will for his fellow Swede Hagelin.
"It's hard, I think Carl is not that kind of player, but with the intensity of everything that goes on in a playoff game, things happen," he said. "He gets an elbow up where I think normally he wouldn't if it's not a playoff game, and that's one thing the league is preaching is blows to the head. I'm sure they went through it a lot of times and did the right thing [evaluating] what they had been watching."
More from Eye on Hockey
Hagelin suspended three games
Rangers left perplexed
Video: Hagelin hits Alfredsson high in Game 2
For more hockey news, rumors and analysis, follow @EyeOnHockey and @BrianStubitsNHL on Twitter and like us on Facebook.
The former Boston Bruin was the first black player to play in the NHL

Inclement weather led to the Charlotte Checkers and Bridgeport Sound Tigers playing in front...

The NHL chose the Detroit rocker as its All-Star Game entertainment and not everyone is th...
NHL fans from all over seem to agree on one thing: Hating Kid Rock

The team tweeted on Monday that Shaw would be re-evaluated in 7-10 days

The Montreal forward was hospitalized after taking a Zdeno Chara slap shot to the head