Daniel Alfredsson on if Senators can come back: 'Probably not'
Ottawa captain Daniel Alfredsson said the Penguins have too much depth and that it's probably not feasible for the Senators to win three in a row.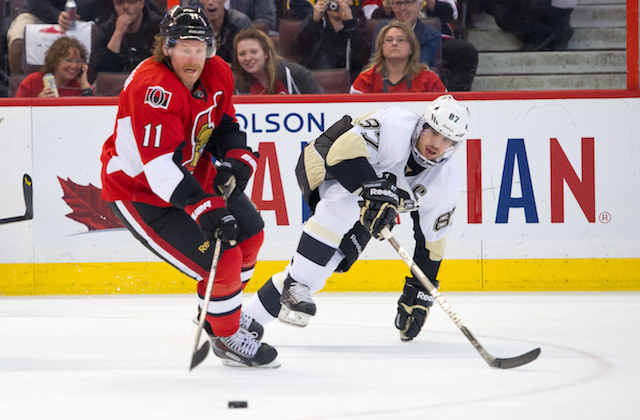 When asked if his team can come back, Daniel Alfredsson said 'probably not.' (USATSI)
More NHL Playoffs: Scores | TV Schedule | Expert Picks | Odds | Mock Draft | Rumors
It's possible that Wednesday's Game 4 loss to the Penguins could have been the final home game Daniel Alfredsson plays for the Ottawa Senators.
The Senators, now facing a 3-1 series deficit thanks to their 7-3 blowout loss, head to Pittsburgh on Friday night facing elimination in Game 5.
Alfredsson, who was recently named as a finalist for the Mark Messier Leadership Award, doesn't seem optimistic about the way his team is playing right now and its potential for coming back.
"We don't have much going for us right now," Alfredsson said, via Erin Nicks of NHL.com "Maybe that's the way we like it."
Alfredsson said the team isn't going to give up, but when asked if the Senators can come back and win three in a row he said "Probably not. They have too much depth."
Senators coach Paul MacLean did not answer any questions at his postgame press conference, deciding only to make a brief statement: "It's all there. 7-3. We're coming to Pittsburgh and we're coming to play. Have a good night."
What's bizarre about Alfredsson's comments is that, even with the 3-1 deficit and Wednesday's lopsided result, the Senators have been hanging in with the Penguins during this series. Even Pittsburgh's lopsided win in Game 1 wasn't as bad as the score indicated as the Senators were arguably the better team at 5-on-5 only to lose the game on special teams.
Former Lightning standout will be guarding the net in style in 2017-18

Devils are still in rebuilding mode, but they have reason for hope thanks to young additio...

Buffalo is in the midst of contract extension talks with Jack Eichel, and the payout could...
Los Angeles isn't rushing to sign the 45-year-old forward any time soon

The University of Denver star and Hobey Baker Award winner is drawing interest

Intrigue is high in Arizona after a wild offseason, but expectations should still be tempe...