Devils headed back to Stanley Cup Final after ousting Rangers in Game 6
The statement looks simple enough. The New Jersey Devils are headed to the Stanley Cup Final. But it goes so much deeper than that.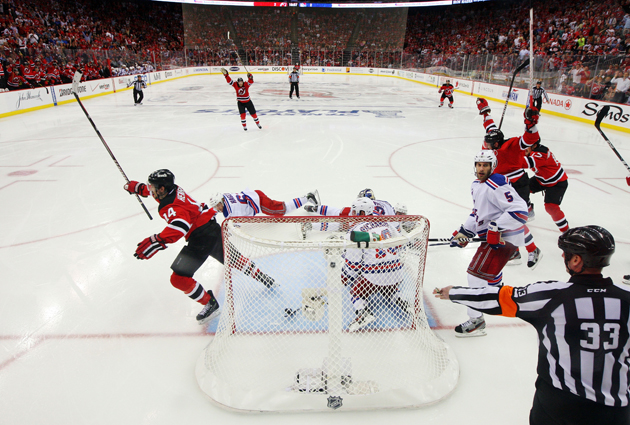 Devils foward Adam Henrique scores the game-winning and series-winning goal in overtime. (Getty)
NEWARK N.J. -- The statement looks simple enough. The New Jersey Devils are headed to the Stanley Cup Final.
But it goes so much deeper than that. Ten years ago that was expected, more or less their right. One year ago it seemed a tad absurd.
The franchise that for many years was royalty in hockey, dominating the Eastern Conference much the same way the Red Wings controlled the West found rock bottom last season in their new home, the Rock -- aka Prudential Center. Quite simply they were a mess.
For the early parts of the season they couldn't even put together a full roster because of salary constraints. Ilya Kovalchuk was brought in and the team was paying the heavy price to keep him around -- both in the literal and figurative sense. It led to the Devils plunging down the standings so far they couldn't recover and they landed in the top five of the draft where they took defenseman Adam Larsson.
Then, with a 3-2 overtime win in Game 6 on Friday night, that was all forgotten and all was made right with the hockey world again.
"You go from not making the playoffs to all of a sudden you're in the Stanley Cup Final," Devils captain Zach Parise said. "It doesn't get much higher and lower than that."
More on Rangers-Devils
More NHL coverage
It's a roller-coaster that Parise and the Devils would likely get in line to ride again. Especially if the next time they throw their hands in the air it's to hoist a Cup.
"It means a lot," Kovalchuk said. "It's a great feeling and we feel good. Last year was tough but this year was totally different. We played real well in the playoffs. The first round was real tough for us but I think we figured out our game and what it takes to win."
Sure, some of the faces on the team are the same. Guys like Martin Brodeur, Dainius Zubrus, Travis Zajac and even Parise have been here for many years. But not a whole lot about this team is the same as a year ago. Parise was injured, Brodeur was banged up -- and some said washed up. Henrique wasn't even here; he was in the AHL with Albany.
Point being, the dismal start to last season was the mirage.
"With the way we ended last season, I think that was more of the type of team that we were," Parise said. "For whatever reason we got off to a pretty tough start and put ourselves in a pretty big hole. We couldn't really climb out in the second half.
"With a couple of coaching changes since then, we've got a coach we believe in and he really put in a system that works for us, it kind of accommodates to our players with the way it works for us."
Yes, there's Pete DeBoer. You remember, the coach who was fired by the Florida Panthers a little more than a year ago. He was out of a job and now he's only one of two coaches still going.
"I was out of work last June and July and got a call from Hall of Fame general manager who recognized some of the work I had done in Florida and gave me a chance to work with a group of guys that have a great blend of veteran presence Stanley Cup brings," DeBoer said. "They know how to win and a lot of great young players coming through.
"So I'm fortunate to be sitting here. It could have been a number of different candidates that he talked to, and I'm thankful that I got the opportunity."
I'd bet GM Lou Lamoriello is pretty thankful, too.
That's because DeBoer has helped bring a new look to the Devils, one that has them as an attacking team. They still are committed to defense like any proud Devils team would be, but they will get up ice and get after you now too. That's something that DeBoer has brought to the Devils.
For so long the Devils were identified as everything that was wrong with hockey. People tired of low-scoring, dead-puck era play pointed to them as the culprit. You can't do that anymore. The Devils have morphed into a team that plays at both ends of the ice.
And it's hard to say the results aren't proving to be pretty good.
"We had a tough year last year. I think a lot of the credit goes to the coaching staff," Brodeur said. "A lot of credit has to be given to the coaches and Lou for the way they put this together."
Like a lot of the people surrounding the Devils, some were saying that the game had passed Lamoriello by. The NHL had evolved to slow down the Devils' trap and Lamoriello couldn't get his team right to battle it.
"I think we have humongous amount of respect for him," Brodeur said. "He's our boss.  He kind of is the one that controls your destiny, so I have to say something really nice about him.
"But  I think at the end of the day, like I explained, there was a lot of  different pieces that were put together, and without him thinking about it and consulting the people around him within the cap era, to be able to put a team like this together, you have to be happy about -- I'm sure he's happy about it."
Everybody is happy about it in New Jersey. They're finally back where they feel like they belong; playing for Lord Stanley's Cup.
It's quite the makeover, really. Both from where they were many years ago and where they were just last year. Two separate makeovers, each with results that would make the Jersey Shore cast proud.
For more hockey news, rumors and analysis, follow @EyeOnHockey and @BrianStubitsNHL on Twitter and like us on Facebook.
The former Boston Bruin was the first black player to play in the NHL

Inclement weather led to the Charlotte Checkers and Bridgeport Sound Tigers playing in front...

The NHL chose the Detroit rocker as its All-Star Game entertainment and not everyone is th...
NHL fans from all over seem to agree on one thing: Hating Kid Rock

The team tweeted on Monday that Shaw would be re-evaluated in 7-10 days

The Montreal forward was hospitalized after taking a Zdeno Chara slap shot to the head