Jonathan Quick named starter for Team USA against Russia
The United States will turn back to Jonathan Quick in net against Russia over Ryan Miller and Jimmy Howard.p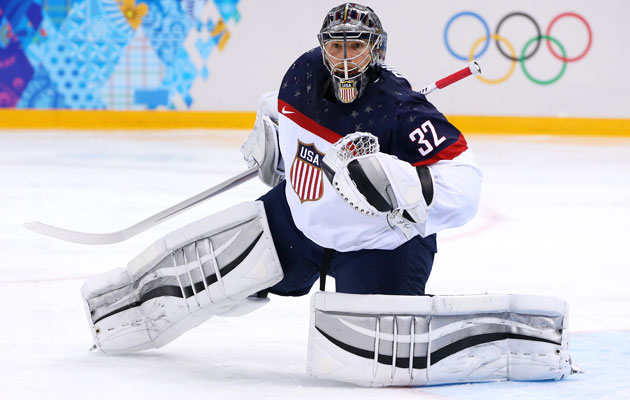 More NHL: Scores | Standings | League Leaders | Odds | Injuries | Power Rankings
After backstopping the USA in a 7-1 win against Slovakia to open the Olympics, Jonathan Quick will get the start on Saturday against Russia.
Quick earned the first start ahead of 2010 Olympics star Ryan Miller in which was, surprisingly, his first career start for Team USA in any competition. But that didn't mean that he was going to be the starter going forward. In his postgame comments, coach Dan Bylsma declined to name a starter for the big game against the host team.
He saved that announcement for Friday.
Jonathan Quick to start in goal for U.S. tomorrow against Russia #teamusa #usah

— USA Hockey (@usahockey) February 14, 2014
It was tough to read too much into Quick starting the first game and what it meant going forward but Quick getting the second start against the high-powered Russians? Well that seems like a pretty good sign that Quick is Bylsma's man for this Olympic run. Miller will be ready and available, of course, and would have been a fine choice to start as well but Quick played well enough after returning to the Kings form injury to get the nod.
Quick's performance against Slovakia was way down the list of takeaways from that game but he was good in net for the US. He stopped all but one shot and while he wasn't severely tested, there were a few tense moments and Quick was there for the stops. No goalie takes away the bottom half of the net quite like Quick.
Considering Quick was strong against Slovakia, it was hard to think Bylsma wouldn't go back to him against Russia. This is the game of the group and it will likely end up that the winner of Saturday's contest will be the winner of Group A and get a bye into the quarterfinals. It's a huge game. To go to Miller after Quick played well in the opener and got a feel for playing behind the USA defense and on the big ice with such a potent offense would have been a bit of a head-scratcher, even with Miller's tremendous pedigree.
Quick doesn't have the numbers that Miller does in the NHL this season but Quick has that intangible factor of seeming to always play his best in the biggest games. The last couple of years he has been outstanding in the NHL playoffs for LA and just maybe that same form will show in Sochi. We'll find out a lot more after facing Russia in front of what will be a rocking and loud crowd.
The puck didn't go in the net but the skater did!

Another sign that Houston is a potential destination for an NHL relocation
The two teams combined for 111 penalty minutes and five ejections

The veteran Minnesota goaltender has recorded three consecutive shutouts

The historic start for the NHL's newest team has come largely from unprecedented balance in...