NHL 2-on-1: Which coach will be the next to be fired?
Which NHL coach will be the next to be fired? Adam Gretz and Brian Stubits debate that in this week's NHL 2-on-1.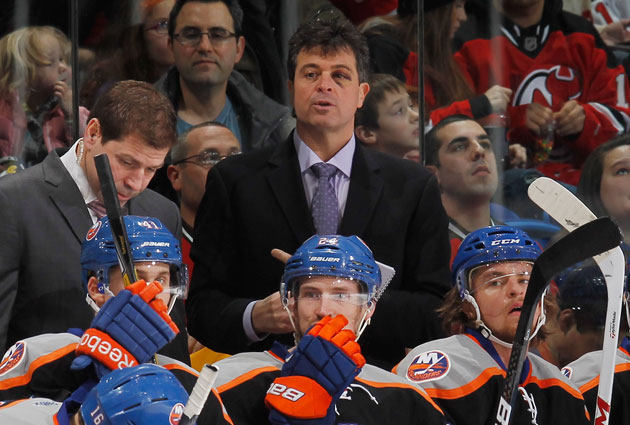 Is Jack Capuano now sitting on the hottest seat in the NHL? (Getty Images)
More NHL: Scores | Standings | Odds | Fight-O-Meter | League Leaders | Rumors
This is 2-on-1, a weekly feature from Eye on Hockey in which Adam Gretz and Brian Stubits debate a topic in the NHL.
The first NHL coach fired this season was Lindy Ruff, who got the axe in Buffalo on Wednesday after almost 16 years behind the Sabres' bench. Considering we're always looking ahead, it begs the question -- who will be the next coach to get fired?
STUBITS: I have to admit, I was floored when the news came down on Ruff being out. That's not to say it wasn't a warranted and/or needed dismissal -- it definitely was -- I just didn't expect it to happen to Ruff. The guy is made of Teflon, or so I thought.
Further, I had my doubts that any coaches would be fired this season. I thought with so many new coaches around and the short season being a bit of a crapshoot, everybody would get to keep their jobs. Instead, the other side of the coin is playing out; teams are desperate. Or at least the Sabres were. So, what other teams might join Buffalo by making the next firing?
You have to start in the easiest place for this one because it seems like as big of a lock as the Canucks leading the Northwest Division -- Jack Capuano for the Islanders. I was somewhat surprised he even made it through the last offseason. The Islanders just won't be good enough to save his job -- the same story every two or three years on Long Island, it seems.
GRETZ: I tend to agree with you on the initial doubts that any coaches would actually get fired this season. I figured teams might just give it the season and make their changes in the summer. The 1994-95 lockout-shortened season, the only other 48-game season we have to use as a comparison, had three coaching changes. Though, I'll just use this space to echo what I said on Wednesday when talking about the Sabres: If you're firing your coach at this point, you'd better look at your general manager, too, because he's probably just as responsible -- if not more -- for where your team is. That said, the NHL doesn't necessarily play by my rules, so more coaches are probably going to get dismissed this season.
I could definitely see Capuano's seat getting a little warm, especially after this latest stretch of games in which everything has kind of gone off the rails for them. They had a nice start and at least looked like an entertaining team, but they enter Thursday's game in Montreal having lost seven out of their past nine, with one of those wins coming in a shootout. That 7-0 loss to the Flyers earlier in the week was just a disaster. And now they've lost Brian Strait, who was looking like a nice pickup off of waivers.
I just don't understand that team. They have some nice young players (not to mention a complete stud in John Tavares). And Garth Snow seems to know what he's doing, not only in terms of getting guys signed to cap-friendly deals but also finding talent off of the NHL's scrap heap. But the team still stinks.
STUBITS: I don't quite get it either. I fell into the trap earlier this year of thinking that perhaps they were finally starting to mature into a good team, but it's just not happening. As you said, that game against the Flyers was just horrific. And surprise, surprise -- the defense is once again looking pretty atrocious.
GRETZ: What about Todd Richards in Columbus?
I know he just had the interim tag removed over the summer and was given a contract extension, but all of the ingredients seem to be there for a coaching change. The team is lousy, they already fired their general manager and brought in a replacement and you have to think Jarmo Kekalainen and John Davidson are going to bring in their own guy at some point. They didn't hire Richards, so they can't possibly be married to the idea of him behind the bench.
STUBITS: I'm not going to bite on Richards being the next to go. Yes, there are certainly some ingredients there. But I think if he is fired, it won't be until the season is over. I think that Davidson and especially Kekalainen are going to use the final part of this season to evaluate what they have before moving forward. That would include the coach. If Kekalainen wants to bring in his own guy, I would expect that over the summer.
GRETZ: I guess there's something to be said for evaluation when it comes to Columbus and Richards. But, man, that team has 10 of a possible 32 points this season and has won only two of its past 10 games. I'm not saying coaching is the only problem for that team, but it has nothing going for it right now. If nothing else, you can make the change now and have the new guy use the last half of the season for his own evaluations and implementing a new system.
STUBITS: I suppose, but I'd think Kekalainen would be interested in doing a full search. That's why I expect Richards to get a pass, at least through this season. Instead, I'm going to give you another option; If Cappy is option 1A for me, then 1B is Joe Sacco in Colorado.
I think most believed Sacco was going to be fired before this season began after failing to make the playoffs each of the past two seasons. But the rebound and surge (it failed, but it was still a surge) last year gave him enough of a chance to get another go. The team just isn't going.
Sure, they have been hurt by injuries -- it's tough when you lose arguably your best player and your captain, Gabriel Landeskog -- but everybody is hurt by injuries. You can't show me one team that isn't or hasn't been missing some key part. I know the Avs have won two in a row and are just two points back of a playoff spot at 7-7-1, but they just don't look the least bit like a threatening team to me.
GRETZ: Joe Sacco was going to be one of my next suggestions. Losing Landeskog was a huge blow, especially when combined with the absence of Ryan O'Reilly. And don't overlook the loss of Steve Downie. Love him or loathe him, he's a solid player. Those are three big holes in an already thin lineup. I watched that game against Edmonton on Saturday, when they gave up 56 shots. Sacco sounded like a defeated man after the game was over, almost like he didn't have any answers.
I think first-year guys Adam Oates (Washington) and Bob Hartley (Calgary) are safe, so the only other name I'd throw into the ring right now is Mike Yeo in Minnesota. As you know, I've never been a big believer in the Wild. They were bad last year and, after spending a ton of money this offseason, they still find themselves on the outside of the playoff picture a third of the way through the season. Not a surprise to me, but I can't imagine ownership is happy about that given the checks it handed out in free agency.
STUBITS: That's an interesting one. I hadn't really considered Yeo, but you could be onto something there. The expectations were certainly raised with the big offseason signings, so sitting out of playoff position is not good for the ol' job security. With that said, I'd think Yeo will get a little more time based on his history of working with prospects in the organization. In reality, the Wild's winning is in the future. They have an excellent farm system on hand.
I guess there are a few more options than I thought. The shelf life of NHL coaches is ridiculously short. That's what makes the Ruff situation even more amazing.
For more hockey news, rumors and analysis, follow @EyeOnHockey on Twitter, subscribe to our YouTube account and like us on Facebook.
Saturday's showdown will serve as a rematch of one of the NHL's first-ever regular season...

Stacia Robitaille says Donald Trump told her in an elevator that she was coming home with...

Vladislav Yeryomenko was the Teddy Bear Toss goal scorer for the Calgary Hitmen
The Golden Knights are finally getting their No. 1 goalie back after a 25-game absence

Washington has won four straight, and the Kings are also on a tear right behind the Lightn...

The NHL says it's only interested in expanding to Seattle, but here's a look at all the moving...