NHL All-Time Teams: Anaheim Ducks
The Ducks haven't been around long, a little less than 20 years, but their all-time team still has some pretty strong star power.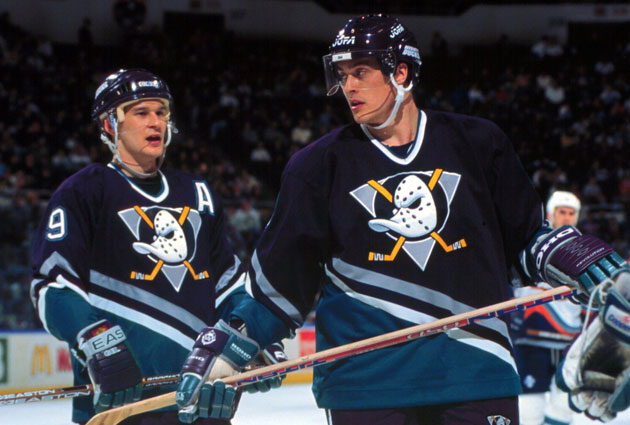 More NHL offseason: Rumors | Top 50 Free Agents | Buyout Tracker | Trades | Transactions
Ah, hockey in the summer, where things come to a grinding halt for about two months in between one long season and another. To fill the void we at Eye on Hockey thought it would be fun to make an all-time team for each of the 30 organizations in the NHL today.
The ground rules: The teams will consist of a center, two wings (regardless of which side), two defensemen and a goaltender. A player must have spent at least 200 games with a franchise to be considered. So Bobby Orr won't be on the Blackhawks' roster or Wayne Gretzky for St. Louis.

The Ducks might have been created thanks to Disney in the 1990s but they have not been a Mickey Mouse franchise. They won the Stanley Cup in 2007 and played in the Final in '03, have an iconic face of the franchise and have been an overall success as the "second team" in Southern California, beating the crosstown Kings to the Stanley Cup despite starting more than two decades later.
Gone is Mighty from their name, simply known now as just the Ducks. Still, in 20 years of operation, they've had some mighty big names pass through, players who have made their marks in one way or another and had memorable times as Ducks.
Indeed, they've come a long way from the days when Gordon Bombay was behind the bench.
Ryan Getzlaf: This was not an easy call between Getzlaf and Steve Rucchin but already Getzlaf has established himself as a franchise great, and he's only 27 years old. Seeing as how he just signed an eight-year extension with the Ducks, what is a close call now likely won't be in just a few years.
The difference between the two is that Getzlaf has been a bit better of a playmaker and all-around centerman. They have an almost even number of goals -- Rucchin has one more as a Duck at this point -- but Getzlaf has 90 more assists despite playing fewer games. Again, these numbers are close now but they shouldn't be for too much longer as Getzlaf is slated to be a Duck for a long time to come.
Plus, when all else fails, give some love to the bald guy.
Teemu Selanne: If there were anybody who was guaranteed to be on this team, it's Selanne. No matter the category, Selanne is likely leading in Ducks history. That's partly because of his longevity, having played 902 games as a Duck over two separate stints, nearly 300 more than Rucchin. But let's be real here; Teemu is Teemu and he would be that far ahead of everybody else no matter what.
In 902 games with Anaheim, Selanne has 448 goals, 513 assists for a total of 961 points. Considering he has spent a lot of his time as a Duck in the latter stages of his career, that's remarkable. It's at the point with Teemu in Anaheim that he has a spot on the team if he wants it and it has been that way for a few years. He's an all-time great and you make room for those guys.
Two words: Teemu forever.
Paul Kariya: If it weren't for Teemu, it would be Kariya atop the lists in Ducks history. Drafted by Anaheim fourth overall in 1993, Kariya was a star alongside Selanne for a long time. He was one of the most electric players in the NHL -- and looked awesome in those early Ducks duds. Oh who am I kidding, everybody looked good in those uniforms.
Kariya had four seasons from 1995-96 to 1999-2000 with at least 86 points, topping out with 108 in '95-96 with 108 on the strength of his only 50-goal season. The only thing that interrupted that was a contract dispute and concussion issues in 1997-98, an unfortunate but recurring issue in Kariya's career.
Like Selanne, Kariya was better than a point-per-game player with the Ducks, totaling 669 points in 606 games. Things weren't always the most amicable between he and the organization but there's no disputing that Kariya was awesome and a franchise fixture in Anaheim.
Scott Niedermayer: The Ducks didn't have Niedermayer for all that long -- just five seasons -- but they were five great seasons. Despite the fact that they came at the end of his career, Niedermayer enjoyed his best seasons with the Ducks, at least in terms of offensive production. He had the three highest-scoring seasons of his career, including 69 points (15 goals, 54 assists) in 2006-07. He carried that regular-season performance into the playoffs, winning the Conn Smythe Trophy while averaging nearly 30 minutes per game and leading the Ducks to their one and only Stanley Cup title so far.
Despite the fact that he doesn't appear in the top 10 in Ducks history in games played -- some 50 games shy of Matt Cullen for 10th in franchise history -- Niedermayer is seventh in points with 264. All of that from the blue line. Niedermayer was nothing but exceptional as a Duck -- or a Devil before, really -- and will forever be remembered as one of their best ever, getting a lot of credit for getting the Ducks that first Stanley Cup.
Chris Pronger: The Ducks didn't have Niedermayer very long and they had Pronger for an even shorter amount of time, but it was enough to meet the criteria here. Like Niedermayer, Pronger came aboard just in time to help the Ducks get over the hump and win that Stanley Cup. His first season in Anaheim was 2006-07, when he had one of his best career seasons with 13 goals and 46 assists in just 66 games.
Pronger was 32 years old when making his way to Anaheim but he was still in the prime of his career for those three years as a Duck. But he was no shoo-in on this roster. Ruslan Salei could easily make the second defenseman spot over Pronger on the strength of his longer tenure in Anaheim, but Pronger was on the top of his game in Anaheim and as he showed throughout his career, that form was pretty darn good.
Jean-Sebastien Giguere: No, it's not Goldberg. Sadly he didn't meet the minimum-games requirement to make the squad. Unfortunate, really.
In all seriousness, this was probably the toughest decision of them all to make on this roster; Giguere vs. Guy Hebert, an original Duck. Both had their great years in Anaheim but when you think about the Ducks' greatest moments, don't they come with Jiggy in net? Really, think back to that Mighty Ducks team that reached the Stanley Cup Final in 2002-03 when Giguere was out of this world, posting a .945 save percentage and 1.62 goals against average, good enough to earn the Conn Smythe even in a losing effort.
Of course Jiggy returned to the Final stage in 2006-07 and that time it resulted in the Cup for Anaheim. Even without the playoff success, Giguere -- the franchise leader in games, wins, shutouts and goals against average -- would still get the nod.
Corey Perry, Steve Rucchin, Matt Cullen, Andy McDonald, Bobby Ryan, Oleg Tverdovsky, Chris Kunitz, Ruslan Salei, Guy Hebert, Francois Beauchemin. And a special shoutout to Rob Niedermayer for being in Anaheim, something instrumental in getting Scott to the Ducks.
Los Angeles isn't rushing to sign the 45-year-old forward any time soon

The University of Denver star and Hobey Baker Award winner is drawing interest

Intrigue is high in Arizona after a wild offseason, but expectations should still be tempe...
Players are set to give personalized messages for Adidas' former hockey equipment brand

The 40-year-old center is returning to the Wild after a successful run in Pittsburgh

Edmonton locks up its 21-year-old RFA a month after McDavid's historic extension