Offseason Progress Report: Southeast Division
Most of the best free agents are already picked over, and while there is still a few months before the start of the season, NHL rosters are starting to take shape. On Monday we check out the progress being made by the teams in the Southeast Division.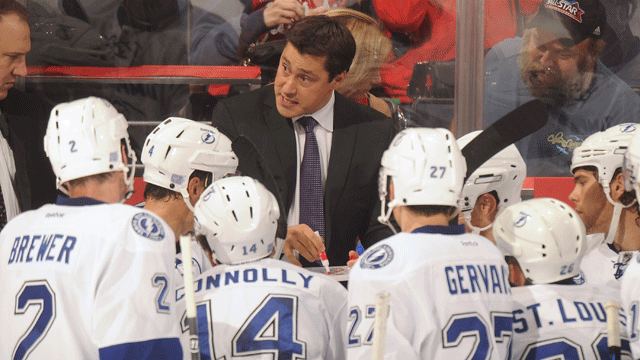 Lightning back in the playoffs? (Getty Images)
Most of the best free agents are already picked over, and while there is still a few months before the start of the season, NHL rosters are starting to take shape. We're going to take a quick division-by-division look to see each team's progress so far during the offseason. Monday's division: The Southeast.



1. Washington Capitals

Key Additions: Mike Ribeiro, Wojtek Wolski, Jack Hillen, Joey Crabb
Key Losses: Tomas Vokoun, Dennis Wideman, Cody Eakin, Alexander Semin(?)

One of the biggest weaknesses for the Capitals in recent years has been a true No. 2 center to play behind Nicklas Backstrom. They may have finally found one, at least for the short-term, this offseason when they acquired Mike Ribeiro from the Dallas Stars. They also picked up free agent Wojtek Wolski for the league minimum and seem to be willing to play him in a top-six role. He has skill and has produced some solid numbers in the past (he's also one of the better shootout players in the league) and the price is certainly right.

The Capitals Are... Probably about the same. I like the additions of Ribeiro and the low-risk addition of Wolski, but Alexander Semin, assuming he doesn't return, could be a big loss. I still think the Capitals are the best team in the division and while they probably aren't going to return to their 110-point performances of the past few years it should be interesting to see what sort of hockey new coach Adam Oates has them playing.



2. Tampa Bay Lightning

Key Additions: Anders Lindback, Matt Carle, Sami Salo
Key Losses: Pavel Kubina, Bruno Gervais, Dwayne Roloson

The Lightning had the offense during the 2011-12 season to make another playoff run. The defense (once you got past Victor Hedman, anyway) and goaltending were another story. General manager Steve Yzerman made sure he addressed both areas this offseason by sending a couple of draft picks to Nashville for goalie Anders Lindback, and then went into the free-agent market and landed Matt Carle and Sami Salo. All three players should be huge improvements.

The Lightning Are… Much better. If they can get even league-average goaltending from Lindback it would make a huge difference (a league-average save percentage last season could have been a 50-goal swing for them) and gives them an opportunity to compete for  what should be a very winnable division.



3. Florida Panthers

Key Additions: Peter Mueller , Filip Kuba
Key Losses: Jason Garrison, Mikael Samuelsson

The Panthers finished the 2011-12 season by winning their first ever division title, and they needed a lot of things to fall perfectly in their favor to make it happen. They have some outstanding young talent coming up through the pipeline (Jonathan Huberdeau, Jakub Markstrom, Nick Bjugstad) and there should be excitement for the not-to-distant future and where the organization is headed -- but I'm not sure that time is this year, even after their first playoff season in more than a decade. The main reasons: I'm not sure how sustainable it is to keep racking up points in shootouts and overtime losses at the pace the Panthers did last year, and the division as a whole looks to be a bit better this season.
The Panthers are still the team most often talked about when it comes to a potential Roberto Luongo trade, even if it doesn't seem like it would make all that much sense for them to give up the necessary assets (and take on his contract) to acquire him.

The Panthers Are… A little worse. The addition of Peter Mueller is a nice gamble on a talented player who has constantly been sidelined by injuries, but going from Jason Garrison to Filip Kuba on the blue line is a big downgrade. Garrison was one of the better free agents available this offseason and signed a multiyear deal with the Vancouver Canucks.



4. Carolina Hurricanes

Key Additions: Jordan Staal
Key Losses: Brandon Sutter, Bryan Allen, Brian Boucher

The Hurricanes ended up getting their man on draft night by acquiring Jordan Staal from the Pittsburgh Penguins for Brandon Sutter, a top prospect and the No. 8 overall draft pick. They paid a big price but they also ended up getting a potential difference maker in their lineup. They were then able to look him up long-term with a 10-year, $60 million contract. Staal was their biggest addition of the offseason and he gives them one of the best two-way centers in the NHL and a guy who is not only capable of providing strong offense, but also a player who can match up against top competition every night and consistently outplay it.

The Hurricanes Are… Better. Sutter is a good player, and Bryan Allen is a big loss on the blue line, but Staal is a huge addition and gives the Hurricanes a strong trio of forwards to build around including his older brother Eric and youngster Jeff Skinner. They have some young talent on the blue line, but the defense still seems to be a bit of a question mark.



5. Winnipeg Jets

Key Additions: Olli Jokinen, Alexei Ponikarovsky, Al Montoya
Key Losses: Tanner Glass, Chris Mason

In Olli Jokinen the Jets added what was perhaps the best center in a weak group of free agents at the position. The Flames used him almost exclusively against other teams' top lines last season and received some mixed results. A one-year deal for Alexei Ponikarovsky at less than $2 million is a solid addition as he had some strong underlying numbers in New Jersey last season and finished the season with 14 goals and 19 assists in 82 games.

The Jets Are... Better. Not enough to make much of an impact in the playoff race, but better. The Jets were actually a pretty decent team last season in terms of their possession metrics, but had some subpar goaltending which isn't likely to get much better this season. Ondrej Pavelec signed a rather large contract extension this summer and Al Montoya was brought in from the Islanders to back him up.
Other Divisional Progress Reports
Pacific Division
Northwest Division
Atlantic Division
Tuesday: Northeast Division
Wednesday: Central Division
For more hockey news, rumors and analysis, follow @EyeOnHockey and @agretz on Twitter and like us on Facebook.

Vladislav Yeryomenko was the Teddy Bear Toss goal scorer for the Calgary Hitmen

The Golden Knights are finally getting their No. 1 goalie back after a 25-game absence

Washington has won four straight, and the Kings are also on a tear right behind the Lightn...
The NHL says it's only interested in expanding to Seattle, but here's a look at all the moving...

The NHL says it is only looking toward Seattle for the next expansion team

The 33-year-old defenseman hopes to help find a cure for serious head injuries in athletes