Panthers win NHL record 20-round shootout against Capitals
The Florida Panthers and Washington Capitals took part in an epic, record-setting 20-round shootout on Tuesday night. Nick Bjugstad's goal won it for the Panthers, but that was far from the only highlight.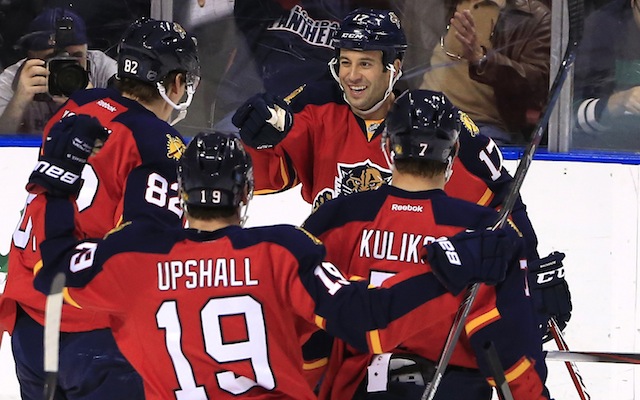 Tuesday's Washington Capitals-Florida Panthers game was the worst nightmare for every hockey fan that hates games being decided by a shootout. Why? Not only did it go to a shootout, but the two teams took part in a shootout that simply refused to end, and ended up going five rounds longer than any other shootout in NHL history.
The Panthers ended up pulling out a 2-1 victory thanks to an epic 20-round shootout that featured every player in uniform (minus the goalies) shooting at least once.
Nick Bjugstad's goal in the 20th round proved to be the winner for Florida, capping off a record-setting shootout that featured 40 attempts and 11 goals over more than 20 minutes. Once both teams went through their entire roster, they were allowed to go back to shooters that had already taken an attempt and Nicklas Backstrom, Alex Ovechkin, Jussi Jokinen and Bjugstad all went twice for their respective teams. 
Here is a look at the shot from Bjugstad that won it (via @MyRegularFace)
But that's hardly the only highlight.
In the 12th round, this Panthers fan, like the rest of the hockey fans watching it, had his mind completely blown by what he was seeing following a Sean Bergenheim goal.
But the most mind-blowing thing of all might have been this goal from Washington's Brooks Orpik, a heavy-hitting, stay-at-home defenseman that is known more for his physical play than his offensive skills.
My goodness. Where did that come from?! That is another nice reminder that even the guys playing in the NHL that are not "talented" by NHL standards are still ridiculously skilled. Orpik had never attempted a shot in the shootout in his career, and has never scored more than two goals in any of his previous 11 seasons in the NHL. He has zero goals so far this season in 30 games.
Before Tuesday, the longest shootout in NHL history was a 15-rounder between the New York Rangers and Washington Capitals. That game also ended with a Capitals loss thanks to defenseman Marek Malik's goal that still might be one of the best shootout goals ever.
SportsLine's Mike McClure, a DFS pro with more than $1M in winnings, gives optimal lineup...

The NHL will be a no-show in Pyeongchang, and it could be the norm for future Olympics

David Kelly has nailed his past 15 NHL picks and 23 of 26 predictions
Tampa Bay has been a little too goalie dependent lately, but it remains the head of the pa...

It appears New York's leadership is waving the white flag on this current group

The NHL determined that Burrows' play was dirty, dangerous and inexcusable