PHOTO: Jonas Hiller's Mighty Ducks throwback mask is excellent
The Ducks will become the Mighty Ducks this Sunday and goalie Jonas Hiller is ready with an excellent throwback mask to complement Viktor Fasth's.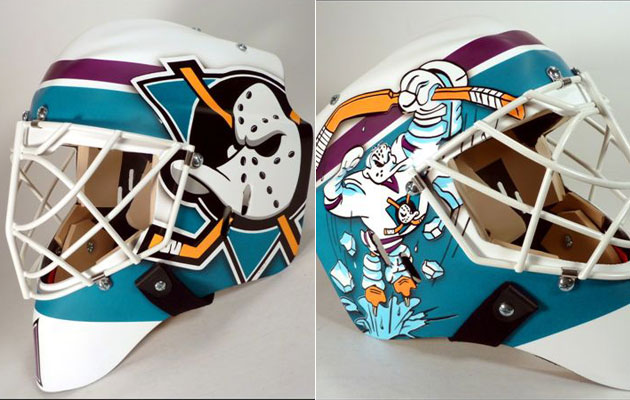 More NHL: Scores | Standings | League Leaders | Odds | Injuries | Power Rankings
This Sunday will mark the return of the Mighty Ducks to the NHL as the team in Anaheim will have a throwback night in this their 20th season of existence. They will don the old egg plant and jade green sweaters for a game with the old logo like old times, just like Emilio Estevez's team once did.
It's imperative the goalies look good too. Viktor Fasth had a mask commissioned for the game way in advance and it was a replica of Guy Hebert's original Ducks mask. It was pretty sweet. Not to be outdone, though, was Jonas Hiller.
The mask, designed by AirXess and shared by The Goalie Guild, is a thing of absolute beauty. There isn't a whole lot to the mask but my goodness is it glorious. As somebody who would throw a party if the Ducks ever went back to their old uniforms on a regular basis, I think it's fantastic.
Of course you'll recognize the old logo on the left side of the mask and on the right there is the more forgotten Wild Wing logo that they decided to actually put onto a uniform. On the sweater? Not such a good look. On a mask? A great, great look.
Then there's the plate on the back which features the current Ducks logo with their 20th anniversary design added in with other personal touches including simply "Hiller."
This is confirmation that one throwback game for the Ducks won't be enough. Each of these masks for Hiller and Fasth needs to get the maximum amount of exposure, it would be a shame for one of them never to be worn in a game.
See other goalie masks that were released this summer.
NHL fans from all over seem to agree on one thing: Hating Kid Rock

The team tweeted on Monday that Shaw would be re-evaluated in 7-10 days

The Montreal forward was hospitalized after taking a Zdeno Chara slap shot to the head
Tampa Bay is still No. 1 and Vegas is still up there, but a few others are finally catching...

Army filed an opposition to the use of 'Golden Knights' on the last day that it was permitted...

The NBC rinkside reporter is hoping to return in time for the 2018 Olympics