Ryane Clowe placed on IR by Devils after taking hit to head
The Devils placed Ryane Clowe on IR retroactive to Oct. 13 after he took a hit to the head vs. Winnipeg. The Devils just want to be careful.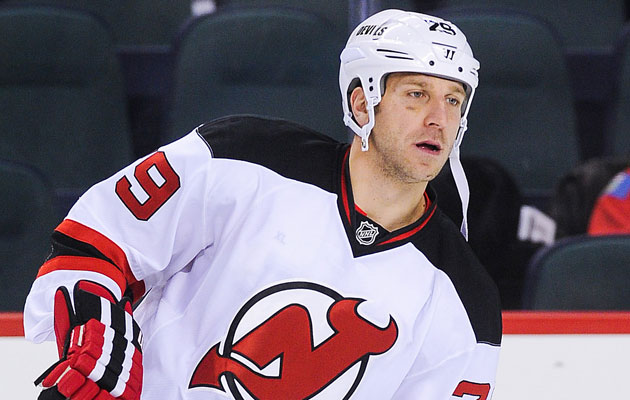 More NHL: Scores | Standings | League Leaders | Odds | Injuries | Power Rankings
A bad start gets worse for Ryane Clowe and the New Jersey Devils. On Wednesday the team placed him on injured reserve, retroactive to Oct. 13. As a result, Clowe will not travel with the team to Ottawa for Thursday's game. He will also miss the game on Saturday at home against the Rangers, the team announced.
"[Clowe] got hit with a pretty good elbow in the third period [Sunday in Winnipeg] and continued to play," GM Lou Lamoriello said. "We just maybe overreacted to it, but when somebody's had a history, we don't want to take any chances."
You might recall that Clowe had three separate concussion issues last season, a season he split between San Jose and the Rangers after a trade. Seeing him take a shot in the head is going to set off some alarms given his recent history and the Devils are doing the prudent thing by being patient and cautious with Clowe. Right now it just looks like he'll miss two games but you never know how things will progress with potential head injuries. He's eligible to return on Oct. 22.
The Devils are the only winless team left in the NHL after the Sabres defeated the Islanders on Tuesday night in a shootout. The season hasn't started much better for Clowe, who came over this offseason via free agency. He has just one assist in six games while averaging just 15:36 per game.
To compensate for Clowe going on the IR, the Devils activated Mattias Tedenby.
The Penguins have some fun with the names of some Ducks linemen

Rookie Tyler Wong scores a hat trick to lift the NHL's newest team in its exhibition debut

Depth is a concern, but Edmonton is all in on its young, speedy stars with Stanley Cup pot...
The longtime Olympics enthusiast and Capitals standout releases a statement on the 2018 Ga...

Playoffs in sight for Rangers with younger, better defense, but questions at center lower their...

From Skyline to Neon Warriors, we put the names in their place for the sake of Seattle