Sabres use second compliance buyout on Christian Ehrhoff
The Buffalo Sabres began the process of using their second and final compliance buyout on Sunday on defenseman Christian Ehrhoff.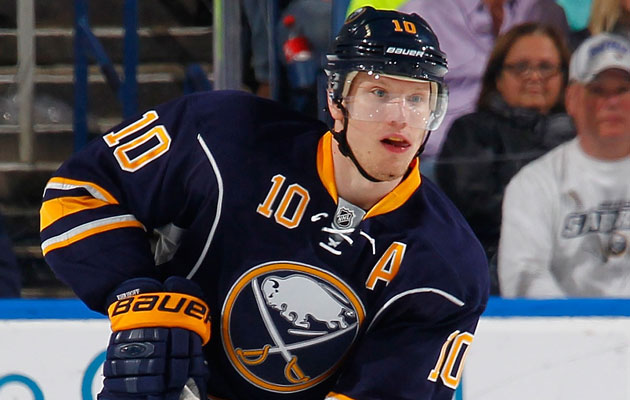 More NHL Offseason: NHL rumors | Rumor mill | Trade Tracker | 2014-15 preseason odds
Just when you thought the compliance buyouts had settled down as their period comes to a close, the Buffalo Sabres decided to use their second one of the summer on one of their best players.
As first reported by Bob McKenzie, the Sabres parted ways with Christian Ehrhoff on Sunday by buying out his contract. In order to be bought out, a player has to go through waivers but with his no-move clause, Ehrhoff could bypass that and just go right to the buyout, something that was necessary in this case as GM Tim Murray wasn't going to risk waiving Ehrhoff. He agreed to doing just that.
The #Sabres confirm compliance buyout on Christian Ehrhoff.

— Buffalo Sabres (@BuffaloSabres) June 29, 2014
Ehrhoff is signed through 2021, only three seasons into the 10-year, $40 million contract he signed with the Sabres after leaving Vancouver. It was a contract that carried him into the eventual twilight of his career and perhaps past it, leaving the potential for a cap recapture penalty should he retire early.
That had to be the factor in the Sabres' decision here. With Ehrhoff's salary diving in the final years of the deal to drop his cap hit, if he were to retire early or leave the Sabres would take a massive hit. Even though they surely would love to keep Ehrhoff around at a very reasonable cap hit, the potential for a catostrophic hit down the line tipped their hand to go this route. The fact that even with him they were still hands down the worst team in the NHL this past season isn't a great argument for the Sabres keeping him around with that potential risk, either.
Futher, we all know that the Sabres are going into full rebuild mode, they have made it clear, so he wouldn't quite fit into that frame of mind. But even those teams still need a couple of veteran players to fill out the roster and perhaps more importantly to fill out the pay roll.
The NHL announced on Friday that the salary floor has been set at $51 million for the upcoming season so by dumping Ehrhoff, that's $4 million more that Buffalo will have to spend this summer. With Ehrhoff no longer factored in, the Sabres have nearly $21 million to add to their pay roll just to be compliant, according to Cap Geek's numbers.
What's the Sabres' loss, though, is the free-agent market's gain. Ehrhoff helps give a little juice to what was becoming a quickly thinning defensive group when the bidding opens on Tuesday. It shouldn't be long for Ehrhoff to find a new deal and for him a team that won't be in as big of a rebuild as the one he's leaving behind. He might get an even richer deal this time as he can run the power play, eat a ton of minutes and still has years in the gas tank.
Ehrhoff, who turns 32 in a week, had six goals and 27 assists last season in 79 games with the Sabres, averaging 23:55 of ice time per game. He'll undoubtedly draw plenty of interest in the coming days.
This is the second compliance buyout the Sabres have used this summer, earlier buying out the contract of Ville Leino. That one was seen coming from a mile away; Ehrhoff's not so much.
The former Boston Bruin was the first black player to play in the NHL

Inclement weather led to the Charlotte Checkers and Bridgeport Sound Tigers playing in front...

The NHL chose the Detroit rocker as its All-Star Game entertainment and not everyone is th...
NHL fans from all over seem to agree on one thing: Hating Kid Rock

The team tweeted on Monday that Shaw would be re-evaluated in 7-10 days

The Montreal forward was hospitalized after taking a Zdeno Chara slap shot to the head