Sidney Crosby didn't make the All-Star Game; does it mean anything?
So, Sidney Crosby was not among the players named to the NHL All-Star Game. Does that mean anything anymore?
The NHL All-Star Game will take place Jan. 31 in Nashville and as usual, it will include many of the biggest names in the league today. There's Alex Ovechkin and Patrick Kane and Jonathan Toews and P.K. Subban and rising stars like Jamie Benn and Vladimir Tarasenko. There won't be Sidney Crosby, though.
The Pittsburgh Penguins captain, who has surprisingly enough been to only one All-Star Game in his career, will not be among those honored in Nashville. Only this time, it wasn't because he wasn't available due to injury or because the Olympics or lockout cancelled the game. 
With 31 points this season, he ranks 36th in NHL scoring. His production hasn't been bad and he's heated up of late, but it hasn't been what we expect from the player widely considered still to be among the game's best. Perhaps his production should have been just enough for him to make the team that will represent the Metropolitan Division in the 3-on-3 tournament format the league will use. If not that, maybe reputation would have gotten him in.
However, the new All-Star Game format for this year made for tough decisions. Each team had to have a representative and the four rosters divided by division would only allow for six forwards. The fact is, there were more deserving players this year, which still feels weird to say.
For instance, New Jersey Devils forward Mike Cammalleri might have a bigger gripe than Crosby at this point. His 35 points, tied for third most in the division, were not enough for him to make it this year. Evgeny Kuznetsov, whose 37 points is tied for the division lead, also didn't make it – beaten out by teammate Nicklas Backstrom for a spot. John Tavares, despite a similar-to-Crosby struggle with 29 points in 37 games also made the team over perhaps more-deserving teammate Kyle Okposo, likely on name recognition.
The Penguins, who have struggled collectively as a team this year, will send two all-stars. Evgeni Malkin has risen above Pittsburgh's struggles to pot 37 points so far this season to lead the team. Kris Letang has fought through injuries to put up an impressive 24 points in 30 games. Both belong there.
But if there's one thing this indicates, it's that the NHL maybe doesn't feel the need to force Crosby and his star power into one of their big events, unlike in years past. There's a reason he's already played in three outdoor games, including the first ever Winter Classic.
Think about it. If Crosby had the kind of season he is having now, or at least was having before he started to heat up in December, just a few years ago, would the NHL have tried to force him in? You'd have to think yes, even under the new format. That's where this decision becomes a little more interesting.
From a marketing perspective, seeing Crosby skating alongside Alex Ovechkin, who will captain the Metropolitan team, would have made for some fun television and a marketing angle featuring the league's biggest stars. Any chance the league had to put those two center stage for the better part of the last decade was exploited. It had to be. They were the name guys in the league.
Not now, though.
Suddenly, new stars are emerging. More names are becoming known. Crosby remains the most marketable player in the league, bar none. But he's not the only one, or one of two, anymore. That actually may say more about the league and where it's headed than it does Crosby.
Had the fans wanted to see him badly enough, they could have voted him in as one of the four captains. Ovechkin won the vote for the division, however. Unfortunately, the NHL scrubbed the results page from the internet to see where Crosby finished.
We know he's still probably the most famous player the league has on the national sports scene. Everything Crosby does is news, big news.
He still had the second highest-selling jersey in the league according to the NHL in 2014 – the 2015 numbers aren't public yet. Patrick Kane and Jonathan Toews, however, were No. 1 and No. 3 respectively, as the Blackhawks' popularity continues to soar. Ovechkin was fifth, by the way, trailing New York Rangers goalie Henrik Lundqvist. There's a growing crowd at the top of the league when it comes to national notoriety now.
Undoubtedly, Crosby is still one of the most important stars in the league. Fans either love him or hate him. It's a LeBron James-type effect, though on a much smaller scale. That polarizing existence is what makes Crosby such an attention-grabbing athlete on top of his excellence through his first 11 seasons in the league.
If you're a Penguins fan, this is probably a blessing in disguise. Crosby has been on fire of late and avoiding any unnecessary risk of injury or fatigue is a very good thing. The captain has to be on his game and ready for a playoff push as the Pens recover from their sluggish start.
If you're a fan of the NHL, it's probably going to be a little disappointing not to see him there (unless you're among the many Crosby haters out there who are loving this right now). He's still important, but maybe this is a small indication that he's not as important as the league needed him to be over the previous 10 years.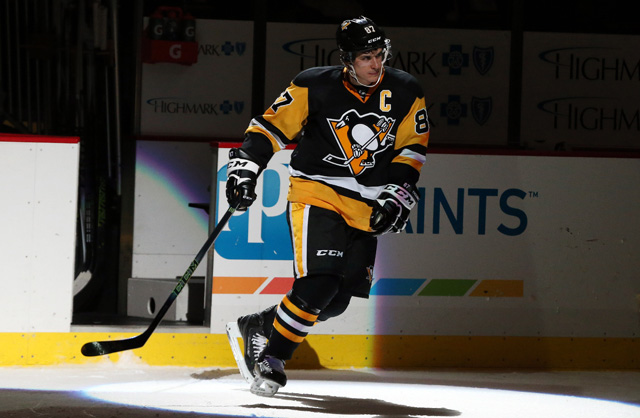 CBS Sports HQ Daily Newsletter
Get the best highlights and stories - yeah, just the good stuff handpicked by our team to start your day.
Please check the opt-in box to acknowledge that you would like to subscribe.
Thanks for signing up!
Keep an eye on your inbox for the latest sports news.
Sorry!
There was an error processing your subscription.
SportsLine's Mike McClure, a DFS pro with almost $2 million in career winnings, gives optimal...

Both guys traded big-time punches in a throwback style tilt

MacKinnon is off to a red-hot start for the Avs so far
What's right and wrong in the NHL this week

Here's a primer on how the three major North American pro leagues in Canada are approaching...

After two weeks of hockey, here's what each team can hang its hat on