The Penguins did nearly everything right in Game 3 ... except win
The Penguins played their best game of the Eastern Conference finals on Wednesday night, and it still wasn't enough.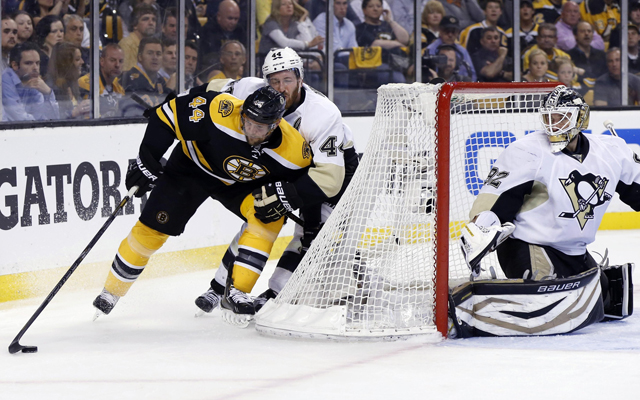 More NHL Playoffs: Scores | TV Schedule | Expert Picks | Odds | Mock Draft | Rumors
The Pittsburgh Penguins did just about everything they could during Game 3 of the Eastern Conference finals on Wednesday night in Boston, a game that just might have been the best playoff game of the NHL's postseason.
Starting Tomas Vokoun in goal over Marc-Andre Fleury was the absolute right move.
As was inserting rookie forward Beau Bennett into the lineup to give the forward group more speed and playmaking ability (though, he definitely should have played more than the 14 minutes of ice time that he received, and that's a mistake on Dan Bylsma's part).
The Penguins played what was by far their best game of the series, avoiding the out-of-control physical style that sidetracked them in Games 1 and 2 at home. They were finally able to sustain some sort of pressure in the offensive zone and create some scoring chances against Boston's suffocating defense.
On the ice, they did nearly everything right.
Everything, of course, except actually win the game.
And that's what makes their abysmal performances in Games 1 and 2 so costly and so devastating to their season. The Penguins entered Wednesday's game with absolutely no margin for error, putting themselves in a position in which one bounce or one call going against them could essentially end their season.
That's a difficult position to be in, and it's exactly what happened.
Their 2-1 double-overtime loss puts them in a 3-0 series hole heading into Friday's Game 4 in Boston. By now, we all know the history of such a deficit in the Stanley Cup playoffs. Only three teams (the 1942 Maple Leafs, 1975 Islanders and 2010 Flyers) have ever actually come back from down 0-3 to win a series.
The odds are overwhelmingly stacked against the Penguins. If they had played like this in Games 1 and 2, they wouldn't be in this situation. But they didn't play like this, and now they are in this unenviable situation in which they have to find a way to beat Rask enough times -- and avoid enough of the defensive breakdowns that have hurt them the entire postseason -- to somehow win four straight games.
Good luck with that.
The Penguins spent most of the first two games of this series trying to assert some sort of physical presence, almost as if their mission was to show the Bruins how tough they were and how they weren't going to be pushed around. It backfired badly as Boston took advantage and burned the Penguins with their own skill, scoring nine goals through the first two games.
At times it looked like a clinic.
Finally, in Game 3, the Penguins started to turn the tables a little. They were, for the most part, doing everything that they wanted to do only to be stopped by a sensational goalie in Rask as he turned aside 53 of the 54 shots that he faced. Even worse for Pittsburgh, on the rare occasions that it was able to get a puck behind Rask, who is quickly emerging as one of the NHL's leading Conn Smythe candidates, nothing was going the Penguins' way as no fewer than five attempted shots hit the post, including one in overtime off the stick of Craig Adams.
It simply was not going to be their night.
But that's not to say they're unlucky to be facing elimination heading into Friday's game and don't deserve to be down in the series because they absolutely deserve it. They deserve it because of the way that they squandered home-ice advantage in the first two games and completely lost their composure at the wrong times.
They finally found their game a little bit on Wednesday, and more performances and efforts like that would have likely resulted in more wins and perhaps a different series. At least one that appears to be more competitive.
Instead, it's likely going to be a case of way too little, way too late.
Vladislav Yeryomenko was the Teddy Bear Toss goal scorer for the Calgary Hitmen

The Golden Knights are finally getting their No. 1 goalie back after a 25-game absence

Washington has won four straight, and the Kings are also on a tear right behind the Lightn...
The NHL says it's only interested in expanding to Seattle, but here's a look at all the moving...

The NHL says it is only looking toward Seattle for the next expansion team

The 33-year-old defenseman hopes to help find a cure for serious head injuries in athletes