Tim Thomas on Luongo: GM found a tire that needed to be pumped
What does Tim Thomas think of the new potential partnership with Roberto Luongo? He joked 'Dale went kicking tires and found one that needed to be pumped.'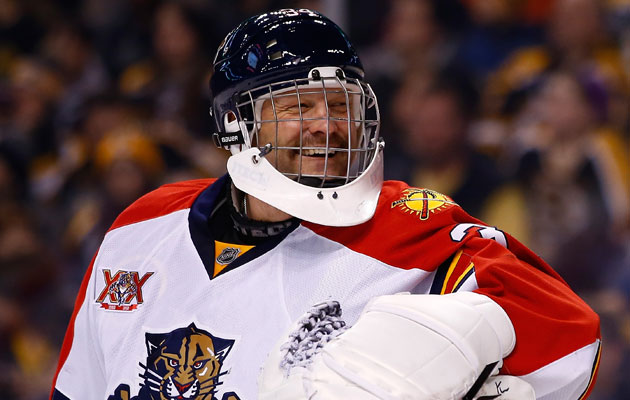 More NHL: Trades | Scores | Standings | League Leaders | Odds  | Power Rankings
Once the initial shock of the Roberto Luongo trade to the Florida Panthers wore off, everybody turned their attention to the dynamic that will exist between Luongo and Tim Thomas. Adversaries in the 2011 Stanley Cup Final, they had a few memorable exchanges in the media.
The most memorable bit to come from that was Thomas saying he didn't realize he needed to pump Luongo's tires after Luongo was miffed by being criticized for comments about Thomas. That phrase has stuck.
After the Panthers lost to the Bruins on Tuesday night, Thomas was asked about the trade and possibly partnering with Luongo -- Thomas could still be traded, he's going to meet with GM Dale Tallon before the deadline. In the midst of his interview he had a gem of a quote.
Tim Thomas on Luongo situation: "Dale went kicking tires and found one that needed to be pumped."

— Fluto Shinzawa (@GlobeFluto) March 5, 2014
(Watch the interview here, Thomas seemed very proud of his joke afterward.)
YES! This relationship is off to an awesome start. They sound like they're going to be best buddies from the get-go (if they actually get the chance to play together at all).
It's like they should be buddies in a cop show or something. Just look at the start they are off to.
And on another note me and Tiny Tim are gonna rip it up the rest of the year!!!!!!! #dreamteam

— Strombone (@strombone1) March 5, 2014
#dreamteam #indeed pic.twitter.com/Llc10Cuj5R

— Chris Peters (@chrismpeters) March 5, 2014
Sign up now, and your name can be under the Golden Knights' skates, too!

Pittsburgh coach Mike Sullivan says the team also respects players' right to protest

Some familiar faces are back, but a cap-strapped summer left Chicago a little shakier than...
The Pittsburgh Penguins will put politics aside and visit the White House out of 'respect'...

NBC will reportedly be devoid of NHL game broadcasts between Feb. 7-26

The Winnipeg winger suggests Trump is going after 'the principles the U.S. was founded on'