Wild sign Ryan Suter, Zach Parise
On a huge day for the Minnesota franchise, the Wild agree to terms with Zach Parise and Ryan Suter, the top two free agents on the market.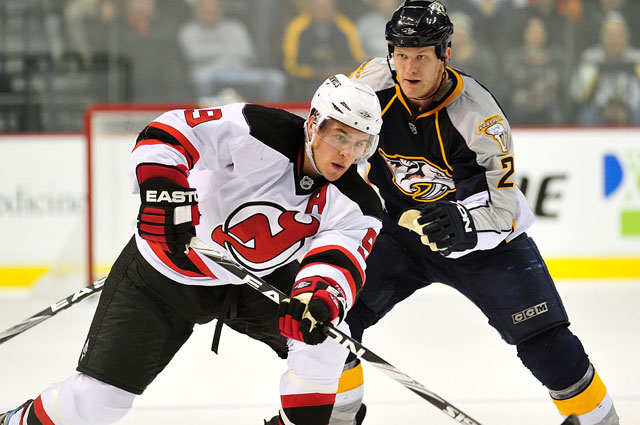 Zach Parise and Ryan Suter (right) will go from foes to friends. (Getty Images)
For at least one day the Minnesota Wild are the talk of the NHL.
The team announced on Wednesday that they have agreed to terms with the two biggest free agents on the market, securing the services of defenseman Ryan Suter and forward Zach Parise.
The deals are matching 13-year contracts, and are both reportedly worth $98 million. That would come out to a salary cap hit of $7.5 million for both players.
The Wild made it known right from the start they were after the two prized free agents and had the cap space to pull it off. And now they actually did it, even if some of us (present company included) didn't think they had a chance to make it happen.
Wild land Suter, Parise
More NHL coverage
"This is a great day in the history of the Minnesota Wild," general manager Chuck Fletcher said in a team statement. "We are extremely excited to add the collective skill, experience and character of Zach Parise and Ryan Suter to an already promising roster. We view this as a rare opportunity for us to transform our franchise by adding two marquee players, who are both in the prime of their careers, at the same time. I am grateful to Zach and Ryan and I am also thankful for the substantial commitment and support of Craig Leipold throughout this process. This is a huge step forward in our quest to bring a Stanley Cup to the deserving fans of the State of Hockey."
It's a huge day for the Wild franchise, one that's pretty much been off the NHL map for the first 11 years of existence, anonymously mired in what can only be described as a constant state of mediocrity. They've only made the playoffs three times in their existence, and only once moved beyond the first round. They've had little star power and have rarely been viewed as a threat in the Western Conference.
They did everything they could to try and change that on Wednesday.
2012 NHL Free Agency
| | |
| --- | --- |
| | Free Agency starts July 1 |
More NHL coverage
Suter, a former first-round draft pick by the Predators back in 2003, has spent his entire career to this point in Nashville. He was not only one of the most sought after players on this year's free agent market, he's also one of the top defensemen in the NHL. In 542 career games he's scored 38 goals to go with 200 assists. He's a huge addition to a blue line that was lacking a clear No. 1 defenseman following last year's trade that sent Brent Burns to San Jose.
While he's a huge addition himself, teaming him up with Parise, a top-line winger, might satisfy an even bigger need for the Wild.
Minnesota's biggest problem last season was its inability to control the puck and have any players that could push the play up the ice. Parise and Suter should be able to help to improve this, while Parise adds considerable goal-scoring ability to what has been one of the worst offensive team in the league in recent years.
The team finished the 2011-12 season last in the NHL in goals scored and shots on goal.
Before the additions of Suter and Parise the closest thing Minnesota had to impact players on its roster were center Mikko Koivu (an excellent two-way center) and a declining Dany Heatley.
While these moves clearly make the Wild a better team heading into the 2012-13 season they're not without their share of long-term risk, especially when it comes to Parise.
First of all, there's always a considerable risk when you sign a player -- any player -- for a contract that goes for more than a decade. There's also the fact that goal scoring forwards tend to peak earlier than defensemen and goalies (and earlier than most might realize) and tend to have their most productive seasons between the ages of 22 and 26. Parise will turn 28 later this month, and has already seen his production drop by a considerable margin from his 45-goal, 94-point season a few years ago.
He's still going to be a productive player for them for the foreseeable, but we might not see a performance from him like the one he had in 2008 ever again.
But Minnesota can cross that bridge when it gets to it. For now this is probably one of the finest days in the history of the Wild franchise, and one that should at least help to get them on the map.
It doesn't make them Stanley Cup contenders. But it should at least make the playoffs a very real possibility.
And if you're into this sort of thing, there is probably something symbolic about the top two free agents, both of whom are American-born, signing together in The State of Hockey on the Fourth of July.
For more hockey news, rumors and analysis, follow @EyeOnHockey and @agretz on Twitter and like us on Facebook.
Saturday's showdown will serve as a rematch of one of the NHL's first-ever regular season...

Stacia Robitaille says Donald Trump told her in an elevator that she was coming home with...

Vladislav Yeryomenko was the Teddy Bear Toss goal scorer for the Calgary Hitmen
The Golden Knights are finally getting their No. 1 goalie back after a 25-game absence

Washington has won four straight, and the Kings are also on a tear right behind the Lightn...

The NHL says it's only interested in expanding to Seattle, but here's a look at all the moving...